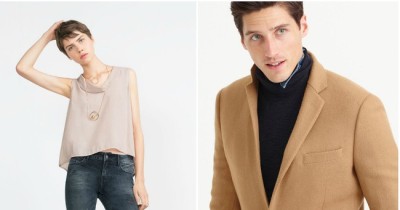 For many, the words "You're Invited" prompt two reactions, especially during the holiday season: excitement and anxiety.
Sure, parties promise good food and good times with friends and family, but confusing attire requirements are often at play as well.
To ease your fears and guarantee you're never inappropriately dressed, we are helping to breaking down the most common holiday party dress codes.
Black Tie
What It Means: Formal. Floor-length gowns and tuxedos. Think old world glamour.
Women: Beautiful gowns in silk and organza.
Outfit Inspiration: Such a great price point for a fabulous dress. Add a chiffon wrap if you prefer to be covered!
Men: Tuxedo or a dark suit with a black bow tie.
Outfit Inspiration: We love this classic one-button Brooks Brothers tuxedo in navy, not black. Of course, if you do custom, call 1812 Society and get one made that's absolutely cut for you.
Black Tie Optional
What It Means: Long gowns and tuxedos are not necessary. Carefully consider the host/hostess and where the event is taking place when choosing what to wear.
Women: If you want to wear a long gown, great! Put it on. If not, short dresses are fine, too.
Outfit Inspiration: This floral print dress is ideal for the woman who wants to be super fem, but covered! A classic black pointed-toe pump can make this look super fresh.
Men: Don't go out and buy a tuxedo. A dark suit with a dynamic tie is perfect.
Outfit Inspiration: We love a classic three-piece suit, and the monochromatic tie feels just right.
Holiday or Party Chic
What It Means: Don't take this literally! No Christmas ties or sweaters are needed.
Women: A short dress paired with bold jewelry. You can't go wrong with an LBD (little black dress).
Outfit Inspiration: We love this Nanette Lepore dress paired with this DKNY blazer and booties. So fab.
Men: Sportcoat with dress pants. Definitely add a tie or bow tie. A dark suit with a bold bow tie is also acceptable. In some instances, even dark denim can be worn instead of a dress pant.
Outfit Inspiration: We love this whole look from Banana Republic.
Casual Chic
What It Means: You can wear denim— just dress it up!
Women: Try a sequin top with skinny dark denim, add a blazer, and definitely wear heels!
Outfit Inspiration: We love this top and denim combination from Zara. Just add a fur chubby, like thisfaux fur one from Abercrombie. (Yes, we can't believe it either.)
Men: No tie. Do a great button down shirt with dark denim. Add a v-neck sweater or a blazer for an extra layer. Pull out your best oxford shoes.
Outfit Inspiration: We love this camel blazer from J.Crew paired with a sweater and denim. So handsome.
If you haven't checked out our monthly column in Columbus Underground.. do so ASAP!
For more style tips or to learn more about our Wardrobe Consulting, Personal Shopping, and Outfitting services, visit https://www.wardrobetherapyllc.com, or email the stylists directly at Christyw@wardrobetherapyllc.com, or Elizabeth@wardrobetherapyllc.com.
Keep Making Every Day A Runway!