Step aside ladies, its time for the men to step up their fashion game– and we are right on board! This season we saw a nod to women's fashion, and couldn't be more excited. From bold patterns to exotic accessories, we'll be coordinating our prints with our guys this spring, and will be feeling proud to have them on OUR arm!!
5. Bold Accessories.
The brighter the better! Designers showed colorful statements in various patterns that included neckties with stripes and dots, equally as vibrant pocket squares, man bags (or murses, as they are so affectionately referred to) and believe it or not, colored shoelaces! Salvatore Ferragamo showed it best with coordinating the electric yellow shoelaces and bag: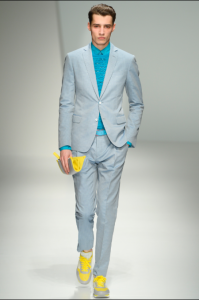 4. No Socks.
Man ankles (or mankles) were seen on runways from J Crew to Louis Vuitton, even Valentino. Taking on a European style, designers are cropping the pant just to the ankle, or in some cases cuffing the pant up to show a little leg (Just be sure to properly deodorize your loafer…or invest in some "no-show" loafer socks!). The look is done without flaw below from Michael Bastian's Spring 2013 line.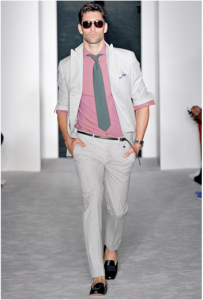 3. Navy…The New Black.
Forget the classic black suit! Ok– maybe don't FORGET it, but perhaps give it a little break this season, because it is all about navy! No better pairing for all those bright shirts and tie combos we are seeing! Seen here by Hermes.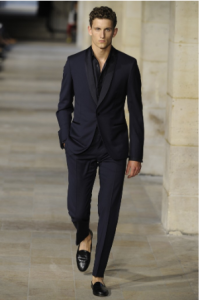 2. Prints!
The bolder the better, the brighter the better, and if you can master the art of mixing those prints, we commend you! Its all about retro for men; florals, paisley, dots, and stripes! Timid to try an all-patterned shirt? Afraid of the florals? Or not sure if mixing prints is for you? Start small with your accessories– ties, pocket squares, and scarves! Park and Ronen effortlessly mixed a retro-printed shirt with a striped tie. The key being those prints remain in the same color way!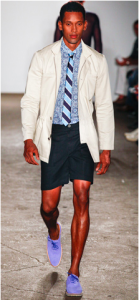 1. Color!
And not just ANY color– the runways were adorned with bright, primary colors from head to toe! Monochromatic was definitely a favorite, but color blocking brought in a close second. Not sure if you can go that far? Pair that bright shirt with a neutral pant instead, or try mixing in pastels (spoiler alert: another top trend for men this spring!) Salvatore Ferragamo chose the color blocking route below: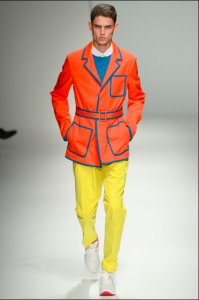 Stay tuned, fashionistas, in the coming weeks we will reveal the Top 10 Trends for WOMEN this Spring!!