We are talking all things menswear and what you can expect to see next spring and summer! The Men's Spring/Summer 2024 shows have wrapped up this past week and we wanted to share the designers that inspired us the most and look at some common themes we came across that you will see in 2024!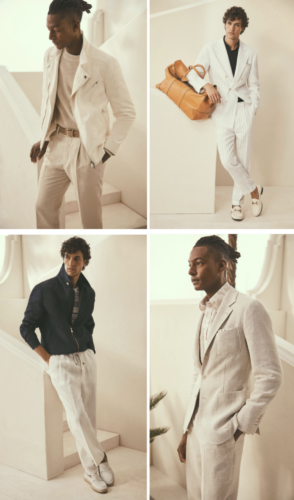 Brunello Cucinelli Men's Spring/Summer '24
Brunello continues the quiet luxury trend with his perfect tailoring, luxe fabrications, and textures. The Spring/Summer 2024 collection brought effortless luxury vibes as they set the bar for menswear.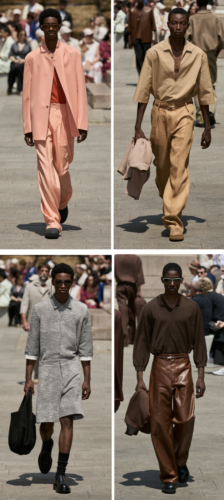 The tonal looks and mixing of textures made this one of our favorite menswear shows. The runway was surrounded by 192 barrels of deep golden unprocessed linen that would soon be made into Oasi Linen, a luxury fabric Zegna uses for most of the pieces in this show. 
Alessandro Sartori (Creative Director of Zegna) told Vogue:
"I feel the wardrobe of the future is not made anymore from the classic references. So it's not about jackets, outerwear, knitwear; instead, it's about tops, underpinnings, bottoms, and shoes… the question is not what the suit of the future will be, but how the suit of the future will be."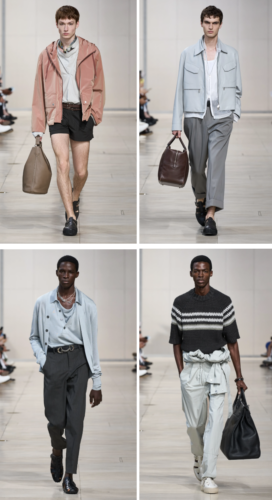 Hermes Men's Spring/Summer '24 collection
This collection was one of the few that was truly designed for the extreme temperatures experienced during spring and summer. Light layers including functional, yet chic raincoats and lightweight knits. Liberated bodies and breaking gender norms was the theme of this year's show. Typical silhouettes were broken down and put together in ways we've never seen. Short shorts were paired with longer jackets, polos layered with cardigans, and mesh with… well, everything!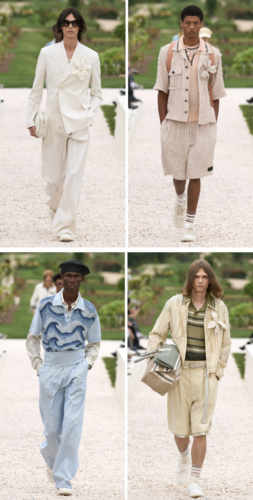 Amiri Men's Spring/Summer '24 collection
The inspiration behind this show was the use of tailoring proportions from the 50s and the ease of the 90s. The thoughtful use of texture was a shining moment in the Amiri show. From tweed, boucles dotted with Swarovski crystals, leather, and floral embellishments, no details were spared.
Amiri told Vogue:
"Even if fashion evolves, you yourself have to be able to wear it, and not let it wear you."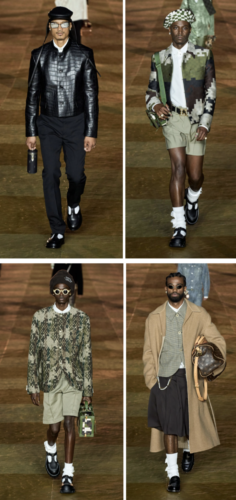 Louis Vuitton Men's Spring/Summer '24 collection
How can we talk about the '24 Spring/Summer Men's fashion shows without mentioning Louis Vuitton and Pharrell Williams as their new Men's Creative Director?  We were inspired by the new look for LV and the use of patterns, especially the Damouflage; a blending of the recognizable LV Damier checkerboard pattern and camouflage. If you haven't had a chance to watch the 24-minute show, it was quite the experience! 
Did you notice any common themes in these shows? We sure did! The walls of traditional men's dressing continue to be broken in the most fabulous ways. No details were spared on any runway this year. Textures were mixed, and accessories were on display, from fisherman sandals to hats and even designer cups, men- it's time to up your accessory game!
Stay tuned- our Fall/Winter '23 Trend Books are coming soon!
Keep Making Everyday a Runway!
Image credits: all images via Vogue
Hermes, Louis Vuitton: Daniele Oberrauch / Gorunway.com, Amiri, Zegna: Filippo Fior / Gorunway.com