As we head into this new year (we made it!!!) we are ready to put SO much behind us! This week we are dishing out trends we want to see stick around in 2021, and those that can remain a memory in 2020 😉
Trends to Keep:
Some saving grace from this colossal year are the trends that stayed strong; so strong we want to see them continue through next year (and for some, beyond!).
Dramatic Sleeves From puffs to bells to Victorian-like details, this style still has our hearts.
Vintage-Style Denim The classic-fitting jean we hope is here for the long haul is the vintage-style. With it's high waist and straight shape, it's a team and industry favorite and is so flattering on an array of shapes and sizes.
Sustainable Clothing  A major conversation we had as a team–and one we saw being had in our fashion community as a whole–was the draw towards sustainability. Classic pieces with a twist are the name of the game and are built to last!
"It" Sneaker We love a good sneaker and whomever your favorable designer may be, they are a fun + forward way to dress up your loungewear or put a casual spin on your dressier look.
Matching Sets This lounging look was a new face on the scene this year (resurrected from past fashion eras of course!)…and with as much staying-at-home as we all did this year, they were a pleasant arrival. We love them in luxe neutrals to keep the look elevated and chic.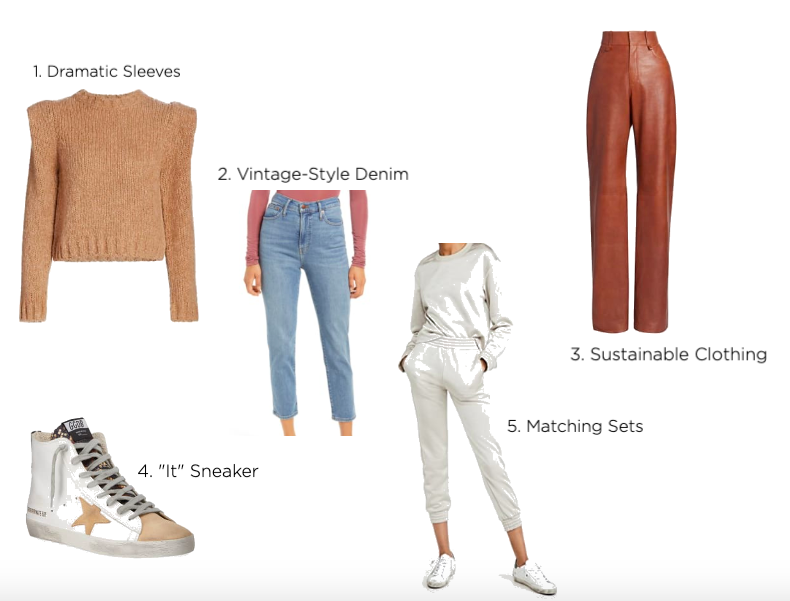 Puff-sleeve sweater//High-waist denim//Leather pant//Sneakers//Lounge set
Trends to Leave:
We loved these trends like the best of them…but sometimes it's just time to say good bye…
Bright Tie-dye This trend really hit hard this past year. We're still seeing the print but in much more neutral, calmer tones.
Neon This vibrant hue in multiple colors has been on the scene for awhile…and in our opinion it's time for a little R&R for our eyes 😉
Overly-distressed Denim It's time for a clean-up, and this includes our jeans. A small rip or two we still stand behind, but we are loving more of a tailored/streamlined pant line with a little more minimalism.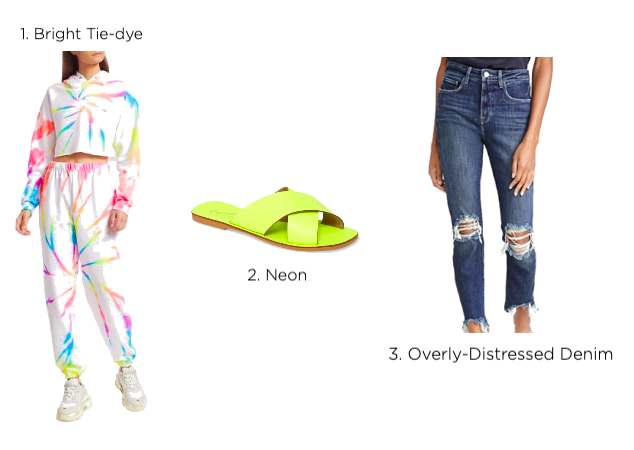 Tie-dye set//Neon Slides//Distressed Denim
Happy New Year from our team! New Year, New You! Let us help get you started!!
To learn more about our Personal Shopping, Wardrobe Consulting, and Outfitting services, visit us here: https://www.wardrobetherapyllc.com
For content created on our website and social media, some links contain affiliate links which we earn a small commission from.