New York is the hub of flagship stores for most major labels, making it one of the best shopping experiences in the world. Although shopping in New York is wonderful, it can also be pretty intimidating. Getting around the city can be daunting, making it tricky to know which neighborhoods to shop in. We always enjoy the opportunity to shop with our clients in NYC and we hope to do this more in the Fall. In preparation for the Fall Fashion season, Iris went to NYC on a mission to find the best stores in the best shopping neighborhoods, Midtown and SoHo.
Iris' route:
I started at 10 am right when stores opened! My first stop was Midtown then I jumped in a cab and spent the afternoon in SoHo.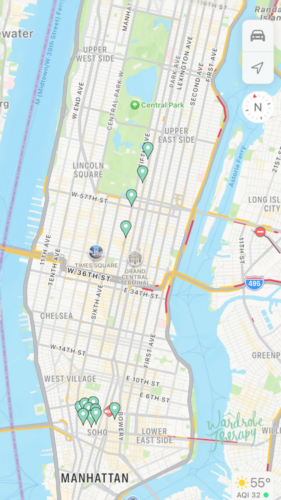 Midtown:
If you want the department store experience Midtown is the place to be. This iconic shopping neighborhood is filled with massive luxury department stores. You can still find boutiques, but the majority of Midtown shopping revolves around chain stores.
10:00am Bottega Veneta (740 Madison Ave) was my first stop and it did not disappoint. This store revolves around the designer's signature weaving texture. They had clothing but the main event was their bags and shoes.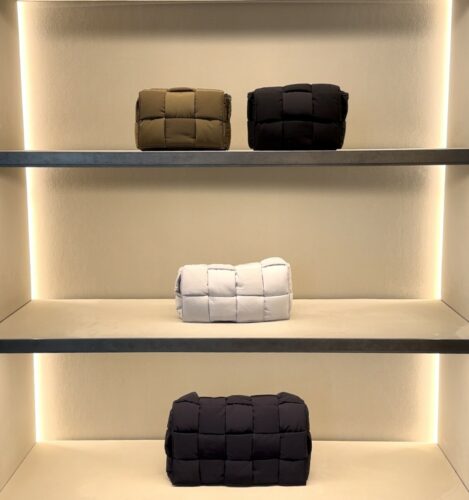 10:30am Next was Alice and Olivia (755 Madison Ave), I would highly recommend their Midtown location because they have the most product! Christy, their store manager, is also lovely and so helpful! This store was all about color, from bright blues to pastel pinks, their fun city vibe was very apparent here.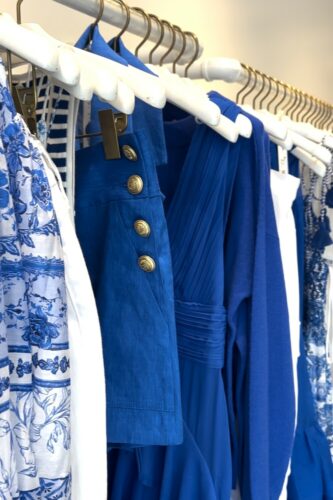 11:15 am  Reiss (520 Madison Ave) From chic workwear to summertime dresses, you could create an entire wardrobe just from this store! Not to mention the exquisite menswear.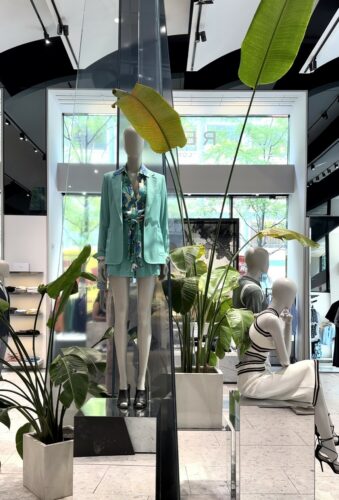 12 noon From there I headed to Bergdorf Goodman (754 5th Ave). This high-end department store left me speechless. You could truly spend an entire day shopping here and feel accomplished. The handbag department had mini boutiques for every major designer, and the clothing… a fashionista's dream. Their three floors of womens' contemporary clothing featured every label you could imagine and more. I also stopped for lunch here (I would recommend making a reservation as it was very crowded for a Tuesday). The views of Central Park would've left me impressed, but the food and service were even better.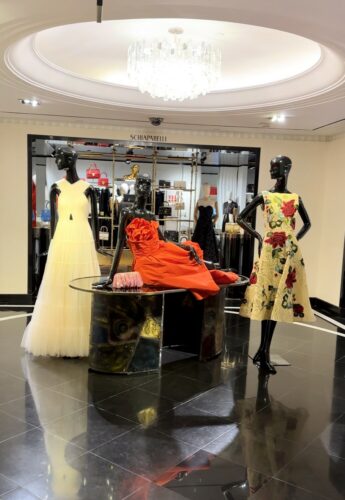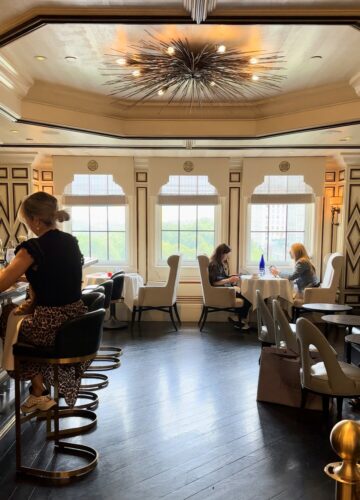 SoHo:
If you want a small boutique shopping experience, SoHo is your place. SoHo deserves its own shopping day because of the sheer amount of stores this neighborhood has. If you spend a day here I recommend eating at Jack's Wife Freda (226 Lafayette St). Here are the Soho stores I think are worth visiting.
2pm Cult Gaia (60 Wooster St) makes heirloom pieces that feel more like art than clothing. Their creative textures and use of color captivate the fashion world. You may not find anything you necessarily need here but if nothing else this store is worth seeing solely because of its beauty and curation.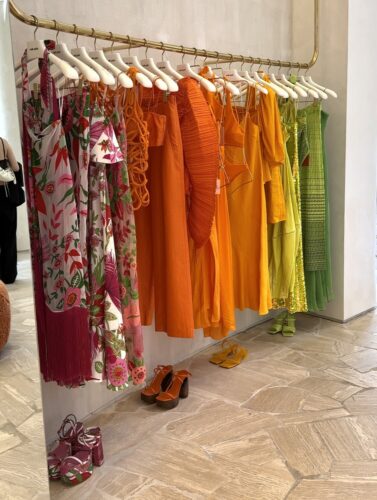 2:30 pm Staud (45 Greene St) is a contemporary brand best known for their ultra-modern approach to design. Their SoHo location features funky dresses and contemporary accessories you'll be tempted to add to your wardrobe.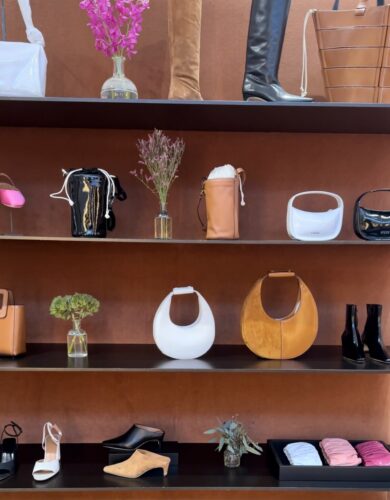 3 pm Theory (47 Greene St) If you are in need of functional yet fashionable workwear, Theory should be your first stop! Theory's bread and butter is high-quality, timeless workwear. This store offers quiet luxury clothing that could benefit any wardrobe.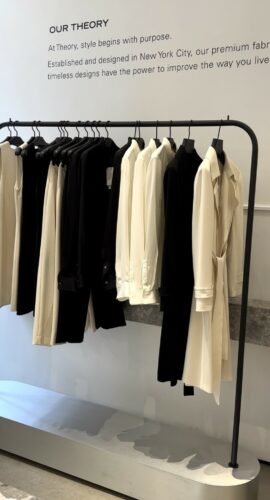 3:30 pm Veronica Beard (78 Greene St) is a classic we know and love! Walking into this store transports you to the Hamptons! Bright colors and fun silhouettes are everywhere. I loved their "bar"  featuring the best Dickeys to go with their iconic blazers.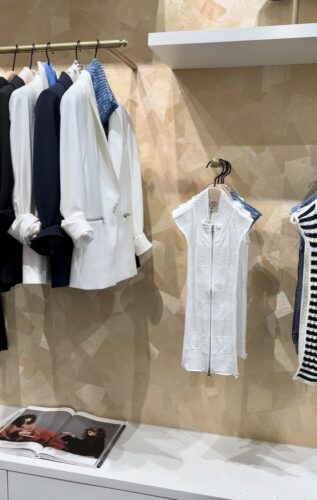 4 pm Maje (114 Spring St) is a modern yet feminine French brand. They carry beautiful patterns and Chanel-like styles but at a much more affordable price.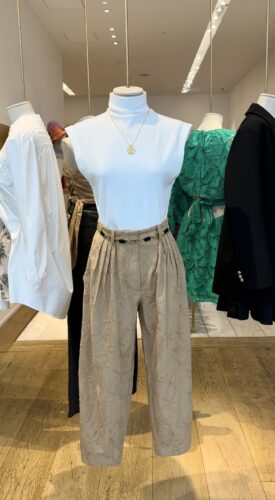 4:30 pm Vince's SoHo location (89 Mercer St.), similar to many other designers, is their flagship store, making it a serene experience all the way through. Although this is a California brand, they do an excellent job fitting into the streets of New York. If you visit this store say hello to the Store Manager, Rachel for us!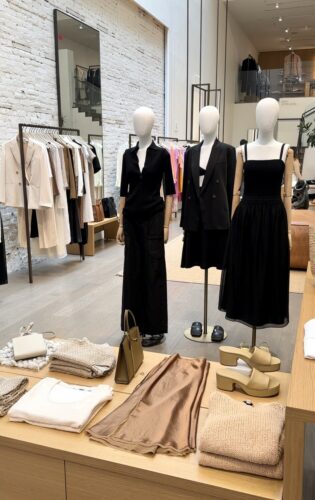 5 pm Prada's flagship store in SoHo (575 Broadway) is a must-see! I recommend taking the elevator from the accessories floor to the clothing as it is an experience in itself.
5:30 pm Sezane (254 Elizabeth St,) is the perfect spot for quaint French summer vibes. Their new Summer collection with Farm Rio is worth seeing in person!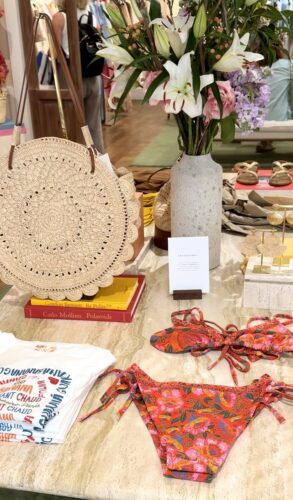 You can get a lot done in a New York minute! With about 30 minutes per store and time for travel from Midtown to SoHo, you can conquer NYC shopping in one (very busy) day!
Interesting in traveling with a stylist?
We are currently booking through the END of summer!
Keep Making Everyday a Runway!