Wedding season is in full bloom this Summer! One of our own colleagues (Whitney!) is getting married very soon, so we are especially in-tune this wedding season!
Dressing for a wedding can be a tricky task, as there are guidelines that follow every formality category. There's the obvious rule of no white. Then there are the subtle, non-spoken rules, like don't distract from the bride, and avoid florals for black tie weddings. But don't stress;  your fashion friends are here to help translate your wedding invite into a fabulous look you'll feel great in! We've dressed many clients for all kinds of weddings, from local to abroad, day-time to black-tie, we've got you covered!
"Festive Chic"
The call for festive attire has become increasingly popular as of late and we are here for it. When a wedding invitation expresses "festive dress," the soon-to-be newlyweds are asking you to express your true style and personality. Lean into those pieces that have unique and bold detailing, expressive color, and more. This frock with the feathers at the sleeve is the perfect representation of festive dress. To elevate the look, we added some crystal chandelier earrings and a novelty pearl cocktail ring. And to further enhance the color of the dress and create some dimension within the look, we opted for these fun shoes that display a variety of colors and a satin turquoise blue clutch!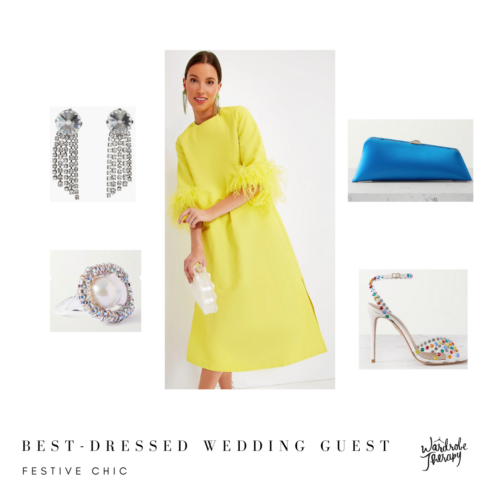 DRESS | SHOES | HANDBAG | EARRINGS | RING
Festive to us means "let's have some fun". This double-breasted suit from
Reiss
is linen, which is a great choice of fabrication for a summer wedding. Adding in a light green striped shirt worn open (no tie!) and a burst of color in the pocket square give this look a monochromatic-chic vibe.  And these shoes, need we say more?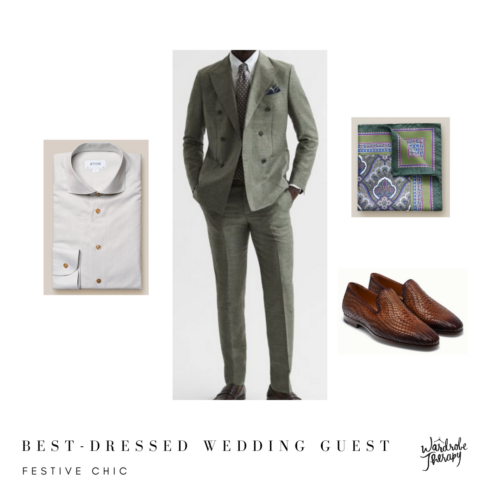 "Cocktail"
There are many directions you could play with for cocktail attire. We are loving midi-length dresses as a step up from casual and a step down from formal. This Cinq A Sept halter dress is the perfect blend of playful and chic. The color is season less, making this dress your next wedding go-to. We kept the accessories timeless and understated to allow the dress to shine.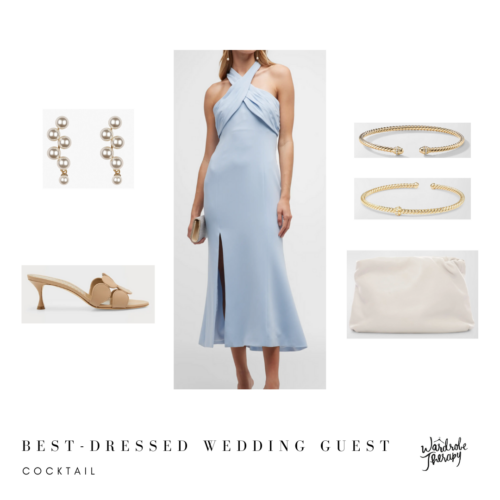 DRESS | SHOES | HANDBAG | EARRINGS | BRACELET 1 | 2
Cocktail attire is sometimes interpreted as a step up from business casual but not quite formal/black tie.  So, when you get a wedding invitation that requests "cocktail" attire,  we like to suggest a nice suit with a pattern or tonal texture, like this one from Nordstrom.  For a spring/summer wedding adding a bright pop of color and coordinating tie is a great way to stay fresh and relevant to the season.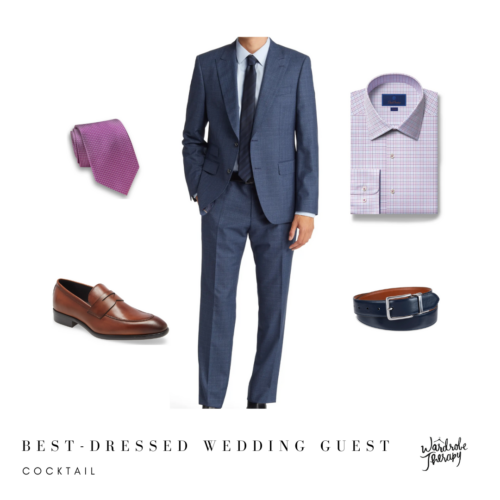 SUIT | SHIRT | TIE | BELT | SHOES
"Black-tie"
Black-tie wedding attire can feel intimidating, keeping things classic, but chic will help to simplify your life. This Veronica Beard dress has perfect draping in all the right places. The color is stunning on any skin tone. Add in pops of gold accessories and you are black-tie ready!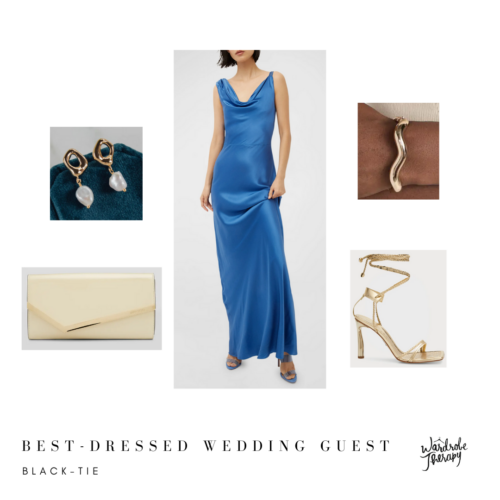 DRESS | SHOES | HANDBAG | EARRINGS | BRACELET
When you get the invite for a black-tie wedding, your mind probably goes to a black tux; very classy and elegant. However, it's okay to change it up a bit if you're feeling like you've done that look before.  Try a navy tux instead, like this one from Todd Snyder.  This unique bow tie and lapel pin from Brackish is made from goose feathers which give an added flare to this look. Another way to change it up from that classic tux look is to wear a shirt that has a hidden button placket instead of a traditional shirt that requires studs. Finish this look off with a chic tuxedo shoe from Ferragamo (and a martini) and you're all set!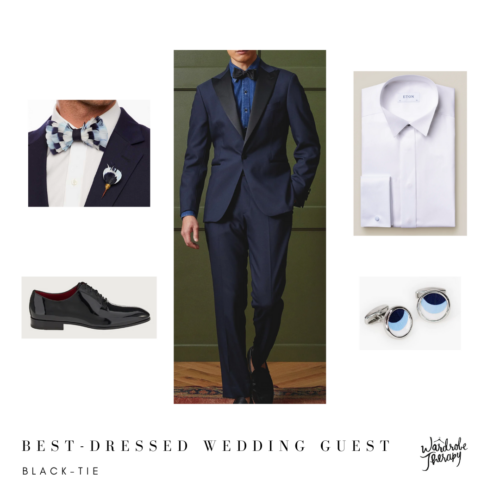 TUX | SHIRT | BOW TIE | LAPEL PIN | CUFFLINKS | SHOES 
Need styling for your next wedding? Contact us to book with one of our seasoned stylists!
We are booking through the end of summer.
Keep Making Everyday a Runway!
For content created on our website and social media, some links contain affiliate links which we earn a small commission from. Cover image via Vogue.