The month of August is always so steamy all over the United States. Finding the right balance of office chic, while not getting too casual (because of the heat) can be tricky. Depending upon the office dress code, we love finding ways where we can help our clients looks chic, but feel comfortable in what they're wearing too. Below are 3 options for Dressy, Business Casual and Casual.
Enjoy the heat!
DRESSY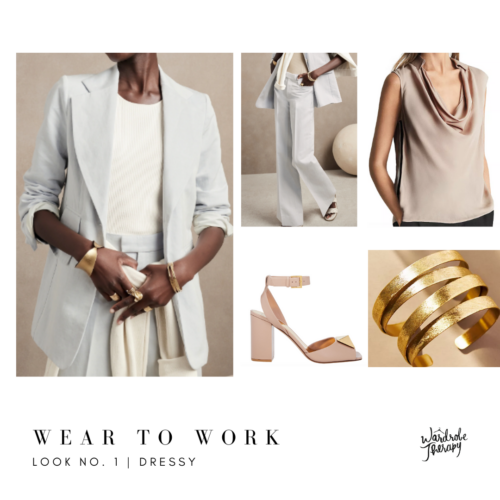 This s/l blouse in nude makes a business suit feel so chic. Classy enough for the office, chic enough for lift after. We love this blouse paired with this Cotton-twill blazer that is super chic and breathable too. It makes wearing a suit in summer bearable. And speaking of breathable, let's add those  matching pants from Banana Republic, as they come in various lengths…which means  it can fit a variety of clients! To finish the look, this Valentino Blush sandal goes with EVERYTHING!
BUSINESS CASUAL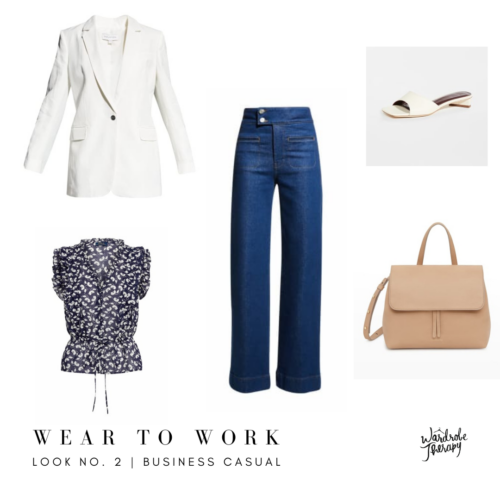 In most workplaces business casual includes denim, but not just any denim will do. This wide leg denim trouser feels casual, yet polished for the work day.  Pair it with a lightweight flowy blouse like this one with a ton of breathability and layer with a crisp white linen blazer. Add a little extra style by scrunching the sleeves (it will keep you cooler too!).  Finish the outfit off with a neutral, structured handbag like this one from Mansur Gavriel.
CASUAL
This shirt dress is perfect for wear now, wear later. You can pair it with sandals and a woven tote for summer and then swap them out for tall boots and a leather handbag when temperatures drop.
We are currently booking for FALL 2022 wardrobe consultations, shopping and style presentations. Please reach out to your Wardrobe Therapy stylist to book!
Keep Making Everyday a Runway!
For content created on our website and social media, some links contain affiliate links which we earn a small commission from.