We love working with clients getting ready for special events! Whether that be a wedding, formal charity event (that we are finally seeing again, hooray!), or needed for a dinner while traveling oversees, this special occasion dressing is one that keeps us constantly looking for newness. And we know you are too. Because we are getting many calls and questions about this type of dress. We put a few looks together for you and of course are available if you need more!
Happy Thursday!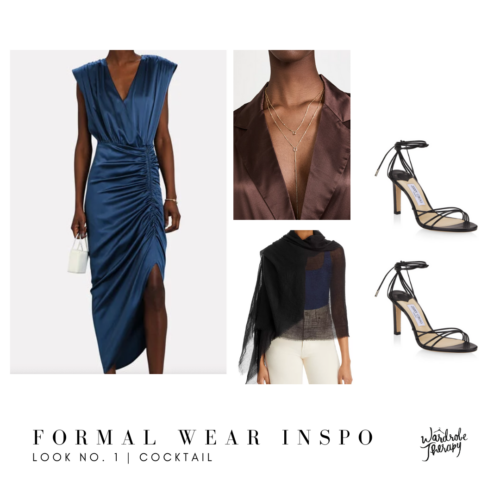 We're loving color for Fall, especially delicious shades of blue. And the moodiness this look brings is right on par with the coming season, without sacrificing bright and cheerful for end of summer events! Drape the wrap over your shoulders delicately for added evening-air warmth. The lariat necklace is the perfect way to top off the look following the neckline of the v-shape dress.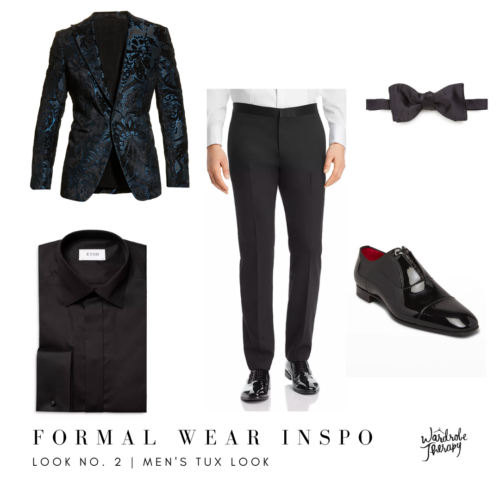 This tuxedo jacket from Etro has all the formal vibes but the jacquard fabric and blue tones give it a flare that is sure to make a statement.  Keep the rest of the look monochromatic black and let the jacket be the hero.  It would also be fun to add a spicy shoe to keep the flare going down to the toes!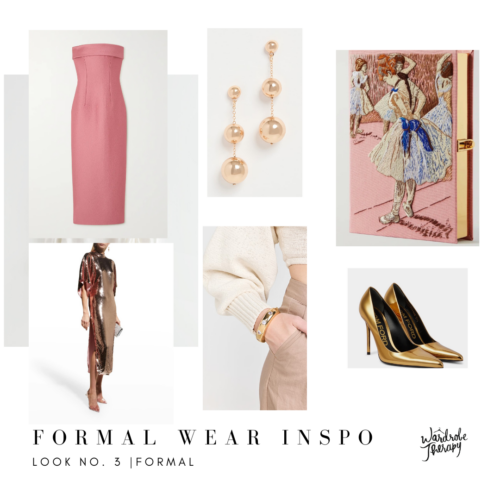 Formal dress provides a unique opportunity for us to really play and explore our personal style. For formal, we like to push clients to try varying textures and fabrications like this poly silk blend by Emilia Wickstead and this sparkly number by Rodarte! To finish off the look, we added some jazzy gold accessories. This look is perfected for a formal dinner party, wedding or anything of the sort.
We are currently booking for FALL 2022 wardrobe consultations, shopping and style presentations. Please reach out to your Wardrobe Therapy stylist to book!
Keep Making Everyday a Runway!
For content created on our website and social media, some links contain affiliate links which we earn a small commission from.