There's one thing I know…I love shopping and always have. Some of my earliest memories as a young girl include adventures to the mall with my mom, grandma and sisters. We use to frequent big box stores like Dillards, Belk and Stein Mart to name a few. The sheer excitement and emotion I would feel when I found "THE PIECE" is something I can still vividly recall. In fact, each day in some way, I get to experience those feelings of excitement, wonder and satisfaction that I felt as a young gal, as I help clients discover and find clothing that empowers them to feel their absolute best.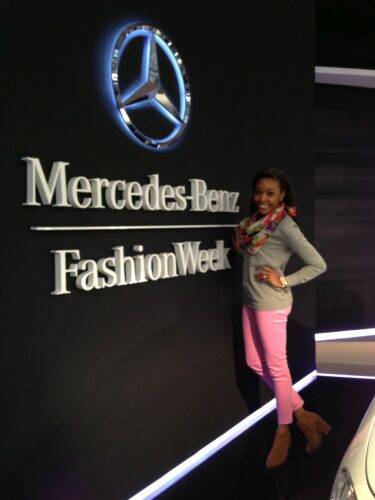 I worked at New York City Ballet and got to pop over to New York Fashion Week. From that very moment, fashion was it for ME!
Growing up, I never thought that working in fashion as a stylist was a possibility. It wasn't until I moved to New York in 2012, that I realized the endless possibilities of fashion. My time in the city was an awakening moment and when I left the city after completing a year at NYU, I knew I had to realign, because fashion was it for me. Just two short weeks ago, I had an opportunity to travel with two clients to New York City for a 36 hour shopping adventure and it was one of those full circle moments…to be back in the city doing the very thing that I dreamed of while I was there nearly 10 years ago. Truly wild. And speaking of wild, shopping in New York City is exactly that…WILD. The wildness is twofold, the endless options and busyness of the city. With that in mind, I thought it would be fun to give a Quick Guide to Shopping in New York City. 
Having successful shopping in New York comes down to strategy and having a flexible game plan. Without a plan, I can pretty much guarantee you will find yourself wandering, which isn't fun, unless you planned for this to be a wander and get lost kinda trip. You know?
While there is lots of great shopping in New York Uptown on 5th Ave, I encourage you to just scoot on down to Soho for shopping. In my experience, I found it to be the easiest to navigate and depending on the time of the week in which you are going, it can feel a little less crowded too.  Now that we have honed in on an area, here's your guide!
To Stay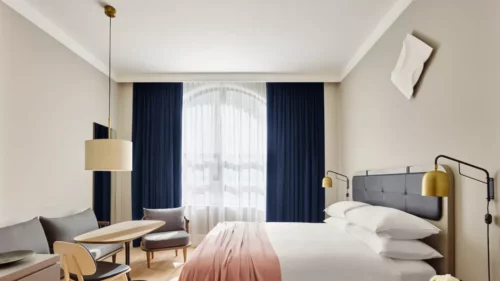 When shopping in Soho there is only one place I will recommend that you to stay and that is 11 Howard. The last 5 times I've been to the city, I've stayed exclusively at this hotel and it is THE BEST. This boutique hotel has an amazing Scandinavian aesthetic and the best staff. While check in isn't until 4 PM, they are happy to stow your bags for you until check-in. Additionally, there's a Library cafe that has the best omelette and home fries, if you ask me. In addition to this being the best hotel experience, its location is prime! You are just a few blocks aways from Broadway for shopping.
To Shop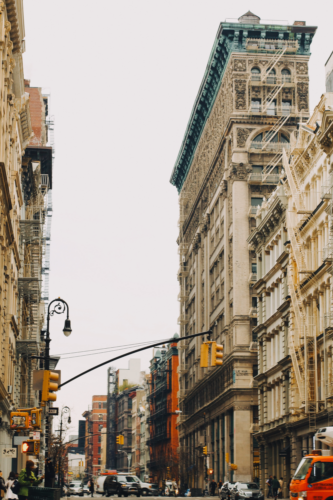 Photo: Yoav Aziz via Unsplash
For your shopping, start central. During my recent client shopping trip, we started right on Broadway at Bloomingdales. It's a nice way to ease into the shopping for the day. All of your favorite brands centrally located. You can just take your time and cruise all the way up to the 4th floor. Be sure you take a moment to wander around the beauty department on level 1. So much wanderlust! After you wrap up with Bloomingdales, take a moment to see what else is on Broadway and get that out of the way, as it will go up in energy as the day goes on.  You will find familiar retailers like Mango, Banana Republic, Aritzia, & Other Stories to name a few.
To Lunch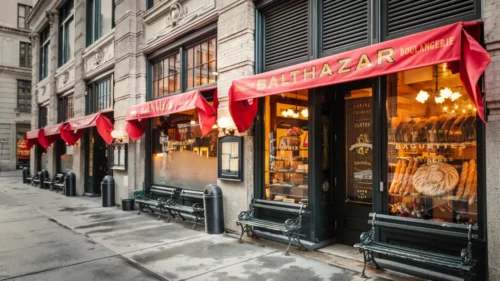 And since you are still on Broadway, before you scoot, go ahead and do an early lunch at Balthazar. Its French fare at its finest and has become a Soho gem. You can dine inside or al fresco! I suggest making a reservation, as lunch time can be hectic in the city. And since you are there, it would be just cruel if you did not grab a pastry from the bakery. So do that!
After wrapping up with lunch, take a quick moment to scoot down Crosby to visit Rachel Comey's boutique, which is super cool and aspirational.
To Shop Cont.
Now that our bellies are full, let's really get into our shopping. You are going to make your way to Prince Street, which you are going to find great designer shopping. Off Prince Street, you will find Mercer, which is home to one of our personal favorites, Vince. If you pop in, ask for Rachel and she will take wonderful care of YOU. After a moment at Vince, head back towards Prince and find Intermix. A must stop! After Intermix, you will come to Prince and Greene and this is what I call the magical cross section, as you find so many good things in one area:
Dior
Veronica Beard
Louis Vuitton
Alice and Olivia
Anine Bing
Saint Laurent
In my opinion, Greene street is the 5th Ave of Soho. Everything you need and dream of is right there! After venturing on Greene, take a moment to double back to Spring Street, as you will find Chanel, Burberry, Loewe. Oh yes, take a moment to venture down Wooster too! You will find the best Celine boutique.
To Sip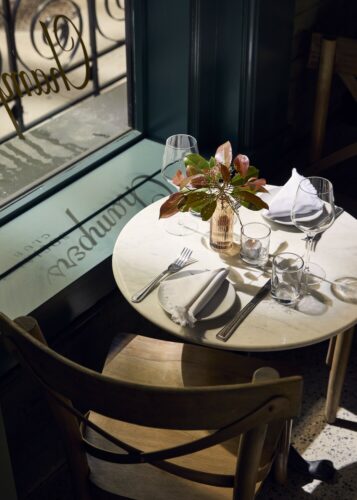 At some point you will need a caffeine refresh. There is Felix Coffee Roasters on Greene Street close to Alice and Olivia. Or if you want to sip coffee and wait for a champagne moment, go ahead and make your way to Champers Social Club. The most charming spot for small bites and sips. Also, it's en route back to 11 Howard!
To Evening Dine 
It's been a long day and you have found all the things. But you also want a good meal. You've got a few quality options:
Room Service at 11 Howard
And there you have it. Just a quick shopping guide to Soho! Cheers to shopping in one of the best places in the world…if you ask me.
____
We are currently booking for FALL 2022 wardrobe consultations, shopping and style presentations. Please reach out to your Wardrobe Therapy stylist to book!
Keep Making Everyday a Runway!
For content created on our website and social media, some links contain affiliate links which we earn a small commission from.