Let's take a moment and talk about THE SHEER TREND that is making headway for the spring and summer days ahead. We know this trend can feel a little scary, as it can add a layer of complexity in knowing what is appropriate and what's not. With that exact thought in mind, we are sharing a few ways you can thoughtfully dip your toe into sheer and feel confidently chic.
The sheer blouse. A piece that has an opportunity to be a true workhorse for you if you allow it! We love the idea of styling it casual for daytime chic for a more wearable approach, but also leaving room to color outside the lines, utilizing it as a layer to wear open front over your favorite bodysuit, camisole, or even swimsuit!  Stylist tip: want to wear your sheer during the daytime, but need some coverage? Layer a next to the skin bodysuit underneath in the same color! This one by
Wolford
is a great option.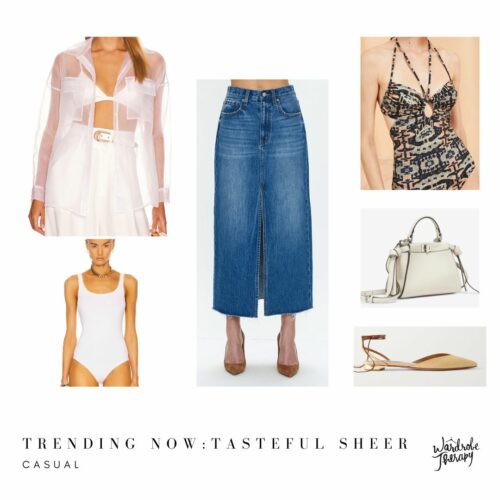 If you like the look of the sheer trend but are not ready to bare it all, then this crochet dress is a great piece. The tan lining gives the appearance of a sheer look. If the tan lining is not your skin tone, remove and replace it with a slip in your skin tone. Elevate this sheer-inspired look with a longline linen blazer and a textured sandal. Stylist tip: Scrunch the sleeves on the blazer. For a casual vibe, wear the dress alone with flat sandals.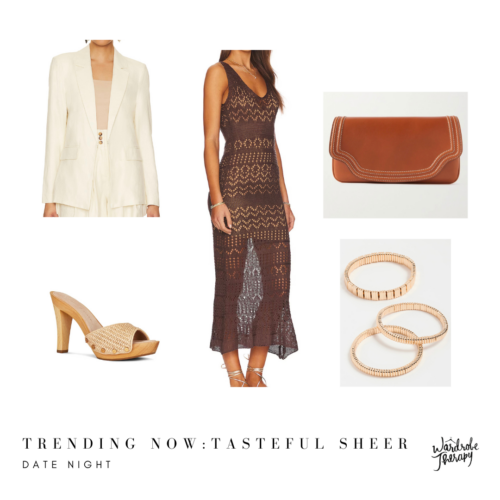 Sheer in the workplace? It's a solid question and we are here to champion that it can be done if styled appropriately. This embroidered sheer blouse is a perfect option to layer into the wardrobe, as it provides the opportunity to be styled day to night. For daytime at the office, make this blouse workwear appropriate by pairing it with your go-to fitted black tank and a trouser. And oh yes, don't forget to add your favorite Spring accessories to really pull the look together.