As we wrap up 2022 we want to thank our fabulous clients for another amazing year! Our team is so thankful for the love and support from all of you and our community. 2022 was a year of growth for Wardrobe Therapy. We welcomed two new team members, an amazing Stylist in January  – Whitney, and in November, Social Media Content Creator – Iris!
The holidays are a special time for all of us, spent with loved ones. We love to share our holiday traditions and What We're Wearing this Christmas season.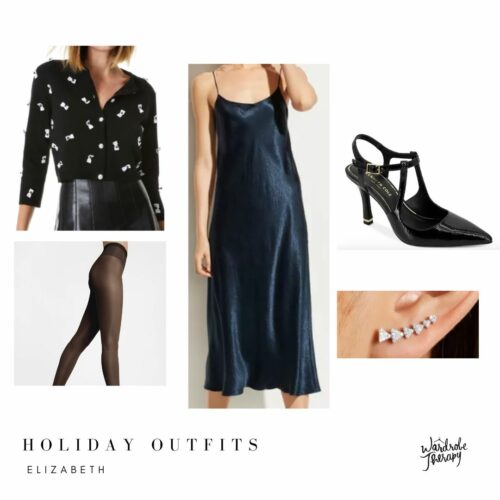 Elizabeth: Our Christmas tradition is always attending Christmas Eve service with my family and my parents. We make a homestyle beef & noodle soup that my grandmother always used to make for us growing up. Followed by lots of excitement, cookies and patiently waiting for Christmas to come with more family, the birthday of Jesus and of course, Santa!
I recently purchased this Vince dress and love it dressed up a bit for our Candlelight Christmas Eve!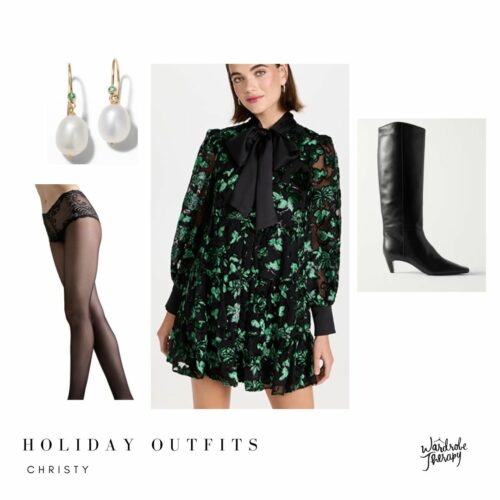 Christy: Christmas Eve has always been the more formal of occasions. I've got 3 little ones, so while I liked to be dressed up, comfort is still key! We will have brunch at my parents' home and the kids will open their gifts from them. Then we migrate back to my home for dinner. We started a new tradition in our family to host a Feast of the 7 Fishes Dinner. We will all prepare and eat, then it's off to bed for the little ones to await the big morning with Santa! On Christmas Day the magic happens of course, then it's Church for us all, followed by a day of playing with toys and enjoying our time together as a family.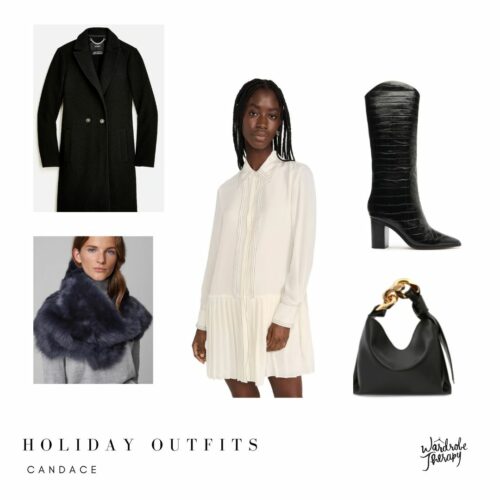 Candace: This year is our second Christmas in our home and I am very excited. This holiday has become intimate and low key for us, so I spend the entirety of the day in my pjs. But we will be doing an early Christmas eve dinner at Lindey's and I've got a brand new dress for the occasion. This pretty beauty is from Rebecca Taylor, who's having a great closing sale RIGHT NOW. 
Ben: Our Christmas is a 2-day event, starting on Christmas eve at my sister's house for dinner, which I like to dress up for.  After dinner we have a double-elimination shuffleboard tournament that we drew partners for back on Thanksgiving!  Its so much fun!  Christmas morning is spent with my husband and son opening gifts and making a big breakfast before heading to my in-law's house for dinner. I love being able to experience the magic of Christmas through the eyes of our 5-year old.  There is nothing else like it.
My look for Christmas eve dinner will start with my velvet sport coat, a pop of color for my shirt, and a pair of black stretchy jeans from Paige for when the shuffleboard starts!  I also like to have a fun sock to wear when I pop my boots off.  It's a great way to add a little personality and fun to the look.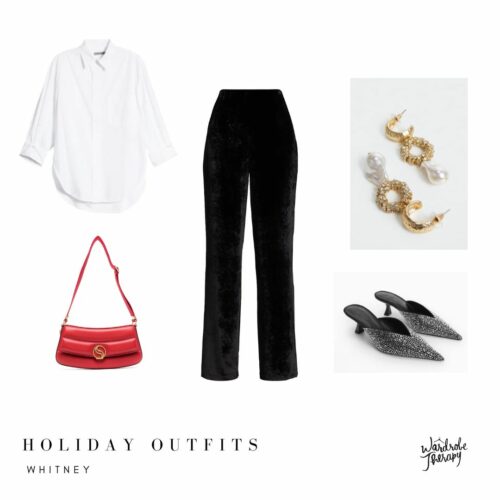 Whitney: This year Christmas is filled with visiting family in different cities and celebrations spread throughout a few different days.  The day itself is just our little crew and we rarely change out of pajamas or loungewear the entire day, which I live for!  However, we plan to attend a Christmas Eve service.  I'll keep it classic, yet elevated with the velvet pants to add a festive touch.
Iris: I love Christmas because every year I spend it with my mom's family. My mom is the oldest of seven so any time we all get together it is a blast. It's rare we can all be together for a holiday so Christmas is very special for all of us. It's a more casual event focused on quality time and great food. I do, however, take advantage of every event I can to put together a fabulous outfit.
2022 is wrapping up. We can't wait to see you in 2023! Book now to ensure your appointments in early 2023.
Merry Christmas! Happy Hanukkah and Happy New Year!!