It doesn't feel like it at the moment (in Ohio anyways) but layering season is here! Whether it's a statement coat, a nana knit or textured jacket, adding a third piece elevates an outfit. When it's not cold enough for an extra layer, try combining all the delicious fabrics like knits, cashmere, leather or silk. Stay warm!
We love a good outfit that can be layered up (or have the ability to remove the layers) as the seasons (and the weather) change. We continue to love the statement oversized coats for Winter. And a go-to wide leg pant is so chic (dressed business for work and then worn with strappy heels for evening). This tonal outfit is one that will keep you warm and feeling fabulous too!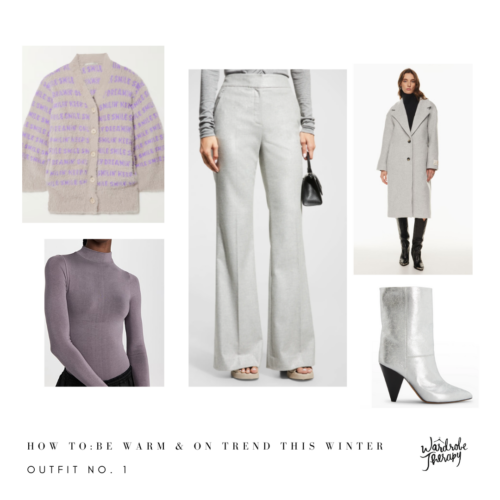 Leather is one of those fall/winter textures that has become a staple and one that we love every year.  When you need to dress up for work or an event during the colder months, mixing textures as you layer is a great way to feel fresh and fashion forward all the while keeping yourself warm.  This look is anchored with a navy leather pencil skirt, paired with the black merino wool shell, and topped off with this blue/black tweed jacket.  Some may fear the navy and black look–but it's a new year, try it and see how chic you feel!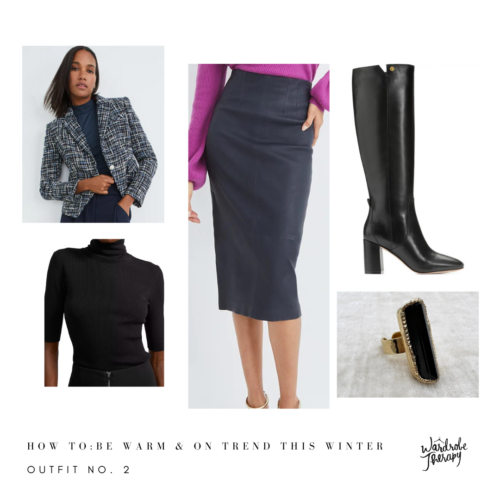 One of the trends we are loving as the temperatures drop is the "nana knit." It has a homespun, cozy feel and is sure to keep you looking on trend during the coldest months.  Pair it back to a relaxed light/medium wash denim and modern boot to keep it looking fresh and casual.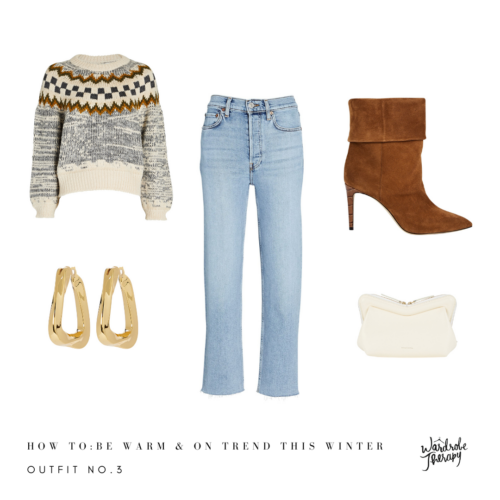 Happy New Year! 2023 is here. We can't think of a better time to start working on your wardrobe! Foundation pieces are key! Call our team today to learn more.
Keep Making Everyday a Runway!
For content created on our website and social media, some links contain affiliate links which we earn a small commission from.