As stated in Dictionary.com To Accessorize is to provide or complement (a garment) with a fashion accessory. To enhance. To set off. To show off. We couldn't agree more!
To truly make an outfit better, we believe that accessorizing is key. And more IS more. Read on for a few quick Accessorizing 101 Tips.
Layering Necklaces (Day and Night)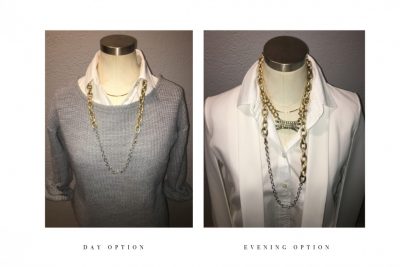 For a casual look, we styled a thin delicate short necklace for the first layer and then a longer chain (thin or thick link) necklace. Notice that the shorter layer is tucked inside the collar of the day look, while the longer is on the outside of the collar. For after 5 cocktails, we added a bit of glitz to the layering for more sparkle and edge.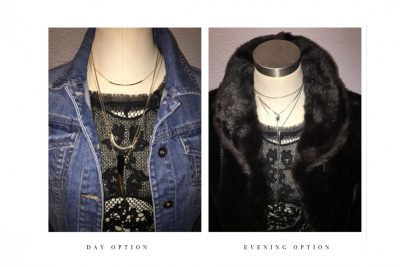 The second set of looks is a lace tee under a denim jacket for day with a short gold bar, a long horn necklace, and a third pendant necklace for effortless daytime layering. The key to this look, is that all necklaces are delicate and not overpowering with each other! The evening look is the same lace top under a fur jacket…lots of silver necklaces layered with an emerald for sophisticated layering.
Layering necklaces WITH scarves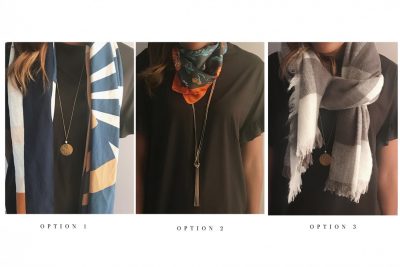 Much like layering multi-necklaces, paring your favorite long necklaces with scarves is another great way to accessorize your look. The KEY to mastering this accessorizing tip is to have the right long necklace. You want to opt for your pieces that are more simplistic in nature so the scarf and necklace aren't competing with one another, but playing well together. Here are 3 different ways you can wear a scarf and pair it with a necklace: 
1. The Classic Drape
2. The Doubled Up Neck
3. The Basic Loop
Accessorizing the Wrist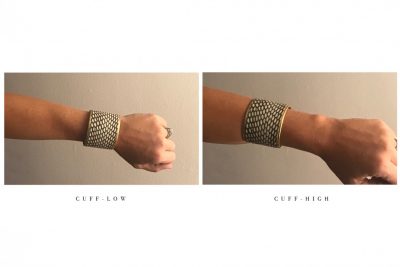 Bracelets often get the bad wrap. Either because they are "too large, too loud or too much". Let's think of other ways to beautify our wrists! The first is with a CUFF. A great alternative for the woman who doesn't love to hear her jewelry make noise all day. It can be worn on the wrist or cuffed on the "meaty" portion of the forearm.
If a cuff isn't your style, we love layering bangles. Mixing and matching metals and thickness of bangles is key! Bangles are a perfect way to accessorize for a boho gal. Option 3, is the tie bracelet or wrap bracelets for the woman who has small wrists and/or likes the layered look, without the noise.
Winter consulting, personal shopping and outfitting is here! We are booking now through December!
Want more? Visit https://www.wardrobetherapyllc.com
We're Social! Follow along for the latest on our team, our work, and our inspirations! Instagram Facebook