Stylist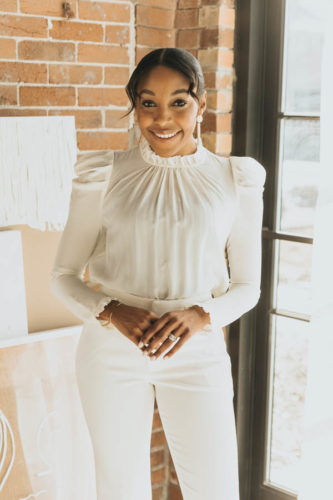 Candace graduated with a degree in Dance from Valdosta State University and a masters in Luxury and Fashion Management from Savannah College of Art and Design. Candace's recent endeavors include working with New York City Ballet, Kandice Pelletier Swimwear and Sherri Hill Designs. In addition to styling clients, ​Candace has curated a style blog, www.candacemread.com, which has opened the door to her being recognized as a top style influencer in Ohio's capital city of Columbus.
Candace lives in Columbus with her husband Jason.
Style Philosophy: Style is truly personal. It's a unique way of communicating who YOU are without ever saying a word.
Style Icon: Olivia Palermo and Blake Lively
Favorite Label: Chanel
Most Meaningful Item in My Wardrobe: A vintage fur stole from my late Aunt Yolanda. She had a unique sense of style that most definitely influenced my love for fashion. Her name is embroidered on the inside of it...it's a piece I will always cherish.
Favorite Jeans: Madewell Cali Bootcut
Biggest Splurge: A gorgeous velvet couture Sherri Hill gown. I wore it when I competed for Miss Georgia in 2008 and 2009.
Greatest Steal: I recently traveled to London and got a lovely pair of Chanel sunglasses from Selfridges. I was able to get them duty-free and saved a few coins… felt like a steal because I got money back on some pretty expensive sunglasses that I am completely obsessed with.
Perfect Saturday: Sleeping in a little extra late followed by a Pilates class and brunch at one of my favorite spots.
Favorite Food/Meal to Cook or Bake: Spaghetti with a spicy meat sauce completed with a touch of balsamic glaze, basil and fresh parmesan cheese. It's delicious.
Band You Wish to Meet Backstage: I would have loved to meet Nat King Cole and his band or even Duke Ellington. I love Big Band music.
My Life in a Hashtag: #bedeeplyrooted #ohthosereads
Words to Live By: Live fully alive and passionately pursue.
Philanthropy Close to The Heart: Americans for the Arts, Children's Miracle Network and Dress For Success.
When You're Not Thinking Fashion, You're Doing: Usually just doing life with my husband, Jason! And spending quality time at home...I love being at HOME with a scented candle, sipping coffee, relaxing and watching Royal documentaries (I'm obsessed with the BRF).
Contact Candace at Candace@wardrobetherapyllc.com