The 4th of July holiday may be looking a little different this year, but that doesn't mean your outfit needs to! Whether you're staying at home or safely socially distancing with friends or family we have compiled outfits to keep you fabulous at all ages from your 30s to your 70s. Happy 4th–stay safe and healthy!
For our ladies in their 30s: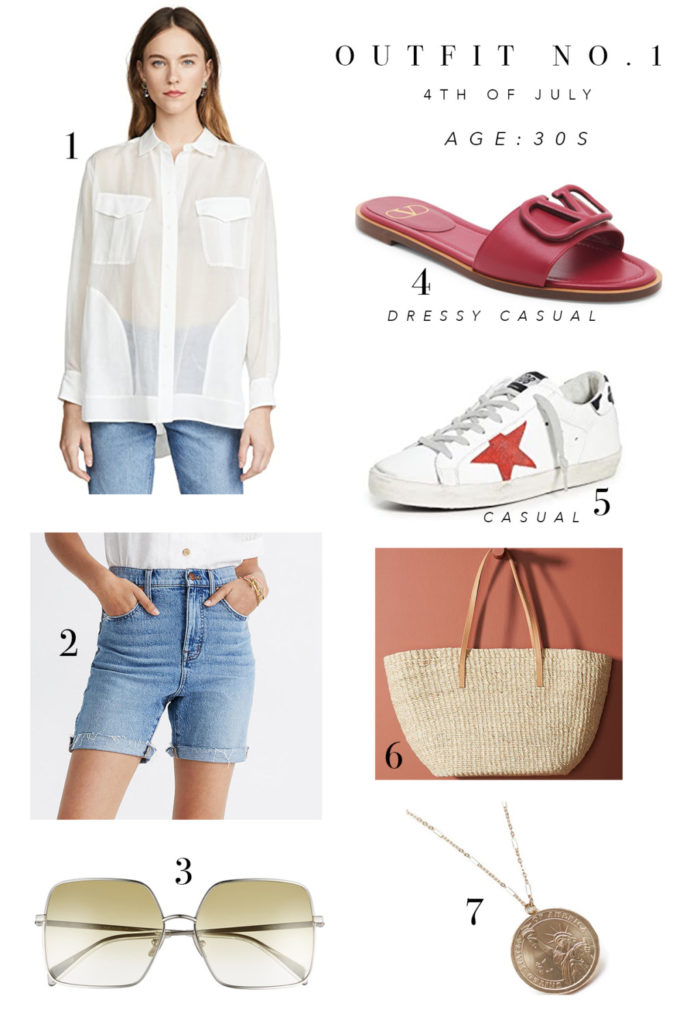 1 WHITE WOVEN TUNIC | 2 DENIM BERMUDA | 3 SUNGLASSES | 4 SANDAL SLIDE | 5 SNEAKERS | 6 STRAW TOTE | 7 COIN NECKLACE 
There's nothing more classic than a white woven and denim shorts for the 4th of July. For our ladies in their 30s, we love the idea of playing with trends a bit more heavily for a holiday while remaining true to what works for the silhouette. For a classic remix of this Americana look, we LOVE the utilitarian concept of this white woven tunic. It is sheer and will double as a great swimsuit coverup if you are planning to be by water for the day. For styling, wear it open front and roll those sleeves . If the white woven isn't your jam, just reach for a crisp white tee.  A high rise denim bermuda short because…IT JUST FEELS RIGHT. Depending on your plans you can reach for a chic designer slide or your favorite fashion sneaker (preferably with a touch of red to be festive). Complete your look with a pair of 70s inspired sunnies and this Lady Liberty Coin necklace from one of our local favs, Honey Rose & K. And oh yes, a straw bag to carry any other essentials you might need for the day.
For our ladies in their 40s: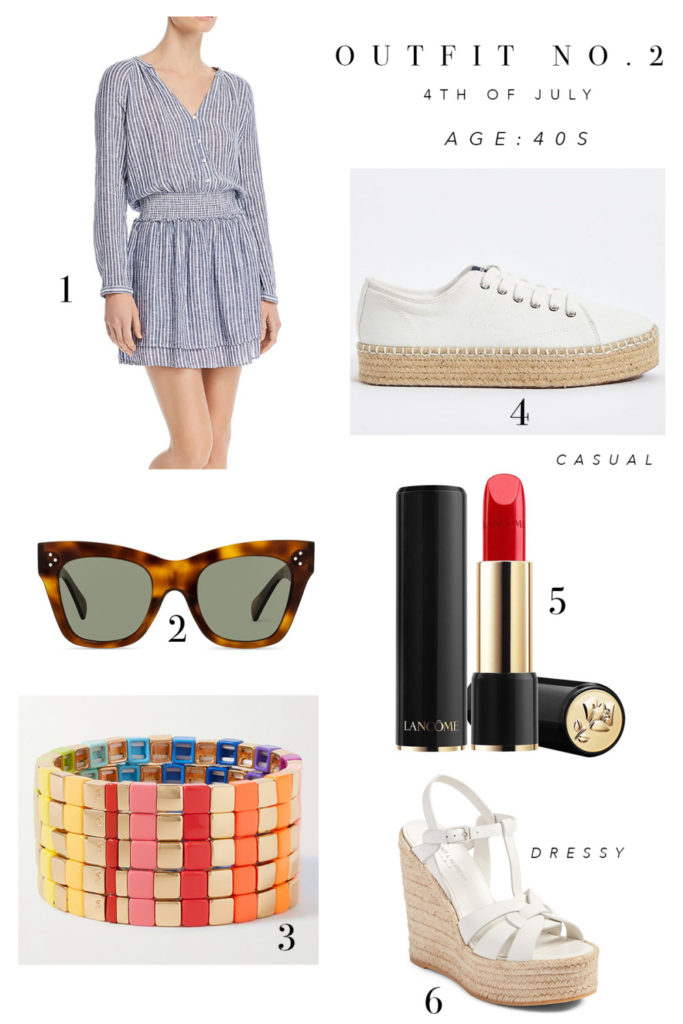 Whether you're staying in with family or heading to a friend's backyard barbeque, this breezy dress will have you feeling festive while keeping cool on a hot summer day. Dress it down with espadrille sneakers or dress it up with a designer wedge sandal. And add a pop of red with a stack of bright beaded bracelets or a red lipstick, like this Lancome one, voted Allure's "Best Red Lipstick".
For our ladies in their 50s: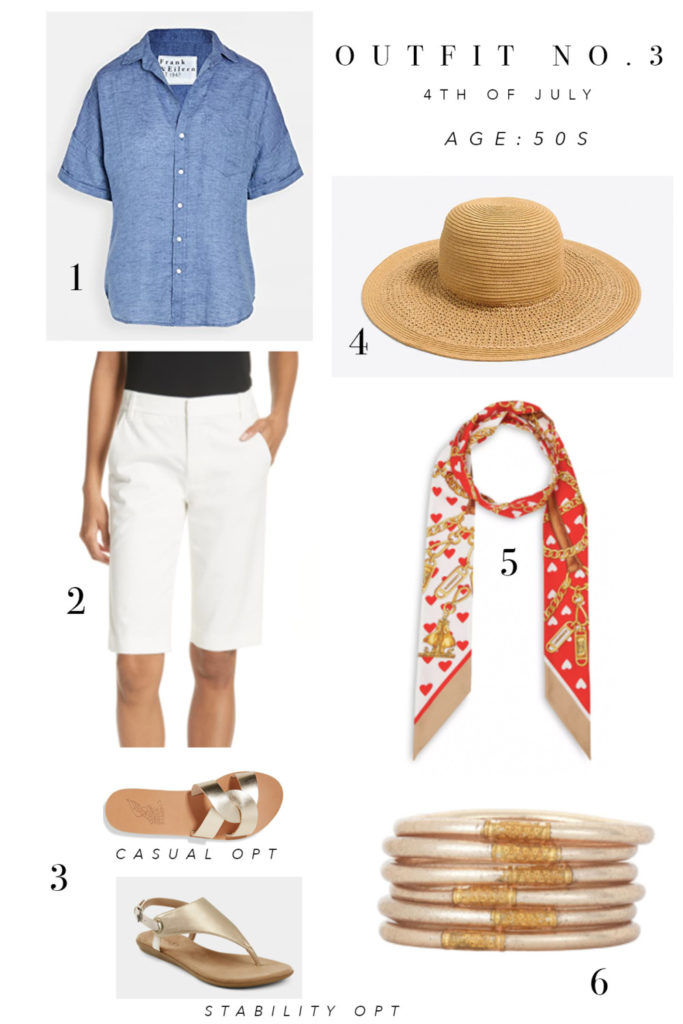 For our ladies in their 50's, it's about a good mix of style and comfort. This 4th is calling for hot temps, so cool and breezy is key. These bermuda's offer just that. A cotton/spandex blend, comfort will be a sure thing, with a fit that is quite flattering. If shorts aren't in your comfort zone, however, a cotton ankle pant will work just fine! The denim shirt offers an easy fit for comfort and coolness, covering the arms modestly, without sacrificing a fit in the arms that are neither too long nor loose. You can tuck in just the front of the shirt to your shorts or pants to emphasize the waist, or leave out if needed 🙂 This beauty of a sun hat doubles as skin protection AND style…and here's a tip: tie this chic Burberry scarf around the brim for a fresh, fun, and festive look! Finish it off with a metallic grecian sandal…we have a chic slide option, and one that offers a bit more comfort and support. Slip on some wooden bangles (these have a touch of metallic–we love), and you're ready for the Holiday!
For our ladies in their 60s and up: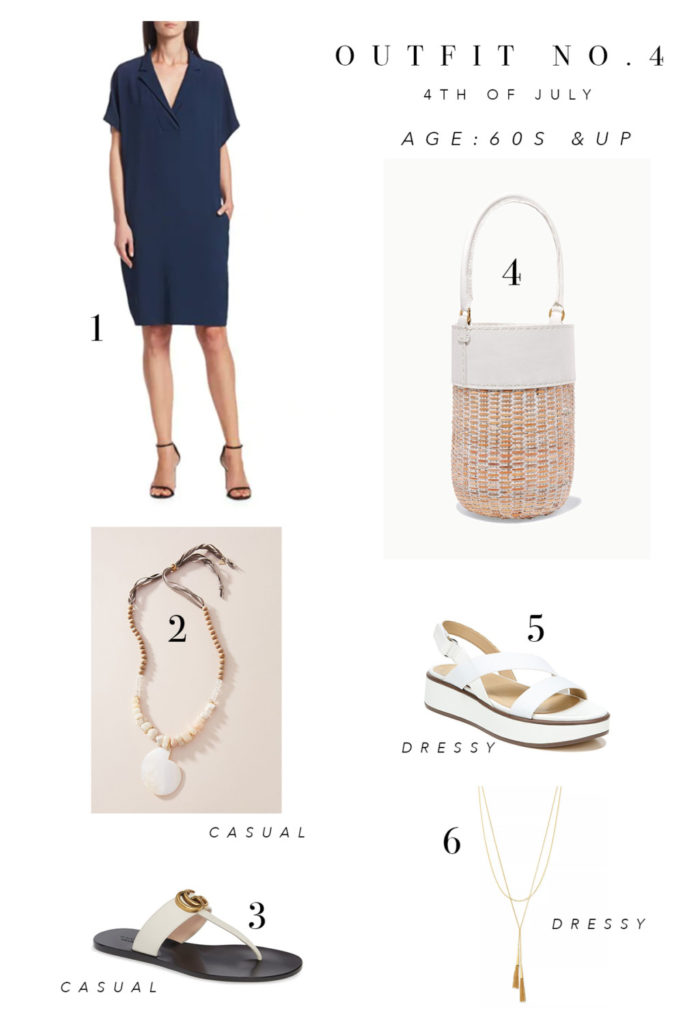 This look is perfect for the lady in her 60s-70s looking for fashion, but coverage. Easy and chic, perfect for the summer heat!
Headed to a backyard bbq? Style with an easy thong and beaded necklace! Wanting to be a bit more polished? Choose the platform sandal and gold tassel necklace. Or mix and match it all!
To learn more about our Personal Shopping, Wardrobe Consulting, and Outfitting services, visit us here:  https://www.wardrobetherapyllc.com
For content created on our website and social media, some links contain affiliate links which we earn a small commission from.