Ok, we have officially reached that point of winter. You know, that stage where you find your toboggan-covered head buried deep in every spring trend-reporting magazine, periodical, blog, or website, and catch yourself daydreaming of spring fashion (not to mention the weather to go along with it)!
But then, BAM!, back to reality, as you defrost your windows (and fingers and toes) while waiting in anticipation for peep toes, bare shoulders, and a little more sunshine!
So to get our fashionistas through these next few months, we've taken one of our FAVORITE classic pieces that just so happens to have made a fresh new appearance this season, and styled it a few ways to show you how to give your wardrobe a winter-to-spring transitional facelift! Let's warm things up, shall we?!
The Classic Woven
The quintessential staple of a wardrobe is the white button-down shirt. This piece has been revamped, restyled, and reworked for spring and we are loving it! For a fresh look, style it under your cozy sweater dress and pair that with a chic neutral ankle bootie and that choker necklace you've been coveting.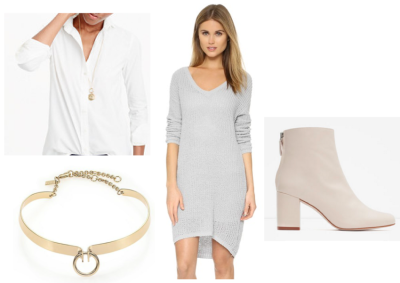 Shoulder Style
We're loving this off-the-shoulder cool vibe going on, and how chic to see it as a woven! Put it with your leather pencil skirt and topper coat, add a black pump and stack your arms with cuffs and bangles–both sides please!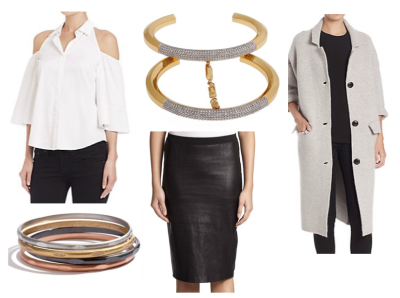 Tails and Flares
Another twist on the button-down: the hi-lo woven. Paired with this ultra-chic kick flare pant, block heel slide, and a couple of fingers full of rings and you're set for a cool, transitional, daytime look.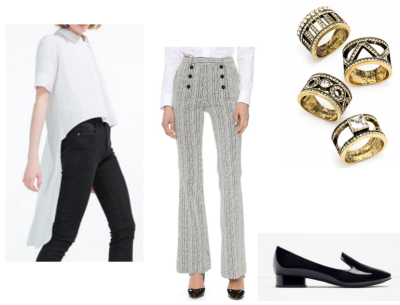 Timeless Tunic
The classic shirt's taller cousin, the woven tunic, is so chic and a perfect way for that classic woman to spruce up her look! For a fresh and feminine look we added a blush boyfriend blazer and pump, but brought some edge with a light wash skinny denim and mixed metal bib necklace.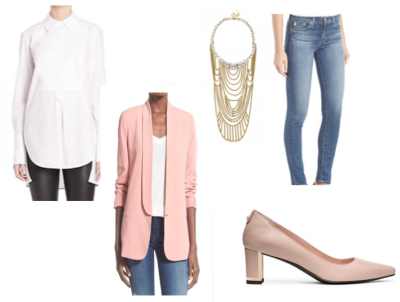 For more styling tips and tricks and to learn more about our Wardrobe Consulting, Personal Shopping, and Outfitting services, visit https://www.wardrobetherapyllc.com, or email the stylists directly at Christyw@wardrobetherapyllc.com, or Elizabeth@wardrobetherapyllc.com.
Keep Making Every Day a Runway!