In honor of Black History Month, we wanted to share a few Black Designers that have truly inspired us. These designers paved the way for many successful black designers who came after them. Despite their struggles, they followed their passion and had huge success doing it!
ANN LOWE
Ever wondered what designer made Jacequline Kennedy's wedding dress? You are looking at her. The lovely Ann Lowe. Born in 1898 in Alabama, Lowe took over her family alterations business shortly after her mother passed away. In fact, following her mother's death she studied in New York for a moment before relocating to Tampa, Florida, which is the place where she was recognized as a fashion designer.
(Image via Johnson Publishing Company Archive. Courtesy Ford Foundation, J. Paul Getty Trust, John D. and Catherine T. MacArthur Foundation, Andrew W. Mellon Foundation, and Smithsonian Institution)
As she continued honing her craft, she began designing for some of New York's biggest retailers like Neiman Marcus and Henri Bendel to name a few. It was in the early 1950s that Lowe's dream of opening her own boutique came to fruition. Located in Harlem, she created designs for Olivia de Havilland who wore the gown while accepting her Oscar. She also dressed Jacqeuline Lee Bouvier, who married JFK in 1963 wearing a custom gown by Lowe for the wedding. Perhaps what's most interesting about Lowe's career is that even though her work regularly appeared in Vogue & other various publications, her design work was kept in secret. Often referred to as "society's best kept secret" or a "colored designer."
In the late 1960s Lowe opened a boutique on Madison Ave, being the first black woman to own a store on Madison Ave.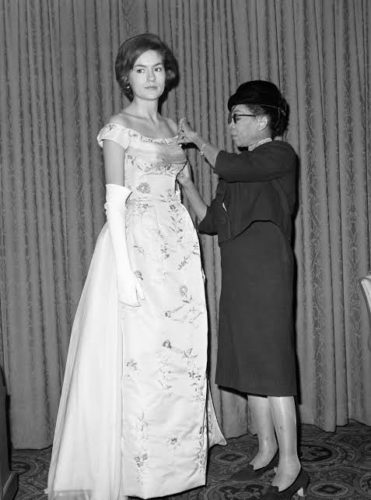 (Image via Getty Images)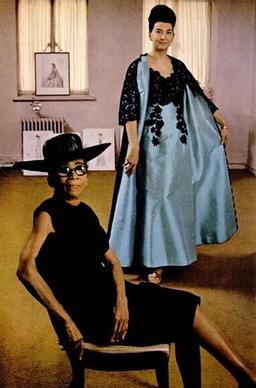 (Image credit linked)
DAPPER DAN
Daniel Day or as most people know him, Dapper Dan is a style icon from Harlem, New York. Day is most known for bringing high fashion to the world of R&B. His clients are some of the most famous rappers of our time, including Jay-Z, Salt-N-Pepa, L Cool JJ, and many more.
Daniel was born in the post-WWII age of Manhattan. Growing up in the streets made Day into a very skilled gambler. He used his gambling money to finance his first store. Day became inspired by a Malcom X speech and used that inspiration to leave the street life and begin his education. Putting himself through school changed the trajectory of Day's life. After feeling lost as a writer for the Harlem newspaper, Day took a trip to Africa as part of the Columbia University and the Urban League academic program.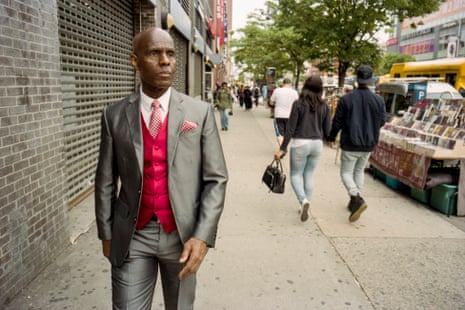 (Image via Andre D Wagner/New York Times/Redux/eyevine)
After returning to New York, Day decided to follow his love of fashion. He started by selling shoplifted items out of his car. Day quickly graduated to open his own store on 125th Street between Madison and Fifth Avenues. He struggled to find anyone who would sell fabric to him because of his race. That roadblock inspired Day to create his designs himself. His furs became a Harlem fashion staple. Dan was also the inventor of a revolutionary screen printing process on leather. This is when he designed the infamous jacket for Diane Dixon. Dapper Dan referred to his designer-inspired designs as knock-ups, as he felt they were too extravagant to be called knock-offs. Day's illegal use of logos in his custom-made designs led to counterfeiting raids and litigation, and ultimately the demise of his first store.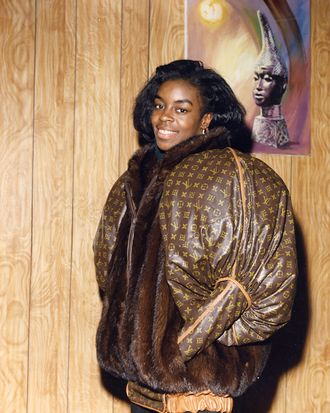 (Image via DapperDanOfHarlem.com)
(One of Dapper Dan's jackets on show at a design exhibition at New York's Museum of Modern Art in 2017. Image via ZUMA Press, Inc/Alamy)
Day was shunned from the world of high fashion for years until September 2006, the Museum of the City of New York Fashion, showcased Dapper Dan's samples in an exhibition called Black Styles Now. After that Dapper Dan's brand was reborn. In 2017  Gucci's Creative Director, Alessandro Michele designed a jacket based on the infamous design Day made for Diane Dixon. This created a lot of controversies as Gucci did not give credit to Day's original design. Push from Diane Dixon to give Day credit led to a collaboration with Gucci to create a men's wear line and later led to the first luxury fashion house store in Harlem.
Dapper Dan's original boutique is now a chain school called Harlem Children's Zone Academy.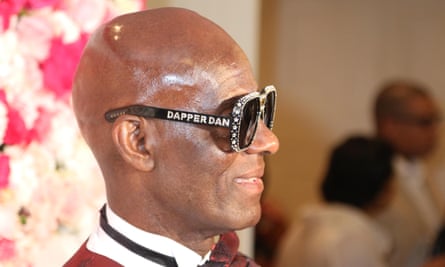 (Dapper Dan in 2018. Image via MediaPunch Inc/Alamy Stock Photo)
Jay Jaxon
A pioneering Black designer of French couture, Jay Jaxon worked in esteemed Parisian fashion houses like Yves Saint Laurent and Christian Dior, creating both couture and ready-to-wear for them. From the cobblestoned roads of Paris to Hollywood's Walk of Fame, to the streets of his native New York, the Queens-born fashion designer left his mark, creating clothes for performers and singers, such as Annie Lennox's suit for the 1984 Grammy Awards.
Jaxon graduated from F.I.T. in 1966; by then he had started to sell his designs at stores like Henri Bendel and Bonwit Teller. His goal, however, was to get to Paris, the era's epicenter of fashion, and by the end of the decade he had moved there and found work as a designer.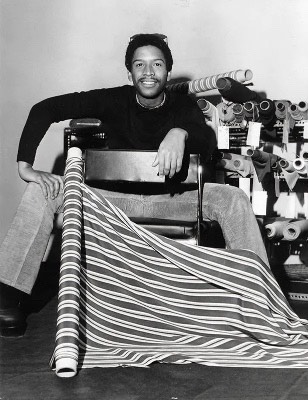 (Image via ZUMA Press via Alamy)
Before long he became noticed for his adaptability, easily translating his designs for different labels as well as meeting the tastes of independent customers.
In addition to Givenchy and Yves Saint Laurent, Jaxon also worked under Marc Bohan at Christian Dior and was on the design team at Jean-Louis Scherrer. His aesthetic was consistent, with a focus on clean, fluid pieces designed with the drape of each garment's fabric in mind. There were flowing trousers and easy jackets; skirts and dresses cut on the bias for movement. Though they expressed simplicity, his garments, even sporty ones, carried a sense of sophistication and grace.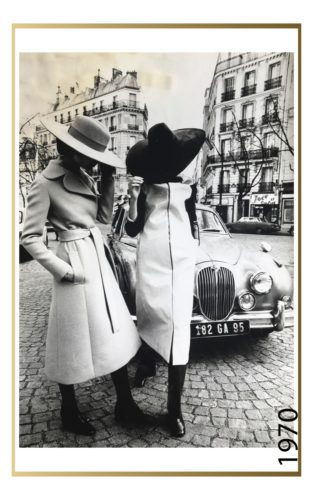 (Image via Photographer Unknown, Editorial Image, 1970, Maison of Jean-Louis Scherrer, Jay Jaxon's Portfolio, Bequest of Lloyd Hardy, Rachel Fenderson Collection, 2017.)
"To me, clothes have to have a certain amount of elegance," Jaxon told the journalist Yvette de la Fontaine of Women's News Service in 1970 when his first collections for Scherrer were being unveiled. "Then they must be worn with elegance, with style. That is my couture."
By the mid-1970s, he had returned to New York City and started his own brand. His focus was on elevated sportswear, like trim, collared jackets, and polished, pleated trousers, which he also designed for other companies, like Pierre Cardin. Still, his name wasn't widely known.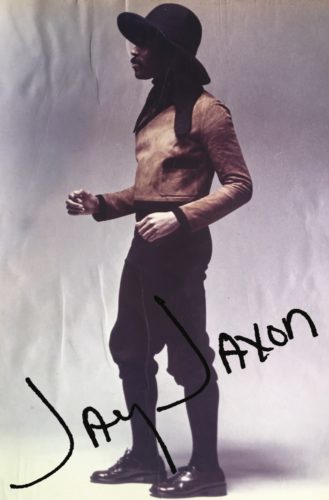 (Image via Photographer Unknown, Editorial Image, Jay Jaxon's Portfolio, Bequest of Lloyd Hardy, Rachel Fenderson Collection, 2017)
In the mid-1980s, Jaxon moved to Los Angeles at the suggestion of Lester Wilson, a choreographer friend whom he had known since childhood. There he designed costumes, including a crisp, double-breasted, menswear-inspired suit for the singer Annie Lennox to wear to the 1984 Grammy Awards as well as outfits for dancers in a 1983 television tribute to Motown Records. His costumes also appeared on TV shows like "Ally McBeal" and "American Dreams" and in movies like "Mr. & Mrs. Smith" (2005).
Spring is right around the corner! We are booking through April.
Keep Making Everyday A Runway!