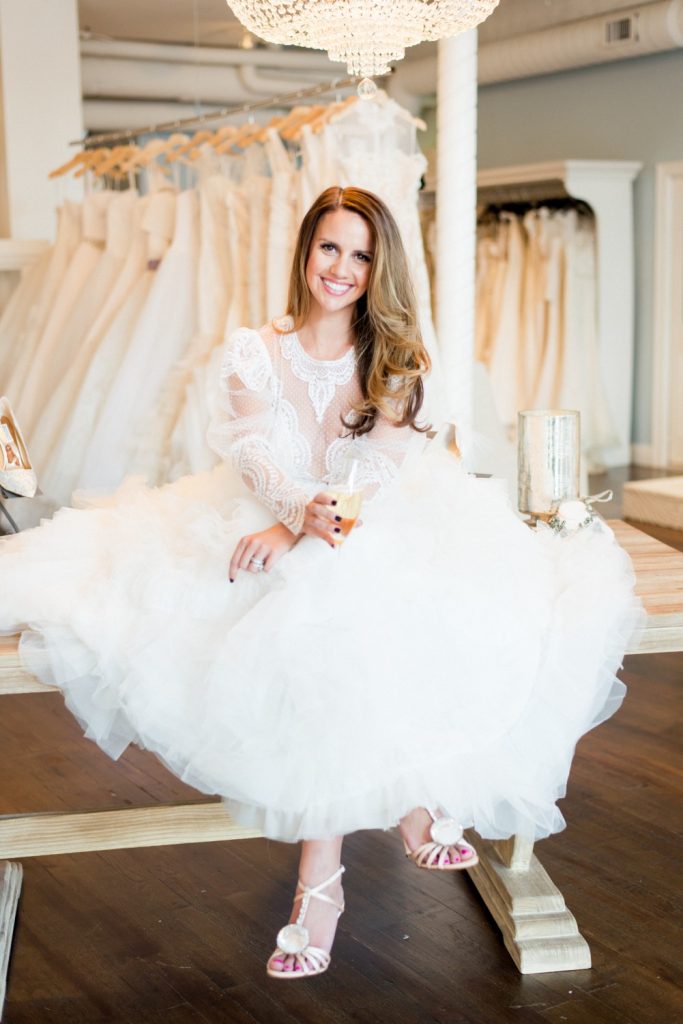 We love getting to know the women in our community and how their business came to fruition. Lindsay Fork is a leader in the bridal industry in Columbus, Ohio. She's a girl boss, leader, momma, wife, colleague and bridal entrepreneur.  If you haven't been to La Jeune Mariee, you might make an excuse to go and see the most beautiful bridal gowns.
Q:  You have been a leader in the bridal industry of Columbus for over a decade now, What inspired you to buy La Jeune Mariee? Have you always wanted to be in the bridal industry?
From a young age, I did in fact obsess over bridal fashion.  I grew up in a very small, one stop light farm town.  When my mom would take me to the library, I would head over to the periodicals to grab Brides Magazine.  There was no Martha Stewart Weddings or Grace Ormonde.
I was actively working on opening a Bella Bridesmaids Franchise here in Columbus when the opportunity presented itself to purchase LJM from the previous owners.  Bella was a way for me to get into bridal with corporate support whereas buying LJM was way more scary but definitely more in the realm of what I had experience with.  I had worked for a large family owned bridal store in Cincinnati while at Xavier University.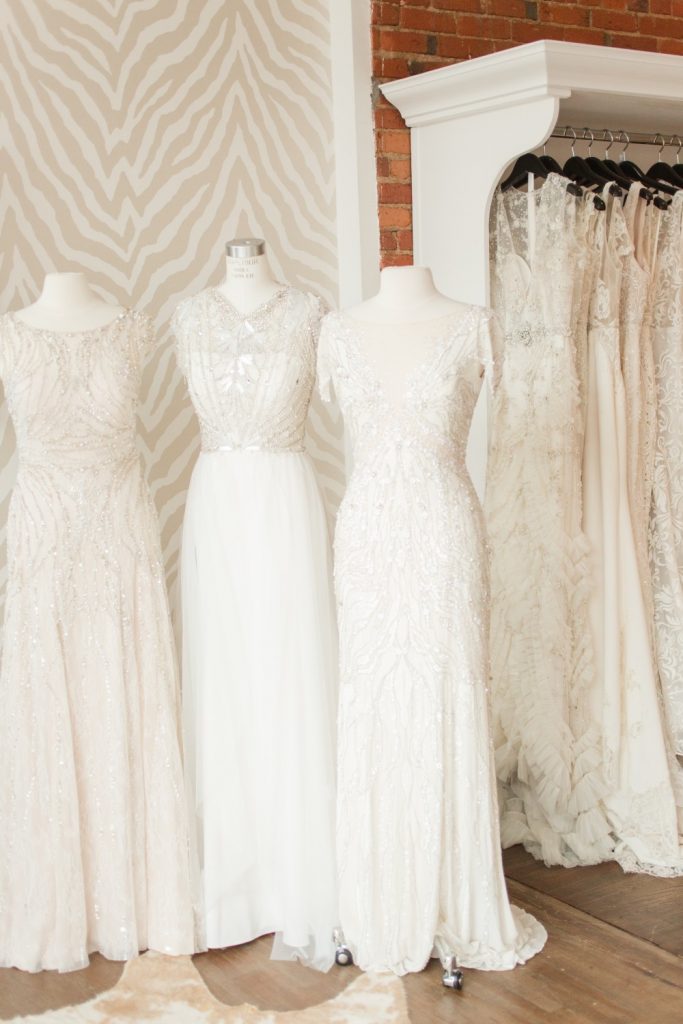 Q: Tell us about your store, you carry a variety of price points and styles, who is the bride that is shopping with La Jeune Mariee?
We have a wide variety of price points and styles at LJM because quite frankly, we can!  In bridal, when you first start out, it's very expensive to have a lot of inventory.  Yes, we have to purchase all of those beautiful samples!  But most stores starting out can humbly afford 4-5 designers at most with 4-6 styles per designer.  2008 La Jeune Mariee was this.  Now we have approx. 12 designers and over 300 gowns to choose from.  We've had the tenure to grow over time adding more selection.  My passion lies in the designer, couture lines, but I know and realize that we need pieces that exude style at a more affordable price point.  What is so great about Columbus is that we are an inclusive community.  I like to think our brides understand that we have a wide variety of price points and style offerings and whether you have a $1500 budget or $10K budget, you're going to have the same experience and a great selection either way.
Q: Speaking of the store, the end of last year you sold off a portion of your business so you could concentrate on the bride, how did this come to fruition?
I did sell our bridesmaids location to a former bride of mine that I felt could take the store to the next level and offer an even larger variety of social occasion and mother's dresses.  With La Jeune Mariee and the expansion efforts of LUXEredux Bridal (our designer sample sale stores) I knew I had to let something go.  Because of the volume and care that needs to be given to the bridesmaid's transactions, it's important to have an owner/operator in the boutique and I was not able to be that person anymore.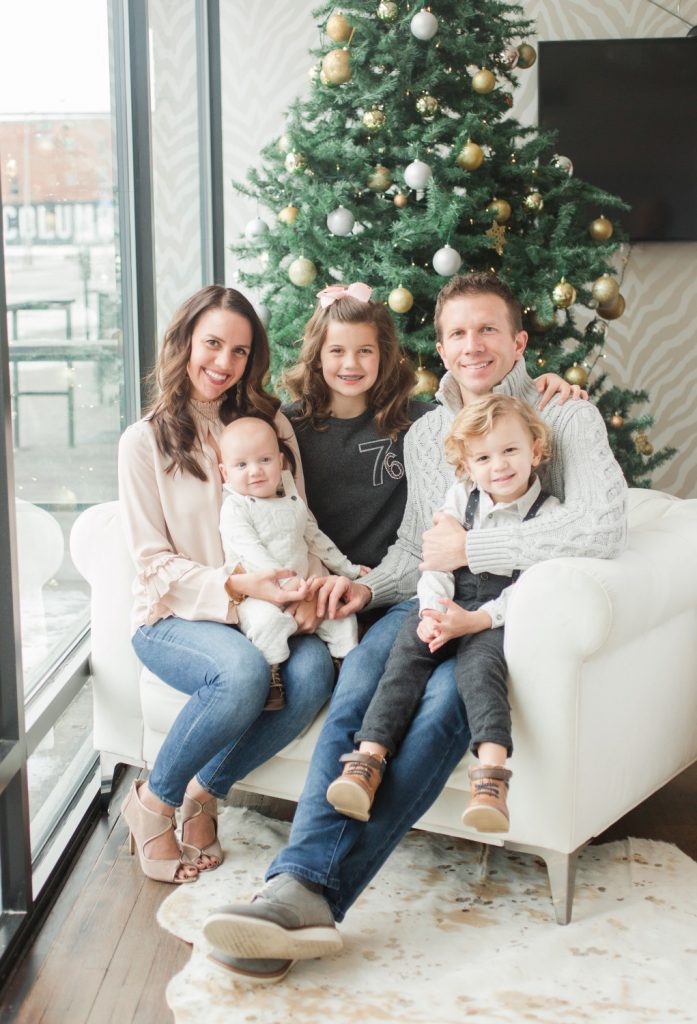 Q:  How do you juggle the balance of the retail industry and also a working momma to your 3 littles?
Ahhh, my kiddos!  It's tough for sure and the "it takes a village" adage definitely rings true for me.  I grew up in a retail environment with my parents so later evenings + Saturdays working was completely normal in our household.
I am blessed to have found a Nanny that is able to put up with my crazy schedule and a husband who is gone half the time as a pilot.  If we didn't have her, we would be lost!  Family helps as well.  My in-laws are saints!  Do I wish I were able to attend every little thing? Absolutely!  But when I look back at how hard my parents worked, that's what I remember.  Not that they missed one of my volleyball games.  They tried to make it to all of the most important events so I try to keep that in perspective when I start to have mom guilt.  There really is no balance.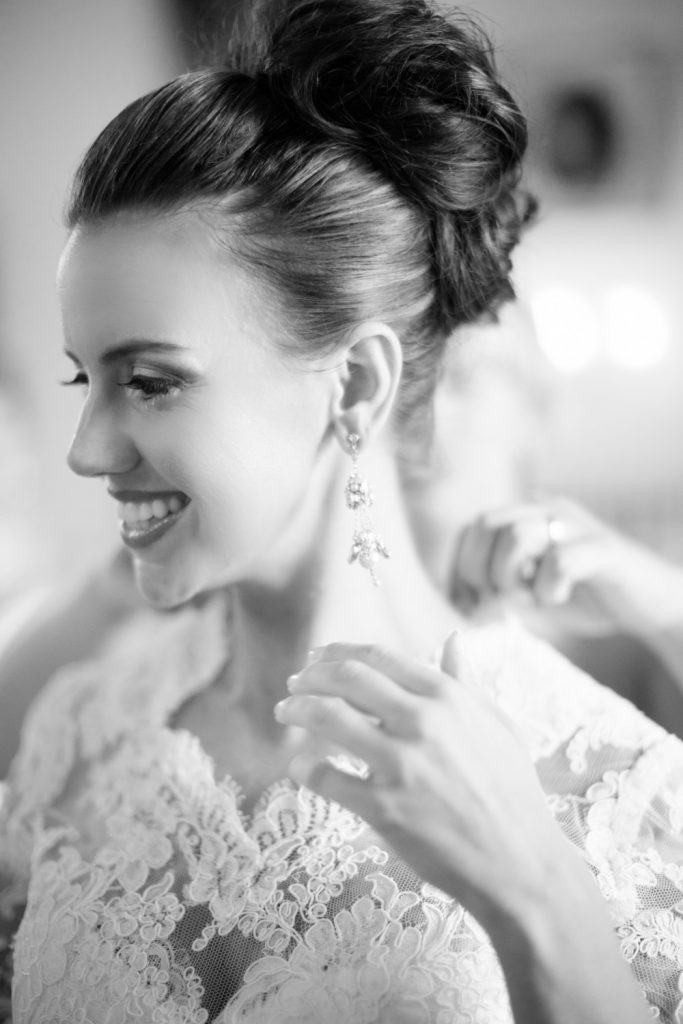 Q:  If you could pick the perfect wedding dress for yourself (again).. what style would you choose?
Honestly, I always tell my brides I would wear the same dress(es)!  Of course I wore multiple because WHY wouldn't I?  I chose traditional and beautiful all over lace with sleeves for my ceremony and a modern duchess satin architecturally draped gown for my reception at The Ohio Statehouse.  I truly loved them both and chose gowns that would have a timeless feel while both very different.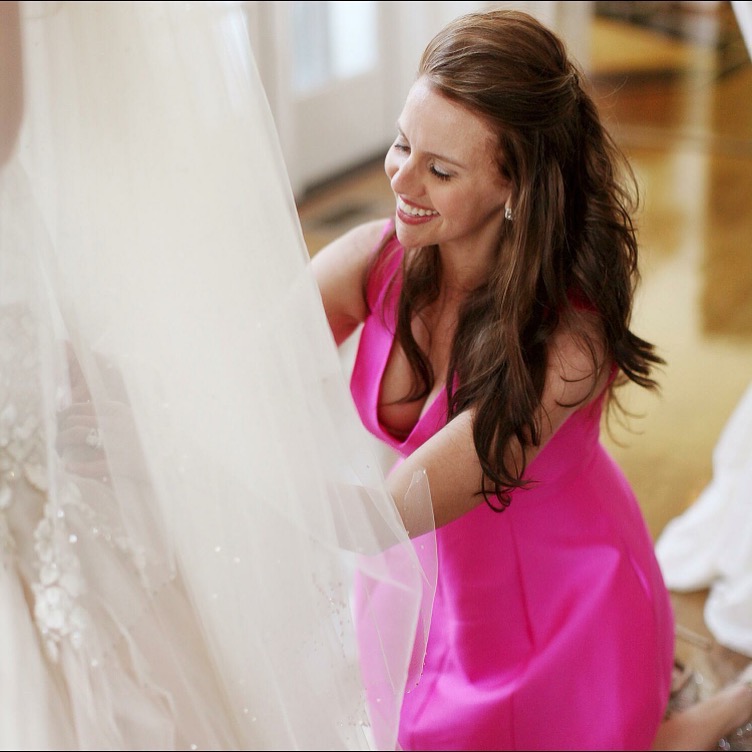 Q: Does it match your everyday style? Is this something you suggest to your brides?
I would absolutely say what I wore reflects my personal style.  I typically go for something more traditional and classic with a punch of something nouveau.  I am not a super trendy, need to get rid of that after the season, type of dresser.  I actually do not enjoy shopping and trying to keep up with all of that.  I buy what I love, not what I "like" and have to talk myself into.  I detest returns.
I always tell my brides to stay true to their style and do not use your wedding as an opportunity to try something you're not comfortable in fashion wise.  If you're the girl that likes to be fashion forward and have shock value, then it makes sense that you pick a Vera Wang that is over the top and has an asymmetrical draped sleeve with tulle shooting out of the back.  If you're a jeans and flip-flops sort of gal, we can find you a simplistic and beautiful a-line with soft details that won't shine a spotlight in an uncomfortable sense.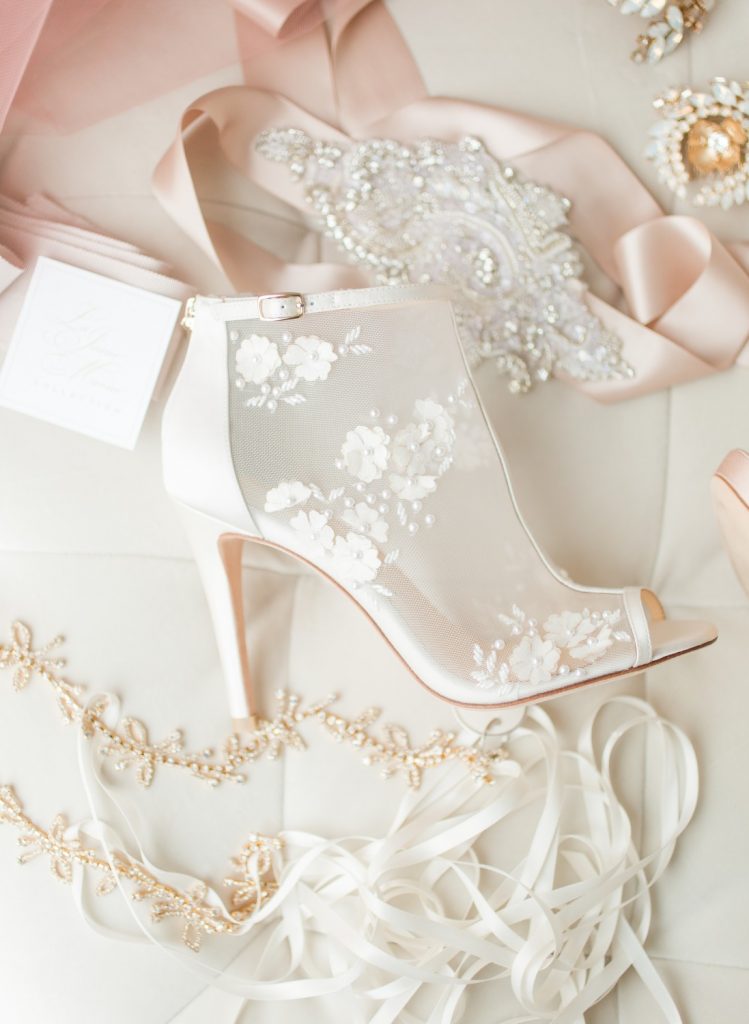 Q: Can you give our readers a few tips for our Mother of the Bride/Groom client?
Shop at Gilded Social (new owner of the Bridesmaids store) or shop online.  Free Shipping and Free Returns is all the rage so take advantage of ordering things you think you might like and return what you don't.  My mom bought a gown at Bergdorf's, loved it, but proceeded to shop (hello, don't do this) and stressed herself out.  She ultimately chose the original, looked fabulous and all was right with the world.
We loved getting to learn more about Lindsay and La Jeune Mariee, to visit her store or learn more please visit La Jeune Mariee.
Summer looks are in full effect! Contact us for consulting, personal shopping and outfitting! To learn more about our Personal Shopping, Wardrobe Consulting, and Outfitting Services, visit us here:  
https://www.wardrobetherapyllc.com