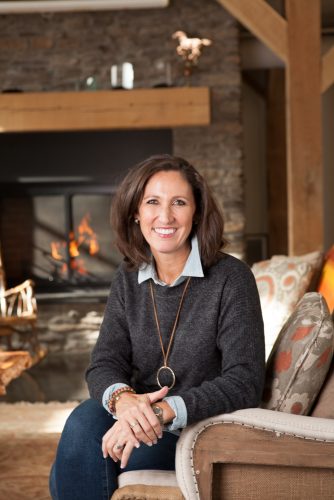 Nichole Dunn spent nearly a decade helming The Women's Fund of Central Ohio as President and CEO. She worked tirelessly advocating for women, disrupting gender bias and sparking conversations about gender equality everywhere from living rooms to the Statehouse. She produced Keyholder events that brought in celebrities from Goldie Hawn to Billie Jean King—and brought us to tears. Now, she has taken her talents to Flying Horse Farms. On April 21, she will make her first major public appearance as camp's President and CEO at Campfire, Flying Horse Farms' annual (amazing!) fundraising event. Here, we talk women, parenting and more with Nichole.
Q: You spent almost a decade building The Women's Fund into an impactful nonprofit. What are you most proud of doing there?
A: I'm most proud to honor and share a vision with the founders. We took the organization from being described as "We raise money and make grants to serve women and girls" to one that was a leader in the community starting conversations; addressing gender bias and equality; and creating an advocacy agenda that was based on research.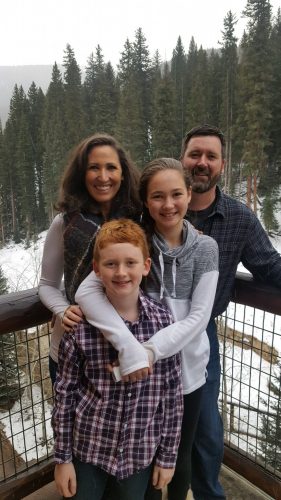 Q: You have a daughter who is turning 13 and a son who is turning 10. What do you think is the most challenging part of parenting kids in today's world?
A: Two things. First, accepting that they observe and know way more than we think they do. And second, supporting and encouraging their personalities to shine while knowing the school environment may want them to conform.
Q: How do you address those as a parent?
A: They can handle big conversations and big topics if we're willing to go there, so in our house, we go there—on a variety of fronts. For example, when my daughter was in fourth grade, she saw that all the girls would dress the same, and she didn't want to dress like the other girls. And one of her good friends happened to be a boy, and she was being made fun of for hanging out with boys. We got to the point where we said, "Fourth grade just sucks, doesn't it? But it won't last forever. These don't have to be your forever friends. You're going to make an amazing adult, but you first have to survive school." You go there, you say that. The more we do that—versus asking questions like, "What are you doing to fit in?"—the better.
Q: Your degree is in child psychology. And you began your career as a licensed alcohol and drug treatment and prevention counselor, by founding a recovery program for high school students in Minnesota. What did you learn through that experience?
A: I learned three things there that I still keep with me. The first is, disease is not anybody's fault. It's not the child's fault. It's not the family's fault. It's nobody's fault. Second, you're responsible for the effort, not the outcome. Which totally turns upside down all the theories about the buck stopping with the leader. But when I was dealing with these young kids that I cared tremendously amount… I just needed to learn that I was only with them for a small moment, and I hoped they carried it with them. And then the third is simple, yet it is still one of my top leadership mantras: You matter. Working with young people, especially when they've been stigmatized by a disease—when  given the opportunity to be trusted, they can do amazing things.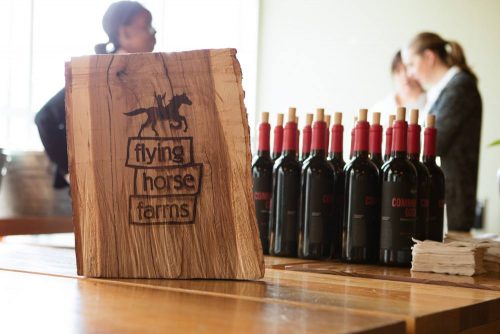 Q: You say that leading Flying Horse Farms offers you the opportunity to take all of your interests and experiences and passions and utilize them to their fullest potential. How so?
A: I'm far from understanding the acuteness of the diseases that the children at camp live with. But I have worked with young people. I have experience working with disease diagnoses. I have a genuine passion for children and families. And I have lead, managed or helped manage nonprofits for over 20 years. I get to take all of that experience and perspective and use it here. I think the organization is at a place where I can be helpful. And the mission allows me to lead with my heart and spend my days in a way that feels personally convicting and fulfilling.
Q: Someone very close to you has battled pediatric cancer for a few years. How has living through that impacted how you see the campers?
A: The core value of Flying Horse Farms that speaks most strongly to me is this: With trust comes relief. At camp, the camper gets to run and be fearless and play and fit in. And the parents get a minute to take a breath. Disease turns your world completely upside down. You don't know who to trust or what news is about to be shared with every phone call. With every hospital visit and lab test, your nerves are wrecked. You're constantly living in the unknown. So I love the idea of serving the kids, but serving the parents resonates with me, too.
Q: Now that you're a few months into leading Flying Horse Farms, what has really surprised or impressed you about camp?
A: The depth of complexity around the safety and medical care that we are prepared to provide to our campers. The attention to detail—it's beyond impressive. This team is setting up every camper to be successful by thoroughly looking at the acuteness of their condition, looking at their psychosocial abilities and potential, and considering their emotional wellbeing. The time taken to have everything in place for each camper—right down to what campers are paired together in cabins—it's so thoughtful.
Q: You're a longtime Wardrobe Therapy client. Why is style important to you?
A: It's a visual representation of my personality, and it's the message that I'm wanting to convey. If I feel like me, I'm going to show up as my full self.
Q: Favorite date night with your husband?
A: It's actually not night—it's when we find ourselves in the middle of the afternoon and the kids aren't home and we go out to a restaurant in the middle of the day. We are the most casual people, and we look for the most random moments to surprise ourselves and say, "Hey, you're home, and I like you. Let's go hang out." We don't have a go-to place; it's any place that has good wings and French fries. (laughing) We are so not fancy people!
Q: Favorite way to relax?
A: A glass of wine with friends in what I call a tiny party—three friends or less. And sitting in the sun anywhere.
Q: If you had an extra hour every day, how would you spend it?
A: Being a working parent, if offered the gift of an extra hour every day, I would dedicate it to my kids. Play games. Play cards. And watch silly YouTube videos to the point that Henry cries. I'll never forget the first time Henry watched cat videos; it was the first time he laughed so hard he got tears in his eyes. He was like, "Why am I crying?"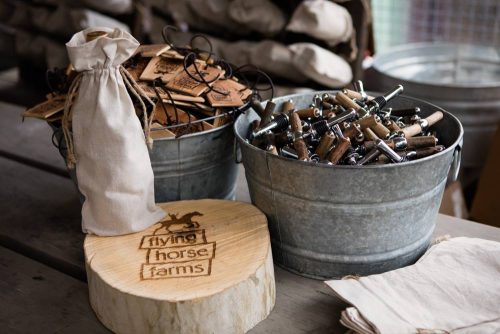 Q: We're excited about Campfire. Why should people come?
A: One, if you don't know camp, this is a great way to be introduced to Flying Horse Farms—we'll bring camp to you. If you are already in love with camp, this is a night to celebrate. You'll experience a taste of what we mean when we say "camp magic." It's a cool and powerful and meaningful night that will help support 900 campers to have moments to be fearless and free all spring, summer and fall. Oh—and as for attire, it isn't fancy. It's camp cool, and how awesome is that on a Saturday night?!
Campfire is Saturday, April 21 at 7 p.m. at The Exchange at Bridge Park in Dublin. Tickets are on sale now. Patron tickets are $200 and young professional tickets are $150 or join the Campfire Friendship Circle with a $1,000 ticket at www.flyinghorsefarms.org/2018-campfire-columbus. (The event has sold out the past two years, so snag your tickets today!)
Also, stay tuned.. as we will be giving outfit ideas to those attending from a few of our favorite boutiques!! Can't wait!
To learn more about our Personal Shopping, Wardrobe Consulting, and Outfitting services, visit us here:  https://www.wardrobetherapyllc.com