To continue our Men We Love series, we spoke with Pascual Blanco, President of Magnanni, Inc.  Magnanni is a family owned luxury shoe company based in Spain.  The U.S. headquarters is located in New Albany, Ohio; which also handles the distribution for Asia and includes a showroom that you can stop in and shop! Our clients loved getting a peek at the impressive inventory and space during the trunk show we hosted back in December. Ben had the honor of chatting with Pascual to learn a bit more about him and this beloved company.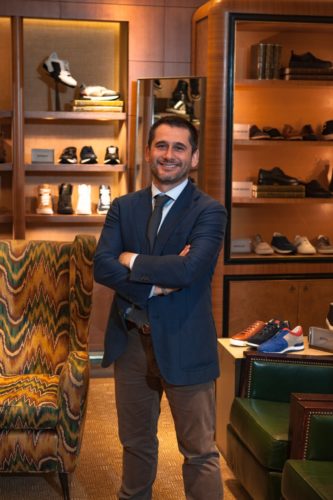 Pascual, first of all I want to thank you for taking the time to do this and being part of our "Men We Love" series. I wanted to share my Magnanni story with you before we get to the questions! I was first introduced to Magnanni when I worked for Nordstrom. I had won a sales contest during a trunk show that our men's shoe department was hosting. The award was a complimentary pair of shoes from Magnanni. I chose the Ramiro II loafer because it was a classic loafer that I could dress up or wear casually. On top of its great style, I have to tell you that it is one of the most comfortable shoes I have ever owned. Well, needless to say, I fell in love with the brand and I love sharing the Magnanni story and introducing your shoes into my clients' wardrobes.
Q: Can you start off by giving us a brief history of the brand?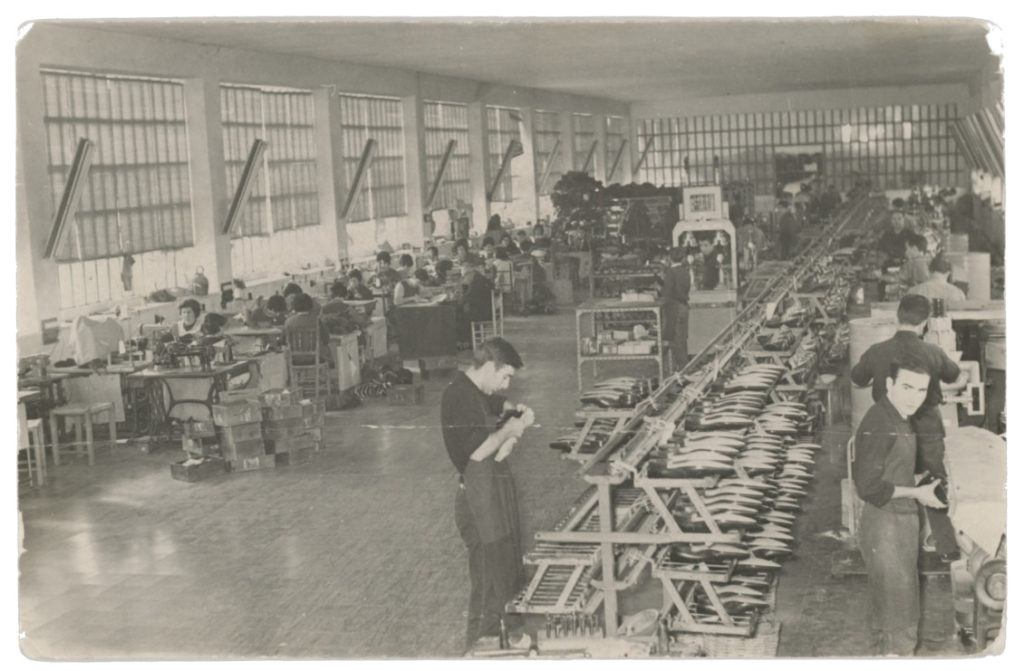 A: The company began in 1954 in the city of Almansa, Spain, by my grandfather Sebastian Blanco. The small workshop was on the ground floor of a house and together with his son Pascual (my father), and five other shoe cobblers, they started to manufacture shoes for other factories and shoe stores. Today, Sebastian's five grandsons and granddaughter (the third generation) run the family business. I live here in the US and take care of the distribution of the product in America and Asia. My four brother's (Sebastian, Miguel, Julio and Luis) and my sister (Rocio) live in Spain and take care of design, production and distribution in EU and Africa.
Q: Magnanni has a long family history, as you mentioned. What do you attribute to the success of your family-run business?
A: Without any doubts, I must attribute the success of our family business to my parents. They taught us the importance of Perseverance, Hard Work and Family Values. We are a very close family, and we have trust in each other. My father and mother started with nothing and worked their way up. They taught us everything we are today and I can truly say that any of my brothers and sister will do absolutely anything for any of us in any determined moment if needed. We are one. There are other important elements that I consider very important as well, but they are secondary, like: Importance of Quality, Attention to Detail and Value proposition, Listening, & Learning from your Mistakes.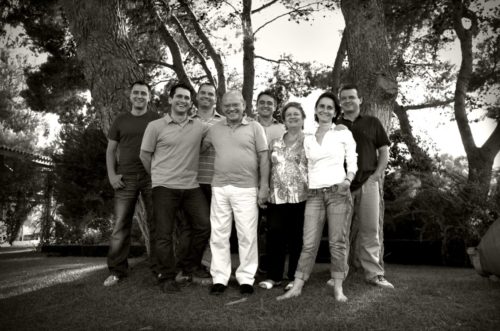 Q: We love that we have your headquarters in our own backyard! What brought the brand to New Albany?
A: I went to school up in Canton, Ohio (Malone University) where I played soccer. One of my teammates was Paul Roehrenbeck and when we decided to open our US distribution, we asked Paul to join us as the CFO. (Honestly it was just him and I in the office. We started the company). He did join but his only condition was to have the headquarters in Columbus. We ended up in New Albany because my wife Wendy and I thought it was a great place to raise a family and it was close to Paul's home as well. We are glad we made this decision. We love it here!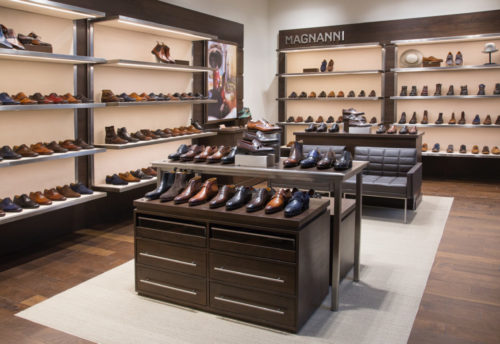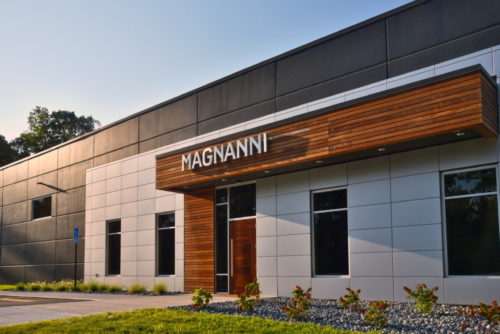 Q: Last year was a year unlike any other; what did you learn about your business? and what is the one thing you and your team did to make it through?
A: Last year was a wakeup call for all of us. We learned that changes would come rapidly from now on. We were used to small variations in business, having time to prepare and react to new threats and disruptors. In todays age, speed and quick adaptation is key for survival. We need to learn on how to be our own disruptors and constantly push and test new ideas and ways to do business. We have to scale down our business, rethink and test new ways to do business and more important to think "customers first".
Q: Are you able to share any big plans that you have for Magnanni in 2021?
A: Ladies shoes!!! We are finally coming out with a women's collection. We have had a lot of requests throughout the years and we finally decided to introduce it this Fall. The collection will be launching in June/July of this year and we are super excited about this new venture.
Q: That is so amazing!! Our female clients will be so excited to learn this! Can you tell us, how does Magnanni stay competitive in the shoe industry? What sets you apart from other shoemakers?
A: Owning our factories and having control of design, manufacturing, and distribution; it's a big part of our competitive advantage. Our goal has always been to offer updated and contemporary designs with great quality at a great value. Today, there are a few companies in the shoe industry that have a vertical integrated business like ours. Being a family own business with tradition, knowledge and a reputation for honesty and quality products, and being able to change with the times by designing and manufacturing relevant products and great value has been a key part of our success.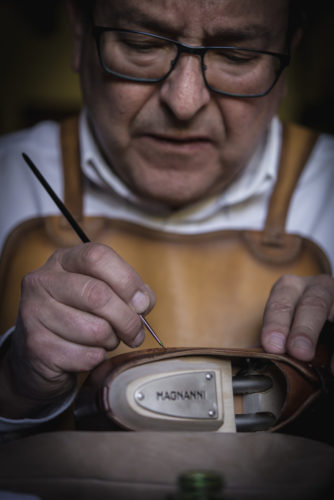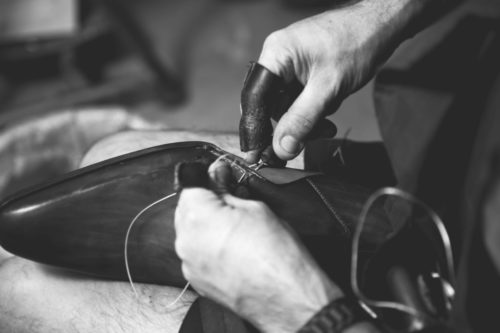 Q: Speaking of family, can you tell me a little about your family and your life here in New Albany?
A: We are a family of four. My wife Wendy was born in Peru and I was born in Spain, so we speak Spanish at home. We have two boys (10 and 7) and they love tennis and baseball and they attend NAPLS. We belong to the NACC where we have met a lot of great friends in the community. We try to spend the summers in Spain where the kids see family, practice their Spanish and get familiar with our culture. Our family likes to travel but due to COVID we have not been able to go anywhere for the past year. We really miss seeing our families in Spain and Peru. Hopefully we could visit them again this summer.
Q: We hope for that as well for you! We are sure ready to travel as well. Switching gears, what is your personal go-to style of shoe?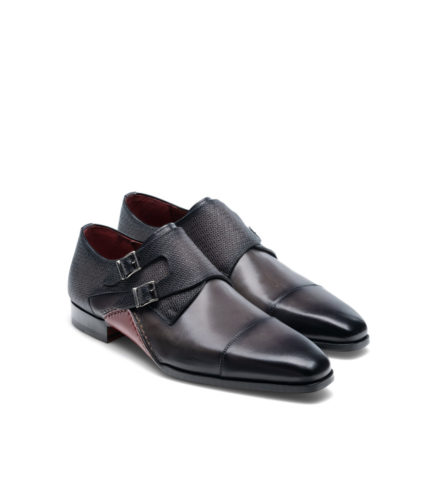 A: I love double monks.  I personally think that as dress shoe it is the most attractive and distinctive design.  You can dress up with a suit or dress it down with a pair of jeans and look great.  There is a kind of sophistication and style to the double monk that I enjoy. I think it is more attractive than any lace up shoe.  Now days, I am wearing a lot of dress sneakers. I always look for a dress component in any shoe, even sneakers because I like a shoe to be versatile.  I am a person that feels that it is better to be overdress than underdress so, when in doubt, dress up.
Q: Besides Magnanni, who are some of your favorite designers to wear?
A: I really do not have a particular designer that I follow. I try to be on trend but I must be honest with you, I am very consistent with my looks and I tend to be an updated conservative. Blue and greys are my go-to colors. If I would need to choose a designer, I will use Armani and Brunello Cucinelli. I like Armani because of its timeless looks and Brunello because they were able to bring the traditional craftsmanship, looks and comfort into our contemporary lifestyle. There are so many great designers out there that it is hard to choose one.
Q: We believe in the mantra, "when you look good, you feel good!" What do you wear that always makes you feel the most confident?
A: Absolutely. I do believe that it is important to look good to feel good. You need to take care of every aspect of your life and dressing up is part of it. I know ties are not on trend now, but when I wear one it feels good and makes me feel more confident. Every time I do a presentation and need to speak in public, I try to wear one. You should always have a sport jacket and a tie to lean on.
Our sincere thank you Pascual and the Magnanni brand for your support. To learn more about the brand visit Magnanni
We are now booking for Spring! To learn more about our Personal Shopping, Wardrobe Consulting, and Outfitting services, visit us here:  https://www.wardrobetherapyllc.com