Spring 2017 is about the BOLD AND THE BEAUTIFUL. It's a bit like the well-known soap opera. There's a story line for ladies of all styles and shapes. We are loving that the woman who is CLASSIC can find a bold or banker stripe that makes her heart sing, while picking up a trench coat that has been reinvented  so that the hem line is not exactly straight. That our BOHO woman can try the angle of a large sleeve and fantastic floral print. While our EN VOGUE woman will pair all of the trends together, in one, leaving us breathless. Oh the tangled web the fashion world weaves!
As Wardrobe Stylists, our job is to help our clients develop their own personal style, so what better way to break down this season's must-haves than to categorize them first by style, filtering in the trends.
You can decide which style best suits you this season, or, if you're daring, dabble in a bit of it all!
Classic:
-You love items that are more solid in color vs. print-heavy. 
-You select items based on foundation vs. trend. 
-Timeless staples and investment pieces make the most sense to you. 

For our ladies who respond to a reserved look, this style is just for you! We are all about the classic white shirtdress for Spring. We love it belted or paired back to a great ankle pant.
When you're a classic gal, you may not love the idea of the oh so trendy, story stealing off-the-shoulder top, but we think you just might respond to a small slit detail on the sleeve for a peek a boo effect.
Stripes! Yes! … Inspired by Wall Street, but tweaked and tinkered with to work for Seventh Avenue. This style is just for you–rock it!
Or another classic staple: KHAKI!
It would seem that every designer figured out how to make the utilitarian material work—from the ones who create pieces for ladies who lunch to the designers who are redefining street wear.
Boho:
-You love free and flowy fabrics.
-You select items based often on trend vs. foundation. 
-Fabrication is key too! You love light cottons and lace, and let's not forget yummy textures.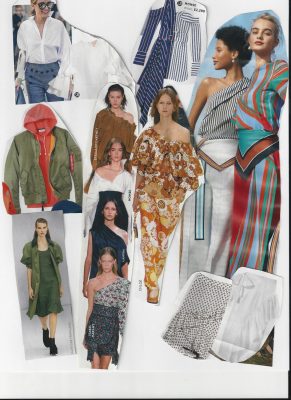 This Spring, our Boho gal is ready for her fashion moment. She's working the story line of mixing bold stripes in flowing fabrics. The one-shoulder is her go-to trendy piece this season. If it isn't off the shoulder it isn't right—at least according to some of our favorite designers. Prabal Gurung, Self-Portrait, Rodarte
It's all in the details and, of course, all in the styling. The Boho lady is ready to try the voluminous sleeves that are in HIGH DEMAND for Spring! The details are MAJOR and BOLD!!
Let's not forget the ruffle details that we are seeing! The Boho gal is ready to try in skirts and dresses. Throw on a Khaki long jacket or a cargo bomber (to give your denim jacket a rest for a minute) it will be one of your favorite (and practical) pieces of the season.
En Vogue:
-You ARE the trendsetter. You're not afraid to take fashion chances. 
-You select items that give a WOW FACTOR. You WANT to be noticed. 
-Fabrications are key. But print mixing is the most relevant for you.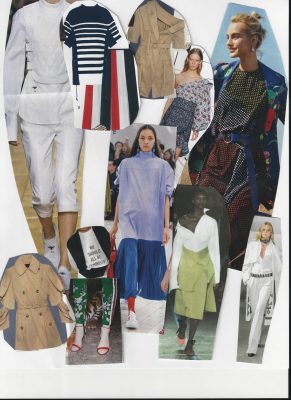 Ok daring gal! We know you're ready to mix things up!
Our En Vogue ladies will love the White Shirt craze.. and we suggest pairing that white head to toe. Pair your shirt with a wide or skinny leg to show that this classic look can be anything but conservative! Why not try styling your basic white woven off the shoulder, for a do-it-yourself look that will daring and so Chic!
Stripes are being worn together, but not necessarily bought together, catch our drift? Be adventurous. Mix it up a bit with color, stripe size, bold prints worn with classic prints. It's your time to take chances on the print mixing. It's ok if they don't "go"!
Make a statement (political or fashion) by wearing your favorite graphic tee under a blazer and best silk jogger pant with a strappy sandal.
IT- COLORS:
50 Shades of Yellow, Pink, WHITE
IT -Shoes and Accessories: TRY YOUR FAVORITES IN WHITE!
Large, shoulder-grazing earrings are a must, across all styles. Earrings are finally getting a moment again, and we're loving that they are the IT piece!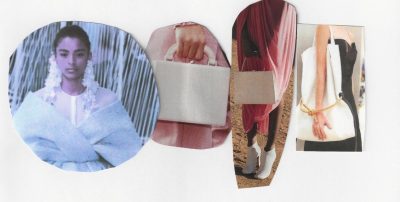 It-Bag:

Classic= O-Ring. This bag will finish your most polished look.
Boho= Large, dramatic and oversized is the key.
En Vogue= Printed small handle vintage "lady" bags.
Ready to make your Spring wardrobe Bold & Beautiful? Call our team of stylists today to get your storyline screaming Fashion!
Keep Making Everyday a Runway!