Hello, warmer weather & hello color!! We are loving seeing color everywhere this Spring! Think saturated limes, vivid reds, and daring shades of cobalt blue. Take the leap and put some color into your wardrobe this Spring.
Red is such a fun color. It can bring warmth to a look or it can be a bold statement piece.  I personally enjoy red when it's added in a more subtle way through fantastic accessories and patterns.  This fun, flirty top is great for Spring/Summer and easily paired with these wide-leg linen pants for a summer casual vibe. Switch out the pants for your denim shorts once Summer hits!  Compliment the red top with varying shades of red in the belt and sandal to tie it all together.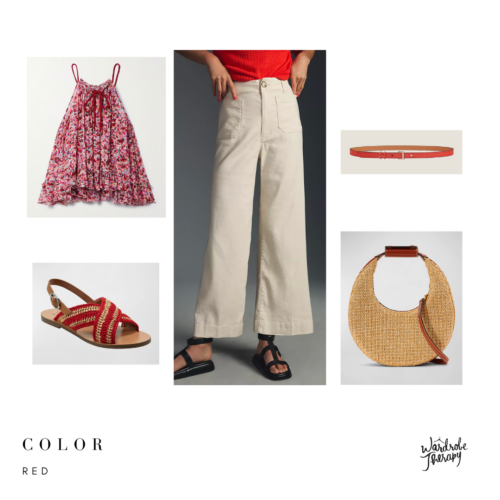 TOP | PANT | BELT | SANDAL | BAG
Cobalt blue is a color that has not been necessarily "trending" in many fashion seasons, so it's that much more refreshing that this vibrant hue has made it to the top of the list this Spring! In order for this color to feel luxe and sophisticated at the office, we love the idea of toning it with a navy blue suit, tucked into the pants to flatter the waistline. The gold earrings create a simple yet chic touch, and we think the Prada navy work tote just goes without saying!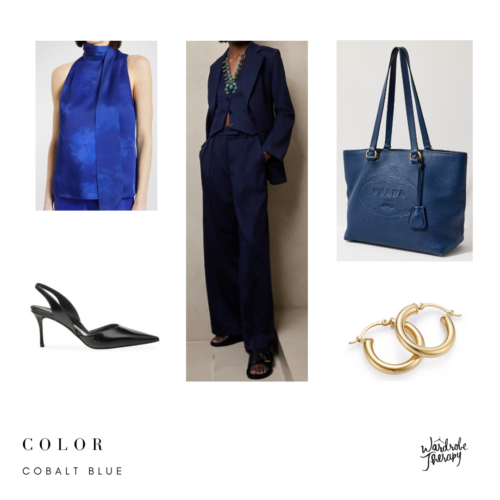 BLOUSE | SUIT | TOTE | PUMP | EARRINGS
It's lime time! So much fashion is coming up lime green! While we know that not all people can wear this shade of green (because it can literally make some look sick), others can pull this color off beautifully. Notice we didn't pull a look with the green by the face! This helps! Style this for a date night out by tucking the blouse or tying the shirt tails in a simple knot. Lime green can be found in shoes, accessories, tops, dresses, you name it! You will be green with envy!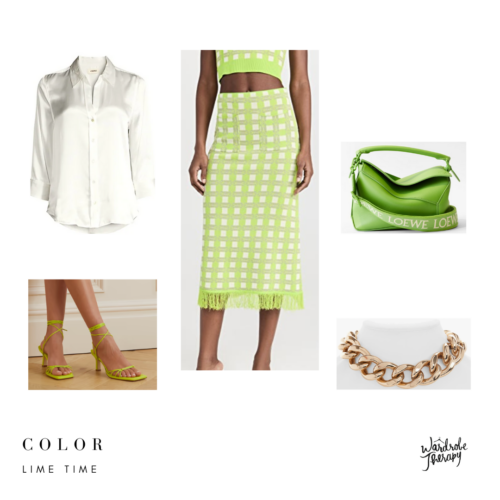 TOP | SKIRT | SHOES | BAG | NECKLACE
Join us for our collaborative event with Pluma Jewelry! If you're not familiar (and we know so many of you are), "Designer Treffry Caldwell first began making jewelry out of the love for stones. Even as a child on family vacations, she would fill her pockets with sparkling rocks and colorful seashells. Somewhere in an attic those once prized possessions remain. She now marvels over the micro-faceted semi-precious stones and raw geodes from around the world with which she creates the designs of Pluma Jewelry. Every piece is about color, cut, balance, and proportion. These are truly the driving factors behind every creation."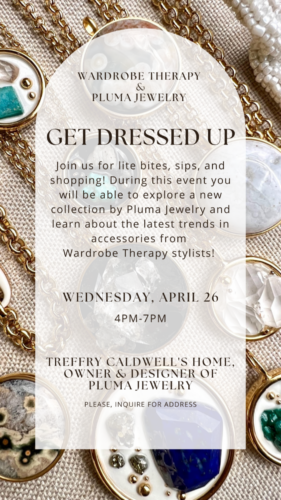 Her newest collection is ready to share and we couldn't be more excited to share it with you! Please join us on Wednesday, April 26 from 4 pm-7 pm! Inquire with a stylist for the address of the event, if interested!
Spring is here! We are currently booking through May!
Keep Making Everyday a Runway!
For content created on our website and social media, some links contain affiliate links which we earn a small commission from.