Wardrobe Therapy occasionally profiles a local woman or man who inspires us in our "Woman/Man we Love" feature.  This month, we are talking to Treffry Caldwell, Founder of Pluma Jewelry. Treffry is wonderfully creative and thoughtful in all the pieces she makes. She marvels over the micro-faceted semi-precious stones and raw geodes from around the world with which she creates the designs of Pluma Jewelry. Every piece is about color, cut, balance, and proportion. In preparation of our upcoming event with Pluma, we thought all of you should get to know Treffry too! A true inspiration in our fashion community!
Keep Making Everyday a Runway!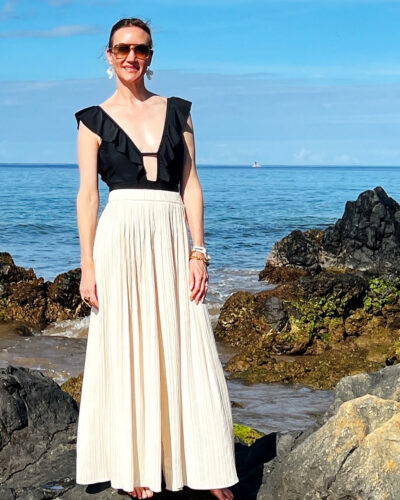 Q: Tell us more about how you started making jewelry.
A: I actually started making jewelry just for myself to own. I've always been a person that felt inspired by something I had seen and I was willing to try and make it myself. I just fell in love with the process and wanted to keep making more and more but reached a point where I really didn't need to own more. I decided to start the business from there. With that said I'd also add that it also began through my childhood love of stones. It was the process of making gemstones into jewelry that was so enthralling to me.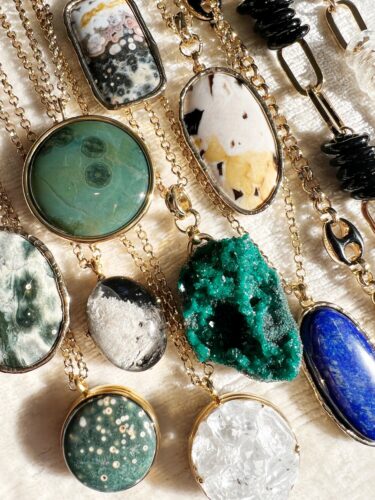 Q: Where do you find inspiration? Or how do you begin the collection-making process when finding inspiration?
A: I find endless inspiration in the materials themselves. I've always loved rocks and minerals. The unbelievable texture, color, and sparkle of natural stones.  Especially when you find a special piece where everything about it speaks to you. The stones tell us stories about their creation that we don't always quite understand but we can appreciate the beauty and we love them for it. Many stones form under unbelievably special conditions and over thousands of years. Not only did it take special conditions for it to form but the fact that it was even found at all, made its journey across the globe and ends up in my hands, I find incredible. Holding a unique stone, from a faraway land just lights me up inside. I'm in awe of the beauty of Mother Nature. I then develop various metal smithing settings to highlight that stone and make it wearable. So much work goes into each and every piece because it all begins with finding the stunning stones and then coming up with how to set them.
Q: What are some trends you are noticing in accessories?
A: I love the jewelry trend of look-at-me earrings. Bigger earrings are a fun way to just really go for it, to wear outside of just dressy evening events, or just for fun. That and of course, the emerald trend, I absolutely love setting emeralds. The ones I like to work with are more organic in shape and texture but the color is still just so captivating.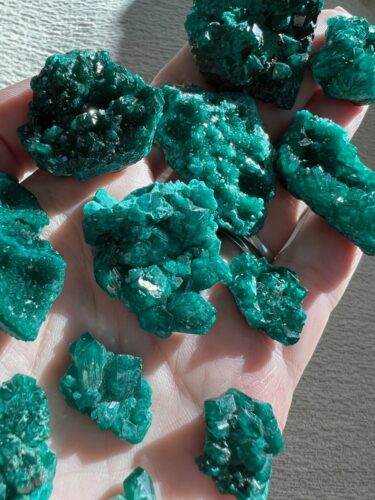 Q: What fashion trends excite you most this Spring/Summer season? 
A: I love the fashion trend of playing with sheer fabrics. Whether it's a slightly sheer knit with a little cami underneath or a top in a sheer skimming fabric. For me, it's about texture, layering, and dimension. They make interesting bases to build a layered jewelry look on top of.
Q: Who are the women you admire in your space?
A: I admire all creatives who have a vision that is born from within. Whether it's an innate sense of style in helping women feel beautifully dressed such as all the stylists at Wardrobe Therapy or makers that put forth creations. Anyone making or doing what they love and helping women find it and feel gorgeous in it. I bridge two worlds, creating and fashion. I love creating but what I love even more is helping women honor what they love. Finding pieces that resonate with them and that they feel good wearing. Anyone helping women feel more confident and beautiful and honoring that woman's individuality in the process.
Q: What's your favorite piece you've ever made?
A: It would be impossible to choose one single piece that has been my favorite but my very favorite collection is the Universe is Yours Collection. It honors numbers with significance. Such as the number of children a person has or members of an entire family. It's a capsule in the collection that I can custom-make. I add gold studs to represent the significant numbers. I've done pieces with studs for a number of children, grandchildren, best friends, number of bridesmaids. The pieces represent love and life and I'll never stop making them.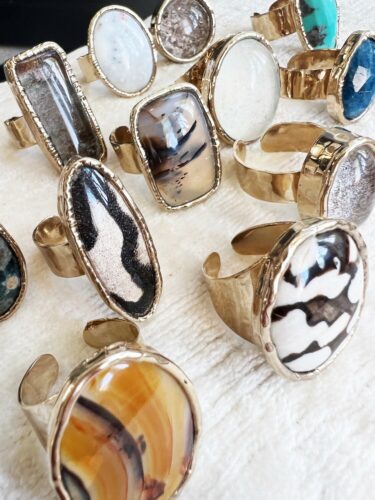 Q: What are your dreams for Pluma Jewelry?
A: My dreams for Pluma are pretty simple. I hope to continue creating gorgeous pieces and helping women find and feel beautiful in the pieces that are meant for them. The work is special and I hope people feel special in them, live their lives in them, and feel gorgeous doing so.
Join us for a collaborative event with Pluma Jewelry! Her newest collection is ready to share and we couldn't be more excited to share it with you!
Please join us on Wednesday, April 26 from 4 pm-7 pm! Inquire with a stylist for the address of the event, if interested!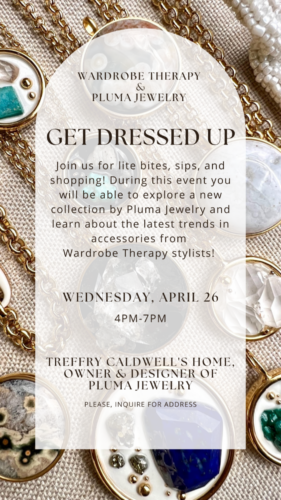 Spring is here! We are currently booking through May!
Keep Making Everyday a Runway!