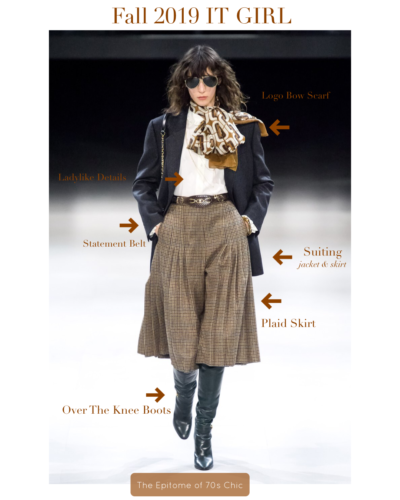 We're feeling giddy…can you guess why?! The kids are going back to school, there is a newfound crispness to the morning air, sidewalk sales are coming to a close as cozy pieces and luxe layers start hitting the retail floors. Need we say more?? The time has come for Fall Fashion and This. Season. Is. A-MAZE-ING!!! Our team loves pulling our favorite trends after watching the runway shows and scouring the mags, and we love even more getting together to drool over what we are oogling over the most–and even better–what we think our clients will appreciate and wear the most! This Fall there is one underlying common theme that feels so rich, fabulous, fresh, and powerful and that is 70s chic. From the deep, autumn-based hues reminiscent of the era, to the plaids, checks, and logo prints that scream 70s, to the midi skirts paired with blazers, fabulous suiting, and the moody florals…we are feeling this decade and the lavish yumminess it ensues. Without further ado…
1. Seventies Chic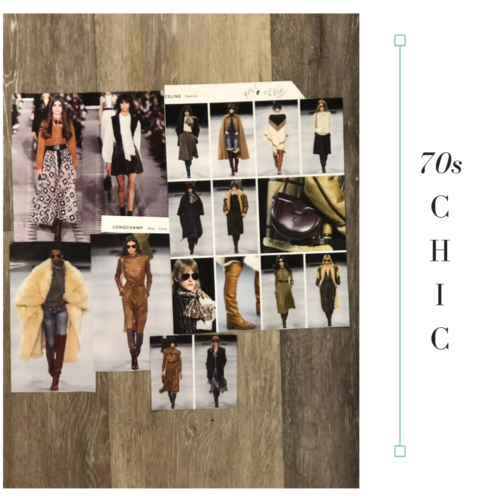 The bow blouse. Oversized turtlenecks paired with belted denim and a knee high boot. Capes. Earthtone colors–mustard, camel, sugar almond, olive, and brown. Maxi and midi skirts with emphasis on the waistline…with or without a double-breasted blazer. Plaids. Checks. Houndstooth–with a high emphasis on that nod to the 70s with these classic suiting prints. Moody florals in ditzy prints reminiscent of 70s prairie vibes. From Michael Kors, to Longchamp, to Celine there was SO MUCH 70s GOODNESS! The key to remember, ladies, is shape. So when adding a cape to your ensemble make sure and pair with a skinny leg denim and top with that knee-high boot. When opting for the maxi prairie dress or full maxi skirt, tuck in the turtleneck and add a belt at your natural waist which will hit at the top of the skirt waistline. Not sure about 70s head-to-toe because you've lived through the era yourself? No problem! The key for you is to pull a favorite piece or idea from this trend and modernize it. Try the bow blouse with a skinny denim or flat-front pant. Or pair the knee-high boot with a maxi skirt and pull-over sweater. The sky is the limit with this free-loving trend 🙂
2. Knits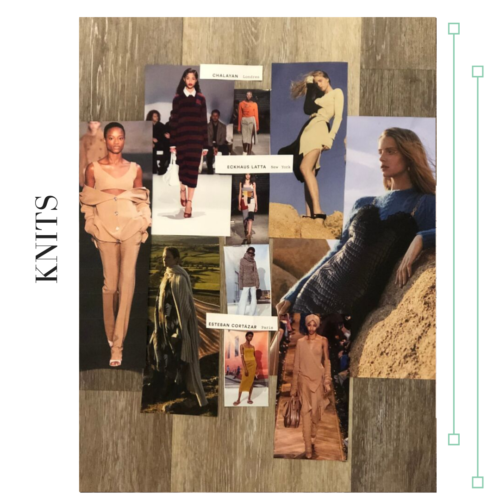 This style feels so fresh to us, and the best part? Maybe one of the coziest trends you'll be putting on this season! We saw head-to-toe knit dressing adorn the runways, we were inspired by new ways to layer your sweaters (try UNDER a slipdress), we saw sweater skirts from Bottega Veneta, and we always love a good sweater dress. Many designers went the deconstructed route with tops and outerwear donning knit sleeves or bodices. Altuzarra, for example, showed a leather jacket with cozy sweater arms. Other designers jumping on the trend: Prada, Maison Margiela, and Proenza Schouler. Go ahead, get cozy!
3. Leather on Leather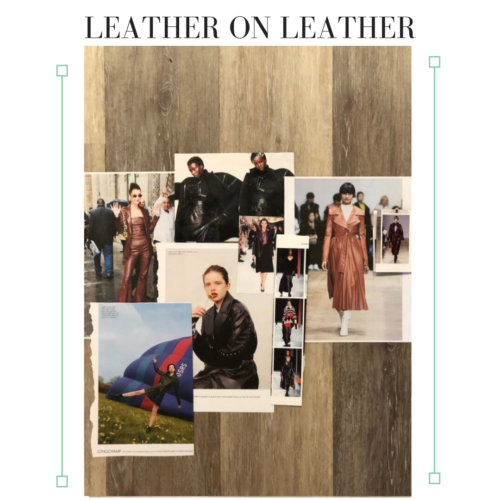 What screams Fall more than a major leather (or faux!) moment?! Leather on leather on even more leather graced the runways in the chicest way for this season. Head to toe leather was definitely the trend. We saw this texture in shirting with leather jackets and blazers layered on top. We saw leather pants, leather shoes, and leather hats. Yes, worn all together. But also worn ever so sophisticated in ways such as a stand-alone leather long trench coat. Yum. Does leather on leather seem over-the-top? Choose to rock this great Fall texture one piece at a time! A leather pant or legging pairs perfectly with that oversize turtleneck sweater! Or perhaps a knee-high leather boot can be worn with denim and a leather jacket. Bottega Veneta, Fendi, Tod's, and The Row all got it right with their leather luxe looks.
4. Moody Florals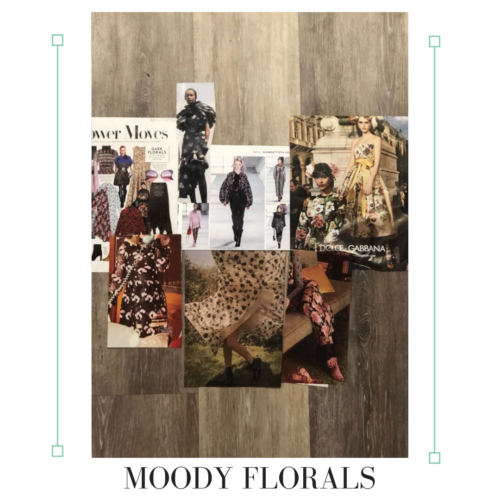 Not just your Spring/Summer print, dark and moody-based floral prints move us right into the colder weather. Think Victorian-like, romantic, whimsical, in flowing fabrications as well as in suiting or embroidered into outerwear. Don't shy away from opting for bright hues, as they can be paired with rich, deep colors. We love this trend from Dries Van Noten, Prada, and Dior.
5. Plaids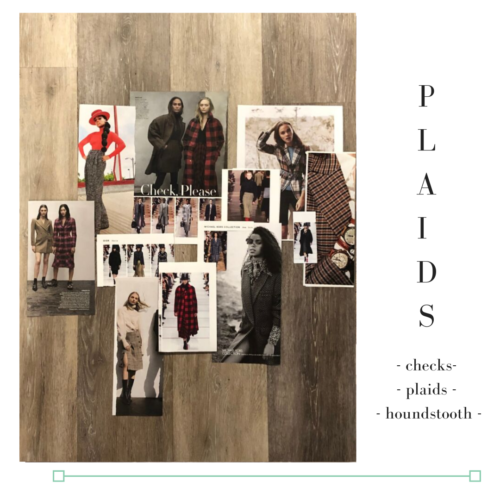 …and checks and houndstooth, grid prints and herringbone. We know what you're thinking…suiting textures for Fall, how revolutionary! But really–these prints feel so fresh and luxurious for the season! Maybe it's our eyes readjusting from all the tie dye print this Summer, or perhaps its the new take on English silhouettes (think double-breasted, and even head to toe and in warm, rich hues that actually DO feel revolutionary right now!) and that nod to the 70s that has us entranced. Either way, we are here for this textured trend. Thank you Preen, Monse, Victoria Beckham, Coach, and Georgio Armani…to name a few 🙂
6. Suiting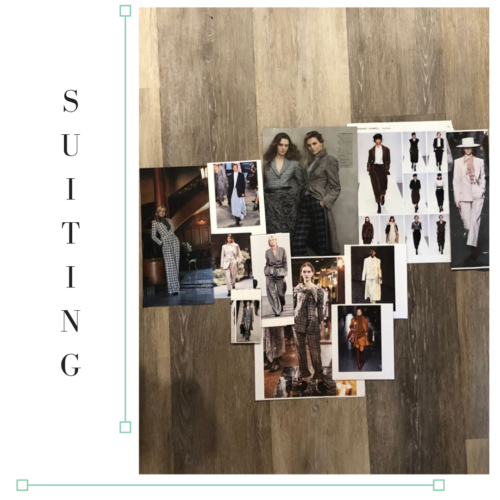 To piggyback on our last trend, let's talk about another major staple for the season. Want to make a statement? Suiting is the way to do it! Think luxe textures (ahem–plaids). This look isn't just for the office…make it evening ready! It's the power of FEM and we think there's nothing more powerful AND feminine than a suit out to dinner. The best part? You can easily break up a suit and mix and match! Wear that plaid suit jacket as a blazer with a great fitting tshirt and denim…don't forget the knee-high boot! Day chic at it's finest. You went for it with the matching pant? Perfect. Now pair them with a fabulous bow blouse and power pump for the office. Some of our favorite designers showing this trend: Michael Kors, Stella McCartney, Gucci, Celine, and Chloe.
7. Ladylike Details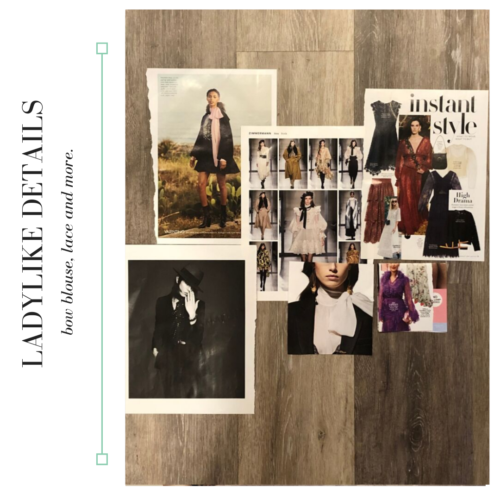 Bow blouses, lace, pleats, buttoned-up Victorian-inspired, sequins, belting at the waist to show your shape. There is SO much power in female dressing and we love that designers went for it. What a juxtaposition from suiting…but yet, they feel equally related. How very 70s 😉  We loved the pleated skirts from Burberry, Fendi, and Christian Dior; bow blouses from Valentino, Erdem, and Celine; lace from Zimmerman, Dolce & Gabbana, and Saint Laurent.
8. Spots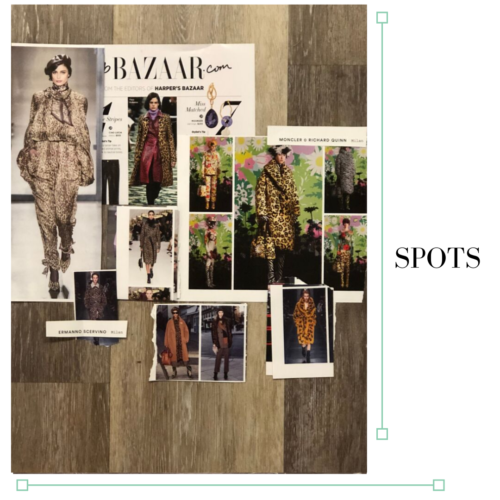 Nope, not going anywhere. In fact, neither are the tiger stripes, croc textures, or reptile prints. Leopard/cheetah/panther…they are neutrals in our book and so are their slithering friends. One of our favorite characteristics of the 70s is it feels so classic…and there isn't anything more classic than a good ol' fashioned leopard print frock…or overcoat…handbag for that matter. Versace, Alexander Wang, and Paco Rabanne all had us speechless.
9. GREEN and then some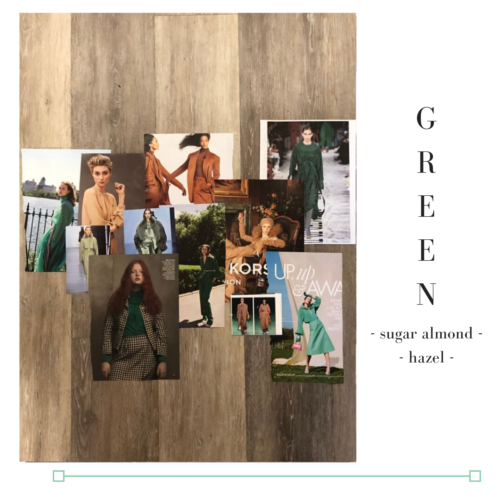 We are all buzzing about the color of the season: GREEN. From Pistachio to jade, kelly, and emerald this hue feels fresh and inviting as ever. Prabal Gurung and Balenciaga took the trend to a bright and vibrant place, while Tibi and Marc Jacobs felt more neutral-green.
And what pairs best with green you ask? There is a new take on warm neutrals and it's called "sugar almond"…and it comes with it's friend hazel. These rich, buttery, dare we say smoky hues feel so luxe, so fresh, and so Fall. They are the perfect neutral to be paired with brights, yet stand on their own when donned monchromatically. We are in love. From 3.1 Phillip Lim to Givenchy, to Max Mara…designers have our attention.
10. Statement Coats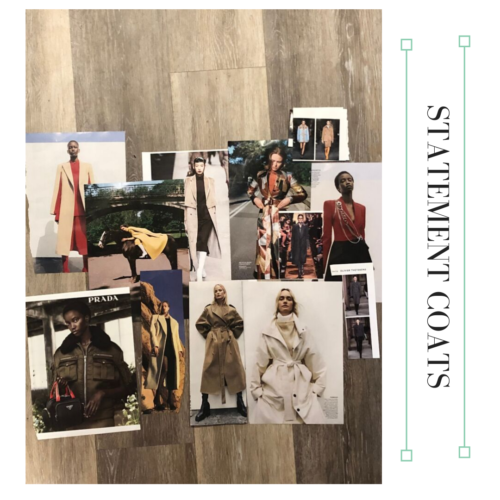 Over and over down the runways we continued to see this Fall staple done in multiple statement-worthy ways. From the UBER 70s patchwork print, to voluminous trenches, capes, metal-clad coats, and quilted numbers…coats are having their moment. With all this volume and drama, however, don't forget your shape! That's why the belted jackets are so important. Where there is volume, balance is needed. An ankle-length trench needs a stopping point in the middle…a furry chubby coat should be paired with a tapered bottom, and that cape…layer it over a bottom that will lengthen. Max Mara, Miu Miu, Valentino, and Fendi did not disappoint!
Accessorize It
Each Season we look at the accessories that can quite easily make or break a look! This Fall there are 5 stand-out categories we felt the need to touch upon.
1. Oversize Bag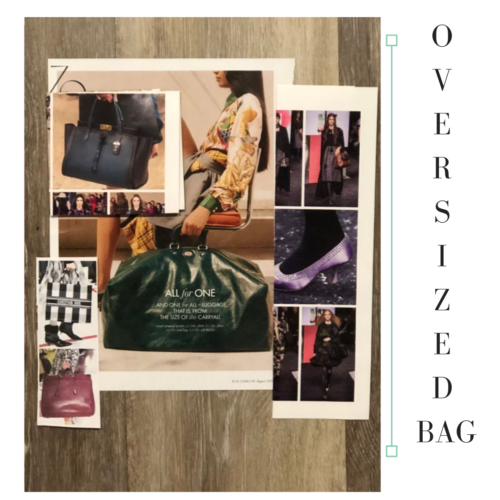 Top-handle bags are certainly not out! In fact, they are very much still "in". However, the oversize bag is back in full force and we are loving the change in pace! Louis Vuitton, Christian Dior, Giambattista Valli, OH MY!
2. Logo Craze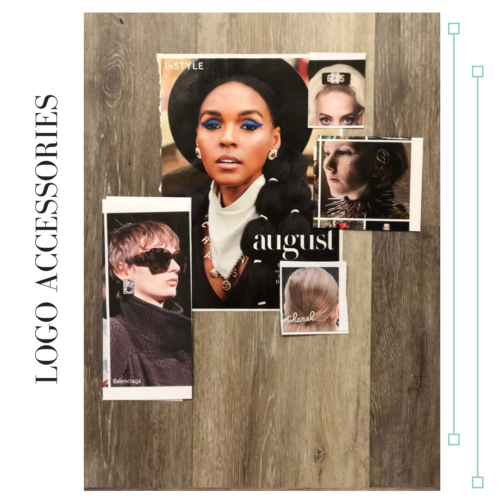 One thing is for sure…the logo craze is still in full force…but we are shifting from clothing, belts, and bags (still a thing–don't worry!) to hair accessories, jewelry, and scarves. The Chanel logo scarf is iconic, Balenciaga's logo earrings have us stunned, And Gucci hair clips and bands are everything.
3. Knee-High Boot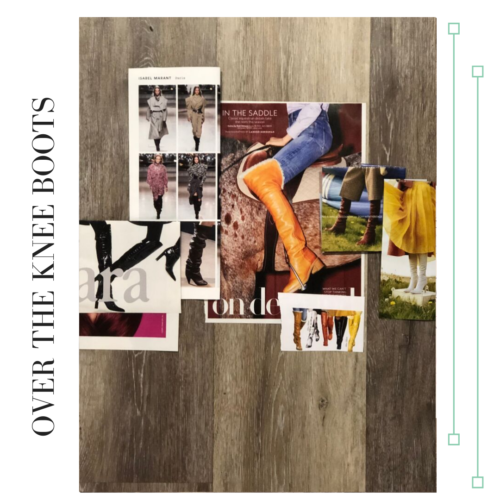 Over-the-Knee and Knee-High Boots are back! While we still love the ankle, the taller silhouettes from designers such as Ralph Lauren, Max Mara, and Jimmy Choo feel fresh and new again. Another nod to the 70s, this style graced the runways and we are ready to sink our feet/legs/knees back into these old friends.
4. Tights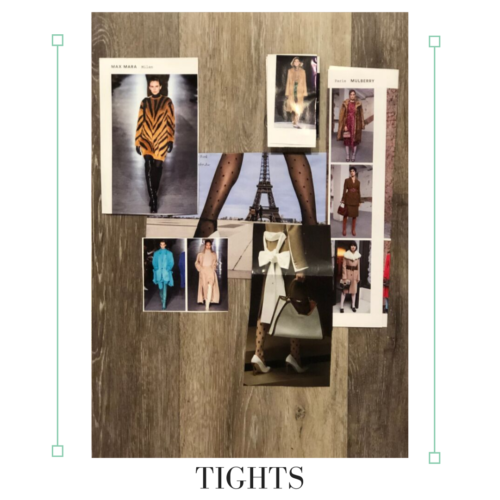 Oh yes, you're reading this right. We are in full-on tights mode. Colored tights (yup), logo tights (Fendi, Gucci, Balenciaga), neutral tights that feel tonal with the outfit, even sheer black tights. Wear them with your midi skirts or sweater dresses, and wear them proudly, ladies!
5. Belts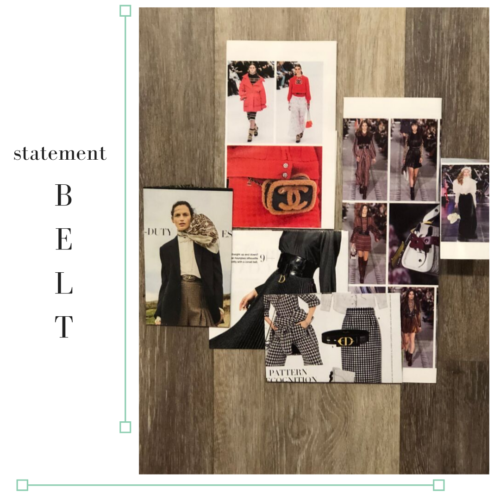 If there is only one accessory for you to pick up this season, let it be the belt! Whether logo or a classic mock croc, it's the perfect way to add emphasis to your middle, add flair to your denim, or add sophistication and femininity to a suited look.  Chanel, Dior, Hermes, Ferragamo…you name it, we're in.
Get excited for Fall Fashion!  To learn more about our Personal Shopping, Wardrobe Consulting, and Outfitting Services, visit us here:  https://www.wardrobetherapyllc.com.