WOMEN WE LOVE: A Q&A with Liz Miesen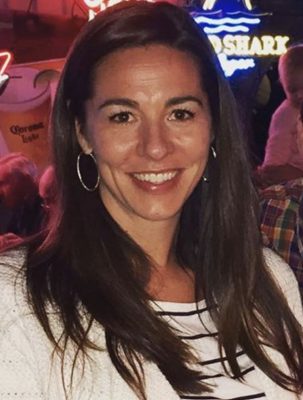 Today, we get personal with a woman who is not only a longtime client of Wardrobe Therapy, but also a friend. Liz Miesen, 38 of Worthington, is a wise, warm, vibrant, giving woman; a devoted wife; and an amazing mother of three (Stella, 9; Charlie, 7; and Katherine, 5.). Four years ago, she battled a brain tumor. Now, she's fighting breast cancer—and she's doing it with grace and laughter and joy. As we celebrate the season of family and love, Kristy Eckert talks with Liz about embracing the journey—even when the path twists.
Q: You and your husband, Nick, still have very obvious crushes on each other. How'd you meet?
A: Camp. There is a place in Florida called Camp Boggy Creek for children with serious illnesses where we both worked. We ended up in the same unit, and it was pretty quick that we started dating. I sort of thought that this was summer fun. I wanted it to be more but was protecting myself. We left camp on a Sunday. He went back to Miami University, and I went back to Purdue. And by Thursday, he said, "I want to bring you to Oxford to meet my friends." We then went back to camp the next summer and got to work together again. I was his boss, which was a great test. My mid-summer evaluation was, "Good job. Lay off of Nick." I had this great fear that if we worked closely together, people would view me as favoring him, so I went to the opposite extreme. [laughing] He was dong a great job.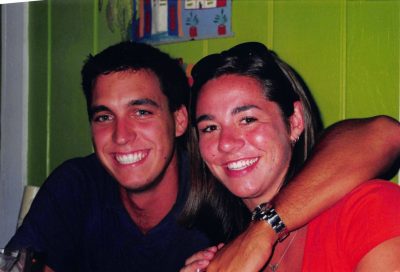 Q: After you and Nick married, you lived in Cincinnati working as an oncology nurse giving chemotherapy and infusions. What was that experience like?
A: I loved it. I worked in a doctor's office. My patients and I laughed as much as we cried. I loved the continuity of care. A lot of times in hospitals, you have somebody three, four, five days, and they go home and you never cross paths again. I saw these folks once a week or once every other week for months. Got to know them, got to know their families. Yes there were very, very sad, hard stories. But there were times we got to be part of miracles. And we would celebrate.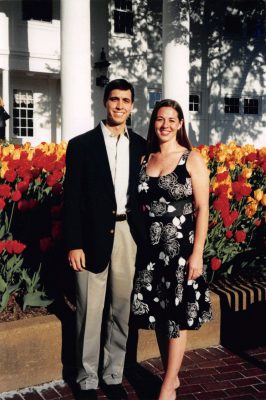 Q: You moved to Columbus so Nick could help open Flying Horse Farms, a SeriousFun sister camp to Boggy Creek. He eventually launched his own business ventures with your support. Meanwhile, you became a stay-at-home mom to three. When did your brain tumor rear its head?
A: 12/12/12. The day before that, I thought I was getting the flu. I was playing in the basement with all three kids, and at that point, they were 1, 3 and 5. So they were noisy, and they were busy. I was achy and rundown. I laid down on the floor while they were all plying around me, and I fell asleep. That was kind of a red flag. I only sleep when it's quiet and it's perfect. I woke up, and that night I just went to bed early thinking I got a bug. The next morning, I woke up feeling the exact same way. My neighbor across the street is a doctor, and I asked his wife if she would take the kids for an hour or two. I still felt miserable. I asked her to ask her husband about it. He thought I had meningitis and asked me to go straight to the emergency room. I thought that was absurd, but I went. (After some testing and waiting, Nick arrived just in time for the results.) And this sweet, sweet woman came in, and tears were down her cheeks, and she said, "There is a mass in your brain. We don't know what it is. We need to know more."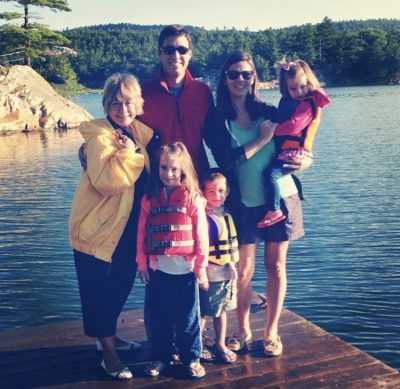 Q: Thanks to Nick's great medical connections from Flying Horse Farms, you were in surgery six days from diagnosis. How was surgery and recovery?
A: It was kind of a whirlwind. The beginning of recovery was rough, having little little kids. No one told me that I was going to be highly sensitive to sound. Everything just hurt. The kids were so, so patient.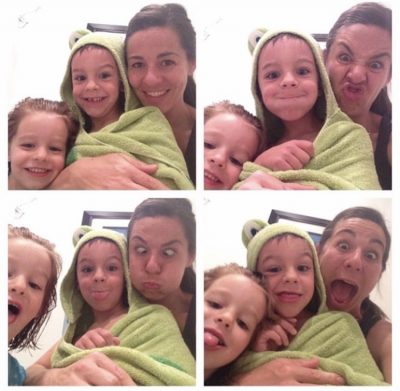 Q: Eventually, life got back to normal. Your quarterly tests have all come back great.
A: I was stronger than I've ever been, healthier than I've ever been.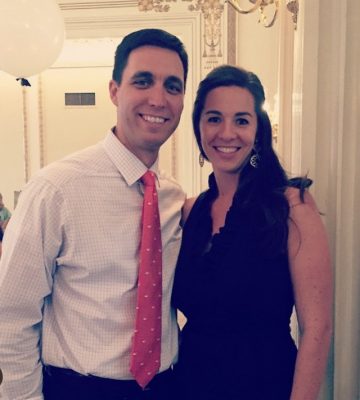 Q: On Labor Day, then, you were showering when you noticed a bump on your breast.
A: I was on my period at the time, and know your breasts can get lumpy and bumpy. So I waited until I was off my period and noticed that it hadn't changed. I called my gynecologist and went in, and she said, "Let's get it checked out." I just kind of sensed it; I was pretty sure they were going to say "Yes, it's breast cancer." They were able to pinpoint three masses and also lymph node involvement. Stage II or III. But when they biopsied the sites, that was probably one of my most fun appointments. The doctor was just so funny—nicest guy.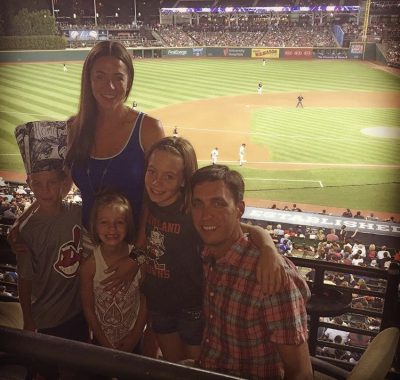 Q: You might be the first woman in history to describe a breast cancer appointment as fun.
A: We use humor a lot, and some of it may not always be appropriate. Nick and I were laughing in the waiting room once and clearly others didn't like it. I mean, there's a lot of boob jokes! [laughing] Boobs are funny, period. But boy there were a couple and one other woman who were not pleased that we were laughing. I was like, "Folks, I'm in the same boat as you." We've cried—believe me, we've cried. Laughing feels better.
Q: You left for Japan two days after getting the biopsy results.
A: My best friend and I had already booked the trip. She had an allowance that wasn't going to be used by her husband, so I was going. When I got the diagnosis, I was like, we've lived through highs and lows together, I swear to you I'm good. We didn't know details yet about chemo and radiation and all that, but why sit here and wait? We talked about it on the trip, but not a ton. I think there were more boob jokes. [laughing]
Q: How did you tell your kids?
A: We waited until we had as much information as we could. Once we knew mommy has breast cancer, we all sat down, and we said, "Mommy has breast cancer." Charlie and Katherine kind of went blank. So we said, "Do you know what a breast is?" "No." Back to the booby jokes. [laughing] We said, "OK, Mommy has a sick breast. One of my boobs is sick. There's something in there that the doctors don't like. They want to treat it with medicine and then they want to treat it with surgery. This is going to be a long, long road. We want you to ask a lot of questions. It is OK if you want to talk about it at school, with your teachers." We had already talked to their teachers. And then we prayed.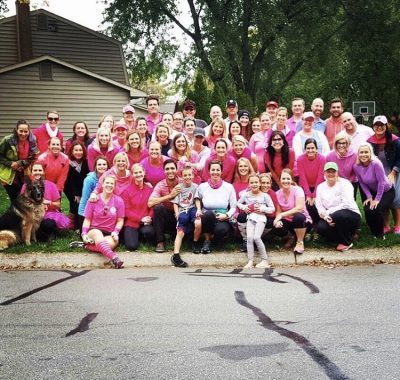 Q: Let's talk about your long, beautiful hair. How did you handle losing it?
A: I had a ton of hair, and I had pretty nice hair, and I wanted to donate it. We took the whole family to the place I get my hair done, and I had 13 inches cut off. I cut off a ponytail, each kid cut off a pony tail. I felt like this part was my choice, so I did a little pixie for a while. Nick took the kids for ice cream while my stylist finished it and then came back. I was fine. It's hair. It will grow back eventually. But I was really concerned how the kids would respond. Katherine right away said, "You look like Grandma!" Stella, being the brave oldest child, said something along the lines of, "It's cute, Mom." It was like she knew what she was supposed to be saying to me, whether she believed it or not. I started crying at that point, and then they did too. Then it's like OK, now we're all embracing in the Lennonheads parking lot. [laughing]
Q: A couple weeks later, after your second round of chemotherapy, your hair began falling out. Who shaved it?
A: I was getting handfuls of hair three days after my second round. It was a Wednesday, and we were going to Florida on Friday, so Nick packed the clippers. After the first day in Florida, it was driving me nuts. Every time I touched it, it was clumps and clumps and clumps. It was like, forget it.
Q: So you walked out on the same beach where Nick proposed to you, clippers in hand, and shaved it off together.
A: We were giggling about it later, like, "Boy, we've had some special moments here!" [laughing] The only reason we did it outside was that I thought it would be easy cleanup. I started doing it, and I couldn't see. So he took over. He kept checking: "Are you ok? Are you ok?"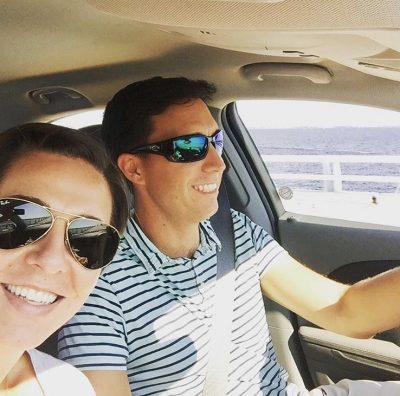 Q: How's life without hair?
A: Being bald is weird. But wigs are weirder. I don't know if I didn't find a good one or if I just feel like I'm in a costume or I'm trying to be something I'm not. This is what I am right now. It's not forever. I don't want others to be disturbed, because I do have a large scar from the brain surgery which is now visible. I don't really care, but I know other people will be uncomfortable. Thankfully Nick and the kids are OK with me not having a wig on all the time. It is chilly! [laughing] But my identity's not in my hair.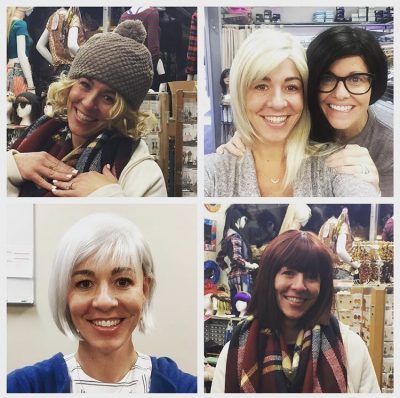 Q: You have chemo treatments until March, then surgery, then radiation. Is your background as a cancer nurse helpful to you as a patient?
A: Medical jargon is like another language. And the fact that all of that is familiar to me is kind of great. It allows me to educate Nick. And my first degree is in child development, so I feel like that's getting used really well. I'm really, really thankful. It's very weird that I am getting drugs that I have given.
Q: What's best thing someone can do for the person in his or her life fighting your same fight?
A: To be there. To not shy away. I know medical stuff is weird and scary. There have been a couple people in my life who have surprised me that I haven't heard from. Don't avoid those people, and be as normal as you can. I'm still me, I just have a new thing going on.
Q: What keeps you up at night?
A: Not much—I'm tired! [laughing] Of course I've had all the big scary thoughts of, "Will I be there to see my girls get married? Will I have grandbabies that I get to meet?" Nobody can answer that right now. Don't waste today by worrying about tomorrow, right? Today's so great! When I finished all the brain stuff and I was kind of back to normal, one of my prayers was that I would not forget. There was a time I wasn't strong enough to stand at the sink and do dishes, and it was like, I'm always going to be grateful for when I can do that. That fades. Nick is always so great at saying a prayer before dinner to say, "Thank you, Lord, for this day." None of us are guaranteed tomorrow. I mean, I could get hit by a bus and this breast cancer thing could be a whole non-issue. I mean, it's bleak [laughing]… but it's true! Back to working at camp: I don't know why some people's stories are only 12 years long or why other people's stories are 45 years long. And some are 100. There are going to be hard days that I've still got to be thankful for. It's what we've got.
Q: You're doing, as you say it, "all of the things." Family has flown in from around the country to go shopping and have manis and pedis. Friends have rallied in gigantic ways—from dinner deliveries to a flash mob performance at Worthington Hills Country Club. You and Nick went to your college town and spent a couple days with old friends. You have plans to go to Nashville to celebrate a friend turning 40. This, you say, is how life should always be lived. Will you share the journal entry you wrote reflecting on that?
A: It says: Honestly, I'm finding that through all of this, this is really how life is supposed to be lived all of the time. We are to give our best to each other. So especially now, what you can do for me… love one another. Be kind and share your gifts the way you've shared them with me. Forgive someone, put someone else first, reconnect and give the best of yourself. All of you are so beautiful in so many ways. Share that beauty with others. It will not be wasted… I'm certain it will be passed along.
Wardrobe Therapy wanted to share our love with Liz by helping. Her favorite idea? Donating to Flying Horse Farms in celebration of her. So we did, in honor of Liz and thankful for you, our clients. We invite you to do the same at www.tinyurl.com/givefhf.
We're Social! Follow along for the latest on our team, our work, and our inspirations! Instagram Facebook