WOMEN WE LOVE: A Q&A with Regan Walsh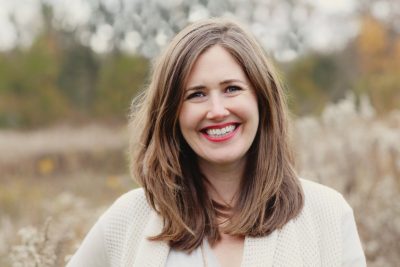 Regan Walsh is an executive coach and keynote speaker who works with clients from Wall Street to Portland but proudly calls Columbus home. She is wicked smart, authentically warm, giving, gracious and hilarious. (If you've seen her speak at WELD, Nationwide or the like, you know that to be absolute truth.) In today's Women We Love feature, Kristy Eckert talks with Regan, 39, about the power of "no," good wine and audacious dreams.
Q: One of your most-request speech topics is The Power of No. Why are women so afraid to say no?
A: It's not just women. Everyone is afraid to say no for two reasons—fear and ego. For women, I believe it's fear of not getting that promotion, fear of looking weak, fear of not being able to manage all the different demands. People wonder what the perception of the outside world will be of them if they say no. The other reason is ego, because we think no one is going to be able to pick up the pieces like we can. We want people to think, "I've got this. I can make balloon animals for this school party—no problem." And then we're up all night figuring out how to do it.
Q: You talk a lot about the fact that saying no to one thing also means saying yes to something else, and vice versa. What does that mean?
A: If I say yes to attending anything I'm not really excited about attending, I'm saying no to being at home, having a family dinner, having time with Netflix—whatever it is. If I say yes to a client who doesn't fit my sweet spot, I'm saying no to finding the next client that could have been the perfect fit. Time is the most important thing that we have. So we shouldn't give it away to something that is not truly a priority.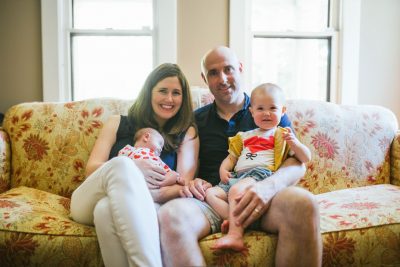 Q: You have two adorable little girls. How old are they?
A: 20 months and 4 months.
Q: That's busy. So what are you saying no to right now to make life work for you?
A: I have definitely entered a new chapter in my life. We've traditionally gone to a lot of fundraisers. So now I have to choose: Am I going to spend two hours with people I don't know, schmoozing and attending a fundraiser, or am I just going to write a check? And right now, I'm writing checks. I will not hire a babysitter and leave my house unless I really want to be somewhere. I also like to have a calm morning to get myself ready and my daughters ready for the day. So I don't have early morning meetings. Before, I probably would have met somebody at 7:30 a.m. But I can't rely on Nick (my husband) to be home, because he travels a lot for work. So that's another change that I made. Also, the most hectic time in our family's household is between 5 p.m. and 6:30 p.m.—dinner, bath, getting ready for bed. So I rarely meet people for happy hour. We should be confident in what we offer, because someone who wants to meet with you will find the time.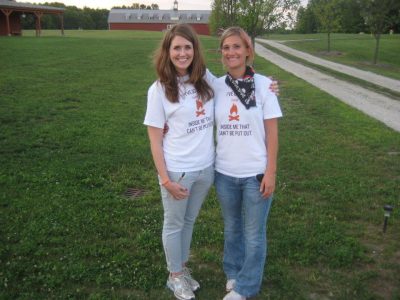 Q: OK—let's backtrack for a moment. Prior to coaching, you spend 15 years working in sales, marketing and nonprofits. Can you share some insights into the journey that led you here?
A:  I was born lucky. My first job was in New York City, and I worked for this amazing woman named Colleen who is now like a sister to me. I got to travel the world and be mentored by these strong, powerful, amazing women. After 9/11, I was lucky enough to get a job in the pharmaceutical industry. I worked for a Fortune 200 company and received the best sales training in the market. That helped shape who I am today in terms of taking care of clients and understanding how to listen to people to help solve problems. Eventually, I got so sick of wearing business suits that I promised myself I would never have to wear a business suit for a job again. So I transitioned to the creative world and worked at Ologie in Columbus. My next chapter was all about helping people in need, so I spent a few years at Flying Horse Farms. Internally at camp, I loved helping build up people and helping them navigate their career paths. It made me want to invest in helping other people.
Q: You attended New York University to become a certified coach. What exactly do executive coaches do?
A: My role truly is to be your advocate and confidant. I listen to whatever problem or situation you're in and understand what it is that you're trying to change. Then I help provide the support, the tools and the questions to give you the clarity you need to create that change. What is it that you're seeking—a new job? Or, are you feeling constantly stressed and overwhelmed and you need help figuring out what your priorities are? My job as a coach is to ask a lot of questions. To push back when I feel like clients are making excuses. And to help them uncover whatever barriers they are up against and then figure out the best solution to break through them.
Q: Who are your most common clients?
A: I would say 80 percent of the people I'm working with are professional women who have pretty big jobs. They are juggling families, their marriage, their career, philanthropy, health and wellness and everything else that they do. Sometimes they're juggling a million things and they just want somebody to confide in, to help them take a much-needed inhale and to reset their lives. Within that 80 percent, some of them are trying to find fulfillment within their career, and some of them don't know exactly what they want—they just know they're unfulfilled and unhappy.
Q: This is one of your busiest times of the year. Why?
A: For the clients who are busy parents, it's an insane time of year with school obligations and practices and extra meetings and conferences, and so that makes people crazy, because their schedules shift dramatically and the demands on their lives shift. Also, a lot of times, people are thinking ahead to January: What am I going to do for 2017? How am I going to create change and make it lasting for the new year? So people are planting seeds.
Q: You use a life wheel to help clients prioritize their lives. What is it?
A: The life wheel is made up of eight different life areas that I believe encompass everything that we do— family, work, money, personal growth, health and wellness, spirituality, community, and living environment. I think it's important to audit what it is we put all of our time and energy into. Does that line up with the life we want to be living? Then we figure out where the discrepancies are. So if you are putting a ton of time and energy into community service but you want to be giving the most time to your family, how can we rectify that? Is it being passionate about one cause instead of five? Is it giving funds and promoting that cause on social media but not giving it so much time? How can you honor what you want?
Q: You help a lot of people through transitions. Why is change so hard, even when we want it?
A: It's that fear of the unknown. We wonder, what will people think of me? How will I be judged? Will I succeed? The best thing to ask yourself is this: What is it that lights you up? It 's all about listening to your energy. When things make you excited, that's probably something you should run toward. When something makes you feel sick to your stomach or negative, that's probably not something you should run toward.
Q: You say we should shed the shoulds. What does that mean?
A: Any time you feel like you should do something, it's important to listen to that and think, "Is this something I really want to do, or do I just feel like I should because of the perception of what other people around me think?" My advice is, any time you say "should," let yourself off the hook. There is somebody else who is going to make the cupcakes for the school party because they have more time. There is somebody else who is going to attend that fundraiser or donate to that cause. We don't have to be all things to all people. There's plenty to go around.
Q: OK, let's have some fun. Favorite meal?
A: I have so many favorites! There's this little Italian restaurant in New York—I Sodi. The perfect meal would be there, eating simple linguini with cracked black pepper and parmesan and a great glass of wine. With Nick. And Colleen, because she still lives there.
Q: Favorite wine. How about in the $25ish, $50ish and blow-it-out, celebration price points?
A: For a $25 bottle, Cloudline pinot. For $50ish, Pride merlot. We were at the Pride vineyard on our honeymoon, and it was just so delicious. And for over-the-top, maybe a really good Brunello—something from Italy.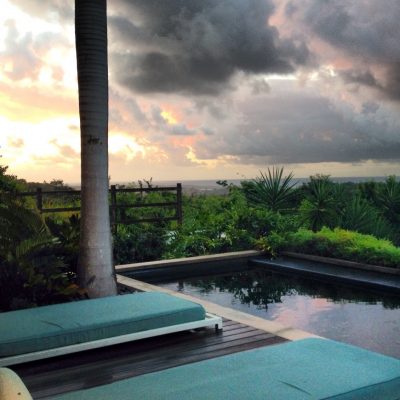 Q: All-time best vacation?
A: Vieques. It's this random little island off of the mainland of Puerto Rico. There are wild horse, chickens, dogs. The island is so quirky and fabulous. It's just so dreamy, and you can spend a day alone on a beach and not see a single person but also have a killer meal at night. There are all these really cool people from the east coast buying up land and creating really cool homes for people to rent.
Q: Favorite stress reliever?
A: Any kind of exercise—even just a great power walk with good music.
Q: Ultimate Saturday?
A: Sleep in. Go to Fox in the Snow for an egg sandwich, a donut and a killer cup of coffee. Do something fun with the girls. See a matinee with Nick. Grill out on the back patio and then have front porch wine to set off the day.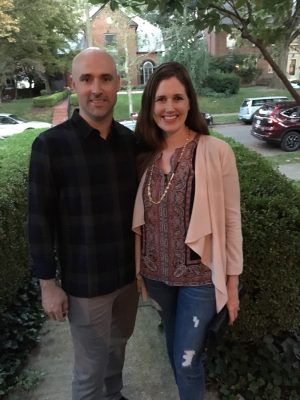 Q: You've told me that Wardrobe Therapy is the best investment you've ever made. Why?
A: My first experience with them was post-pregnancy with Dorothy. I had a new body, and I wanted to feel really good and confident. And then 7 months later, I was pregnant again. I was like, "Oh my gosh, Christy—can you come help me? I don't want to go through pregnancy for a second time in a new body feeling frumpy." Now I truly think of her as a family member or a best friend who makes me feel good. She really gets me as a person. So it's not like going to a store and someone wants me to try on a crop top and whatever and that doesn't work for my body or my life. We all have those moments as moms where one kid spits up and another is throwing a tantrum—something's wrong. I literally will put on a killer outfit without having to think about it, and it takes away all that chaos, and I have an awesome day. Wardrobe Therapy is truly is a time-saving gift. I just love it.
Q: Annoyance?
A: People who are rude—who go out of their way to not be helpful. It's really easy to help people.
Q: Dream?
A: To live a long, healthy life and see my babies grow up to change the world. I mean, what if they created some sort of really great social change? That would be the coolest.
And my personal dream is to give away one million dollars to charity before I turn 50. Realistic? Not likely. But what is the point of dreaming if we're stuck being realistic?
Q: How did you dream that up?
A: I was wrapping up my studies at NYU to open my coaching business. I was flying back home and mapping out my business plan. I thought about how lucky I have been my entire life and how good it felt to be able to follow one dream and open a business. So I wrote out a list of other dreams. At the top of the list was to be able to make a big financial impact for those who haven't been as lucky as I have. And I decided to put a dollar amount and time limit to it. That's when I came up with $1 million by 50. Next to the list, it says, "That's a great start, what's next?" That is what Paul Newman once said to Clea (his daughter) after she told him about a significant gift she secured for charity.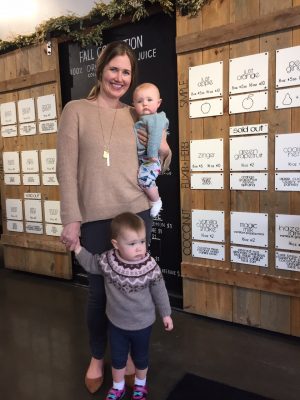 Q: That's amazing. I love that.
A: Naturally, I was sobbing on the plan while business planning and dream-listing. Could it have been the hormones from having Dorothy in my belly? Possibly. Was it pure joy about launching a business and dreaming big? Probably.
Visit Regan at www.reganwalsh.com.