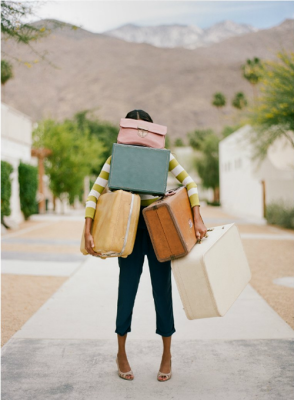 I am a habitual over-packer by nature. Maybe worse than a habitual over-packer. Ok, definitely worse. While living and working in London and being given an automatic 25 days of vacation time per year, I quickly learned that overpacking is not fun when you're schlepping luggage two times your size via cabs, trains, and planes. And no matter the destination, when you appear to be toting cats, dogs and possibly small children, Airport Security tends to send you through the "special line" at customs.  Every. Single. Time.
So, against everything in my bones, I taught myself to pack like a pro. Recently, I helped a client pack for a 10-day trip to Italy in a single carry-on bag, and we realized that as "over-packers," we aren't alone. We can help each other. We can stand proud and say "I came here to enjoy this vacation, not to sift through my portable closet!"
Without further ado: my top tips for packing a bag that will make your travel companions jealous and help you leave those security lines in the dust. Want to have a pro take care of it for you? Learn more about our travel wardrobe planning and packing services via the link at the end of the post!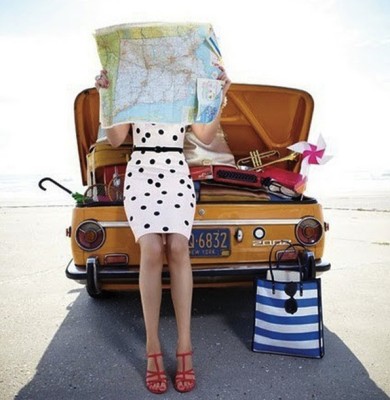 Know Your Itinerary
This is the most important, and probably the hardest, unless you are enjoying a sight-seeing tour or traveling via cruise.  If there isn't a set itinerary, discuss with your partners in wanderlust a general idea of what everyone should bring. For example, on a seven day trip you may have two days of travel, four days of casual wandering, and two daytime excursions, with evenings consisting of four casual nights out and three more formal nights on the town. Having this basic outline of your trip will set you up for planning success when it comes to outfitting that suitcase.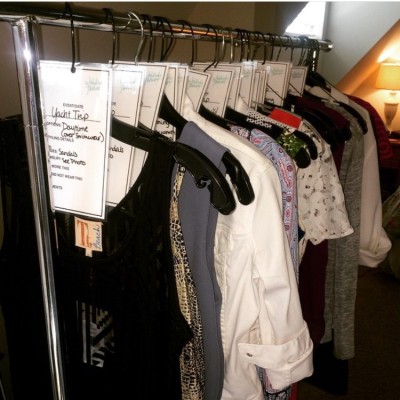 Plan in Advance – But Don't Pack Until the Day Before
The weekend before you leave, set aside time to plan your outfits according to your itinerary. For travel, comfortable bottoms paired with a top you can layer under a lightweight cardigan are perfect for the climate changes as well as whizzing through airport check-in. A scarf for chillier destinations or that can double as a sarong on the beach is also a great piece to add to your outfit to save room in your suitcase.
Shoes will take up the most room in your suitcase, but if you're like me, they also take up the most room in your heart. Tell them you love them and you will see them soon, as this is where you need to be picky. One pair of comfortable shoes for travel as well as sight-seeing is all you really need so plan your outfits around that. A pair of wedges or heels that can mix with all of your outfits will get you through your evenings out.
As far as picking your outfits, mixing and matching is key. A good rule of thumb is three to four bottoms, seven tops, and a couple of dresses or formal outfits. Again, make sure these all work together with the shoes you have picked, and you already have the layering pieces you may need from your travel outfits. Keep your accessories simple so they can go with any plans you have. Classic jewelry will transition easily from day to night, and limit yourself to one cross body bag or tote for travel/daytime and one chic clutch for evenings.  If you're super resourceful, the clutch can hold all travel documents, money, and small items in your larger bag, again giving you more room in your suitcase.
Finally, make sure you set aside time the day before you leave to make any changes. Weather is a key factor and you don't want to stress if it changes after you have already packed. Try on your pieces one last time to make sure you truly feel amazing and are happy with your choices.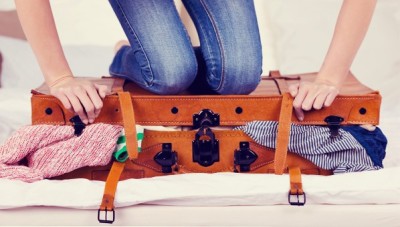 The Pack
Here's where you decide if you're a roller or a folder. I prefer to roll my garments for two reasons: they will get less wrinkled (so I don't have to think about the fabrics I am taking) and they can fill all the nooks and crannies better, thus maximizing my space. Whichever way you decide to go, the following tips will help to fill out the space in the most efficient way possible.
1. Start with the heaviest clothing pieces on the bottom, such as jeans and heavier weight tops. Adding your toiletries and makeup bags in now will make sure that you aren't sitting on your suitcase to make them fit. I always take my jewelry in my tote bag for safe-keeping as well as space-saving.
2. As the clothing pieces start to get smaller/thinner, fill the open spaces with these pieces.  Save any underwear for last, as they fit well in tiny spaces – I like to fill my shoes with them!
3. Lastly, add your shoes on top with the soles facing the top of the bag. No dirty bottoms on your clothing, and you can fill the space around them with the smaller items of clothing.
4. Zip that little bag closed and enjoy the smug smile creeping across your face.  You, friend, are a packing champion.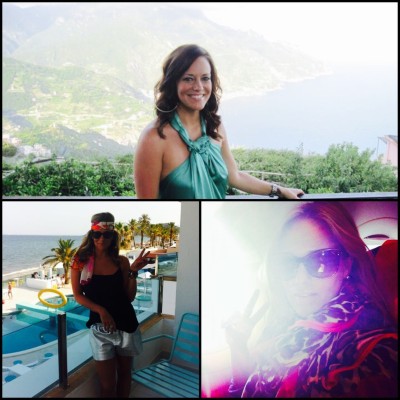 Wedding on the Amalfi Coast in Ravello, Italy; Palm trees and sunshine in Ibiza, Spain; Leaving on a jet plane with my carry-on and a smile!
Our expert stylists would love to help you with all of your wardrobe needs, including how to pack for your next trip. Click here for more information on our travel wardrobe planning and packing services!
To book an appointment or to learn more about our wardrobe consulting, personal shopping, outfitting, and corporate client services, visit https://www.wardrobetherapyllc.com. 
We're social! Follow along for the latest on our team, our work, and our inspirations!