Stylist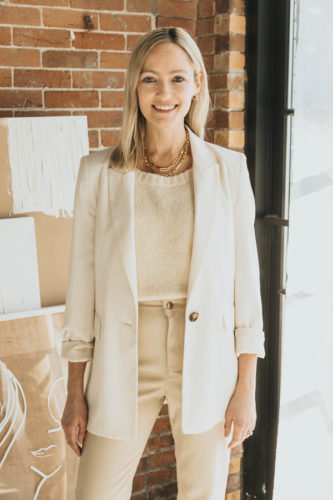 Christy graduated with a degree in fashion merchandising from Kent State University and with a master's degree in marketing and communication from Franklin University. She worked as a visual merchandiser for Columbus-based tween brand Justice and Fortune 500 Columbus-based retailer Abercrombie & Fitch before joining Wardrobe Therapy. She lives in Worthington, Ohio with her husband and two daughters.
Style Philosophy: It's a glimpse on the outside of who you are on the inside.
Style Icon: Kate Bosworth and Lauren Hutton
Favorite Label: Chanel
Most Meaningful Item in My Wardrobe: My serpent-inspired wrap cuff passed down from my late grandmother. I'm proud and honored to wear it. Also, a pair of Chanel sunnies gifted to me by my husband when I first joined Wardrobe Therapy in 2012. It was a special time, they were a special gift and definitely a splurge back then!
Favorite Jeans: Levi's Wedgie Straight fit. I love the style—I can dress them up or down. They fit me so well and have me feeling confident!
Biggest Splurge: A beautiful pearl necklace in honor of my oldest daughter's birthstone. I love that it's a piece I will pass on to her someday. Also, my Saint Laurent tote that I carry everywhere. It was a great investment, and the perfect work/mom bag for me!
Greatest Steal: My Chloe handbag I got on major sale from Saks!
Perfect Saturday: A sunny day spent outdoors with my family, at home or out adventuring. Dinner on the patio, and an evening stroll for ice cream.
Favorite Food/Meal to Cook or Bake: My husband makes a mean vegan brown rice/quinoa veggie bowl that's so delicious! Also, can never go wrong with dessert when it includes chocolate.
Band You Wish to Meet Backstage: A few! Elton John, Coldplay, Lady Gaga (I love the message she puts out there about being inclusive, loving yourself, and loving and accepting others).
My life in a hashtag: #makeeverydayarunway #familyovereverything #gratitude
Word to live by: "Character, Intelligence, Strength, Style: That Makes Beauty" – Diane Von Furstenberg
Philanthropy Close to The Heart: Flying Horse Farms, Children's Hunger Alliance, Freedom A la Carte.
When You're Not Thinking Fashion, You're Doing: I'm enjoying time with my family. We love having dance parties and going on hikes! I also love date/game night with my husband, extended family and friends.
Contact Christy at christyw@wardrobetherapyllc.com or 614.425.4484.