NYFW comes to a close today, and it's left us positively reeling for more! From the rich, saturated, bold colors worn together in stripes, patterns, or head-to-toe in a monochromatic dreamland, to the desconstructed hems, overt layers, unique patterns and pattern mixing, luxe ladylike dressing, and a newness to menswear we FEEL the empowerment that is fashion.
Monochromatic: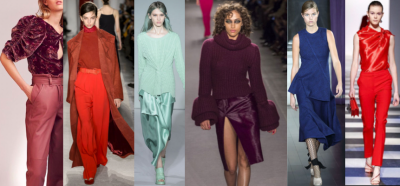 Nearly every color(and non-color) was represented on the runways, but we love the newness of the berries, blue, aqua, and sea foam green.
Metallics: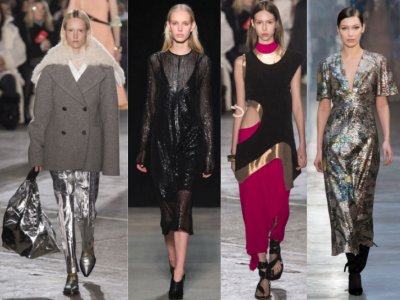 Sequined and sheer slip dresses, shimmering fabrications, metallic trims, foil-like all-over dresses, futuristic-inspired silver pants, bags, and shoes… these metals are managing to a fresh, new feel. Electrifying.
The Future is Female: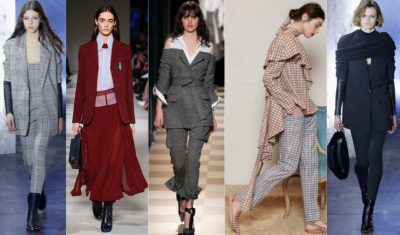 Designers like Alexander Wang were more blatant with this message donning the runway with statement tees. We love that. Other designers altered the menswear look by adding in chic elements of femininity. Victoria Beckham paired masculine blazers with drapey chiffon and flowing skirts. Rosie Assoulin took a masculine concept of checks and plaids in neutral tones and added details like ruffles. We love Monse's off-the-shoulder take on the pant suit. Yes. Yes. Yes.
The Bold and the Beautiful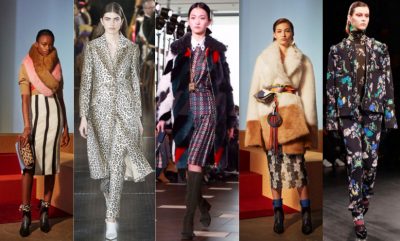 We're always going to be drawn to prints. DVF knocked it out of the park with her fresh take on pattern and the art of mixing it together. Bold stripes, leopard print, florals, checks, stripes. Put them all together. Yes, seriously.
White Out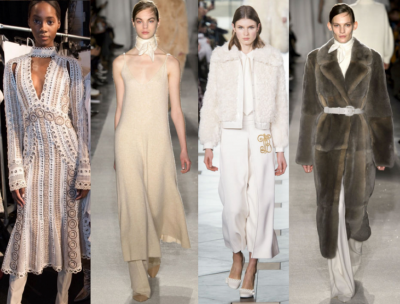 The trend that just keeps going! White on white, we love. But somehow that's not enough. Designers like newcomer, Jonathan Simkhai wowed us with ladylike elements, others switched it up by adding the white belt, the white shoe or bootie, the white choker or scarf, don't forget your white handbag. Tres chic!
Think Pink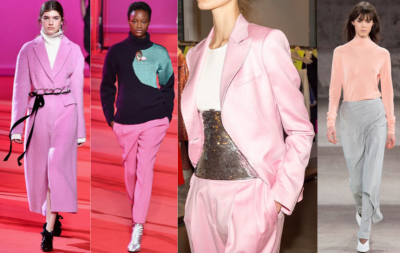 This happy, snappy hue reemerges from Spring/Summer and has us feeling tickled 🙂 Whether you go monochromatic with pink, color-block it with another bold color, stick with the blush tones, or just add it in with your accessories, it just works across the board. Lovely.
Luxe Layering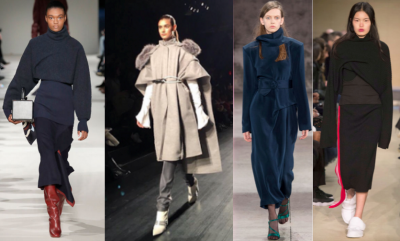 Designers gave us a new take on layering with asymmetry, cropped sweatshirts and sweaters over long tops or dresses hitting hard the monochrome agenda. We love the challenge (bring it on) of playing with our layers at new lengths.
Give em the BOLD Shoulder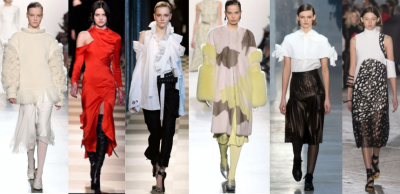 We're not tiring of the cold shoulder, or the peek-a-boo shoulder, not the off-the-shoulder or exaggerated shoulder and arms. They're only getting bolder, larger, better.
Tobacco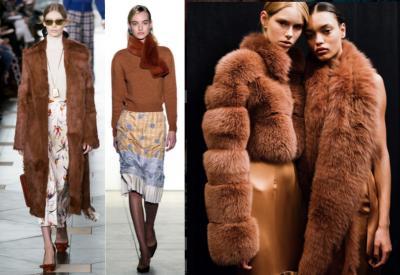 The new neutral. Let's say this is the camel replacement. It's dreamy and luxe and paired with bright color, channeling a little DVF, it's pretty incredible.
Color Blocking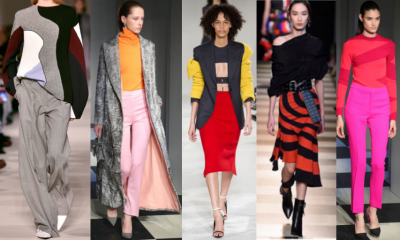 From stripes to a severe color-blocking of top vs. pants/skirts. This trend is back in a candy-colored fabulous way.
BONUS ROUND: Aqua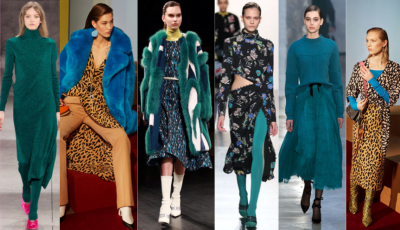 So many trends, and we couldn't dare leave this one out! This ocean-colored hue transcended across countless runways in the form of tights, coats, full monochrome looks, patterns. It's so bold, bright, and feels so fresh.
For more on Trends and To learn about our Wardrobe Consulting, Personal Shopping, and Outfitting Services, visit https://www.wardrobetherapyllc.com
We're Social! Follow along for the latest on our team, our work, and our inspirations! Instagram Facebook