We can all agree, Winter is just hitting Columbus. After seeing warmer-than-normal temps for quite some time, February and March are usually pretty frigid! Remember the snowfall in April? Who knows, we might be in for that again! We've highlighted our FOUR FASHIONABLE WAYS to stay extra warm and cozy while looking on point! Start incorporating these ideas ASAP, and you'll find yourself winning at Winter outfitting!
Look 1: Turtlenecks
We love a good go-to turtleneck! One we can layer under a blazer or dress, or wear as a stand-alone tucked into denim. It keeps you cozy in Winter without adding bulk. For a fitted look that will add warmth, try Whisper Cotton from Madewell… It's called that for a reason! For a dressier version, this Divine Heritage piece looks so chic with a pencil skirt or straight pant, and under your perfect blazer or long cardigan. It can also be evening ready with straight denim (tucked in or out). If tucked in, add a classic belt! Style Tip: Keep the turtleneck color neutral for layering. Stay away from bold colors so it doesn't look like a throwback to the 80's.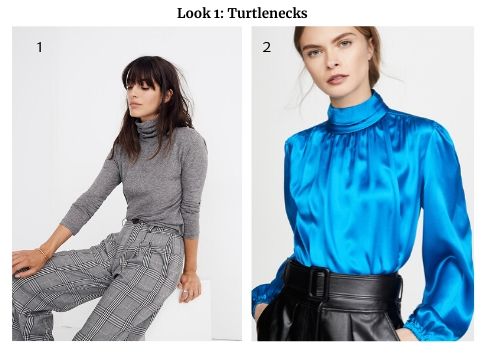 Shop the Look: 1. Whisper Cotton Turtleneck  2. Divine Heritage
Look 2: Athleisure
Athleisure is IN! Be comfy yet fashionable with this effortlessly chic vibe. From sneakers to sweatshirts, sweatpants to cozy layers, beanies to ball caps, these looks are fair game! Work them for day OR night, and balance them with dressier pieces for an easy juxtaposition. These Terez sweats are a refreshing change from the typical "jogger" look. Wear them with the matching sweatshirt or a lightweight cashmere pullover, and throw on sneakers [as pictured]; to dress-it-up, add a blazer and ankle booties! For extra elevation, try these Alice & Olivia silky joggers! The hazelnut hue is on point. The cargo look is a perfect blend of casual meets dressy due to fabrication. Style Tip: Similar to the first pair of sweats, wear them with sneakers, a fun t-shirt and a leather jacket or pair them with pumps, a turtleneck, and statement earrings.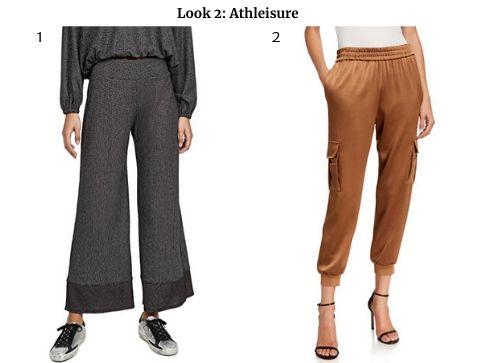 Shop the Look: 1. Terez Sweats  2. Cargo Joggers 
Look 3: Dresses & Skirts
Looking to wear dresses and skirts during colder temps? You definitely can! When it comes to mastering the Winter dress/skirt, we love pairing the piece with an oversized sweater. Oversized sweaters add extra warmth and are usually longer, making it great for styling and layering. Depending on what best suits your dress or skirt, you can reach for a turtleneck or a crew neck. The trick to nailing this layered look? A defined waistline. Style Tip: Wear a belt at your natural waist with your layered dress outfit. With a skirt, opt for a belt over the top of the sweater at the natural waist or right at the tops of the hips. We love these two belt options! Note: If belting isn't your thing, you can opt for a long necklace, which will help pull the eye down!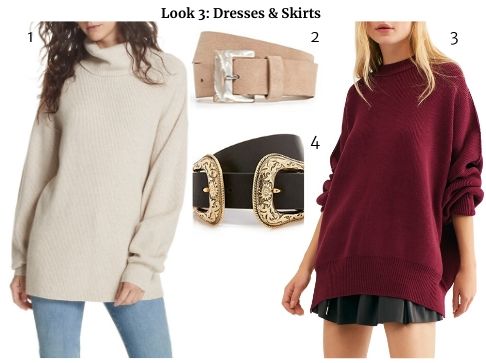 Shop the Look: 1. Oatmeal Knit Tunic  2. B-Low The Belt Suede  3. Free People Wine Tunic  4. B-Low The Belt Black/Gold
Look 4: Accessories
From shoes to knit hats, accessories make Winter outfitting so much fun! The lug sole boot trend that reappears season after season? Oh yes! We opt for a sleek, sophisticated version that has less bulk to it! You can hit the slopes [or the cabin fireside] in them with leather leggings, a turtleneck, a beanie and a puffy parka. Make it daytime casual with straight leg jeans, a blouse, and a top coat. At night, outfit a midi dress, tights and moto jacket. Let's talk hats! We love a good hat for its function and fashion. Win-win! This Winter, the beanie is definitely the "IT" hat. Wear it tall with extra fabric sitting above your head, or fold it over for a tighter fit. Style Tip: these are totally acceptable to wear indoors for a casual look.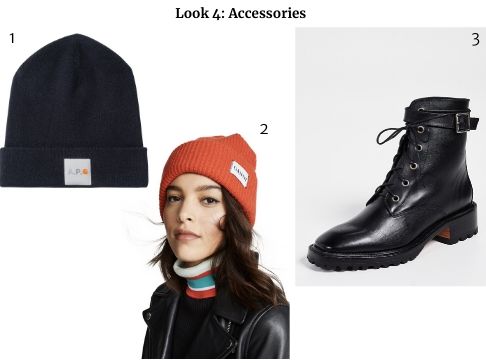 Shop the Look: 1. A.P.C. Blue Beanie  2. Ganni Red Hat  3. Lug Sole Boots
Keep Making Everyday A Runway!
We are currently booking through January and February! To learn more about our Personal Shopping, Wardrobe Consulting, and Outfitting Services, visit us here: https://www.wardrobetherapyllc.com/
**Please note, our "Sr. Stylist" and "Style Director" rates have increased to $150/hr and $175/hr respectively. We appreciate your continued support of Wardrobe Therapy and look forward to a fashionable decade!**