As you may have guessed from our Menu of Services, we wear many hats within the realm of "Fashion Stylists." From Capital Style photo shoots to corporate presentations, there is a lot of action"Behind the Scenes" for Wardrobe Therapy.
Most recently we were asked to style the fashion presentation for the groundbreaking ceremony at the new Tanger Outlet site, just north of Columbus. What a fun team to work with! The Marketing Director (based in Greensboro, NC) gave us the list of brands for us to work with and we were able to assist in helping her to line up a great talent agency here in Columbus that would provide the models.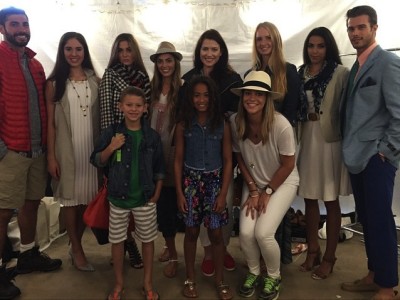 Ali and the models, minutes before Go Time!
Once the models were confirmed, we began to form our inspiration for the looks which would help us with our pulls. One of our favorite looks brought to life by the Spring/Summer '15 campaign for Coach, pairing a powerful black and white checked trench and a caged heel with girly accents in the form of the flowy white shirt dress and oversized scarf. The Orange Coach tote and oversized sunnies were obviously a must!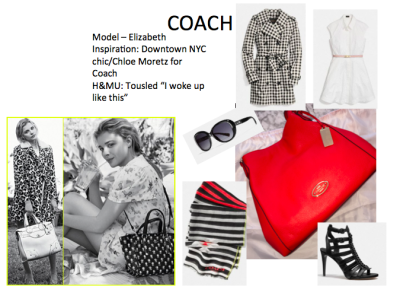 We love mens' tailoring and wanted to incorporate the "casual luxe" trend in men's fashion at the moment. Brooks Brothers' Brian C, Visual Merchandise Supervisor in San Francisco (and a seriously dapper dude with an even more serious Instagram following, @imchanism), served as the inspiration for this look.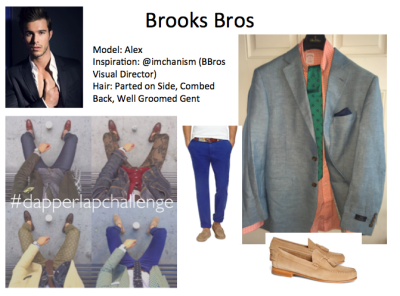 The day of the groundbreaking ceremony was a typical Ohio summer day…pouring rain and not a glimpse of sun. We arrived early, setting up and doing last minute steaming, going over the models' looks, and getting in a few practice walks before the guests started to arrive. When you have great models it makes our job so much easier and we truly loved working with this group of fabulous faces!
Ali, adding the finishing touches to the Ann Taylor look, minutes before the show began. (And yes, that is the Pride of the Buckeyes, welcoming guests in the background.  O-H!!)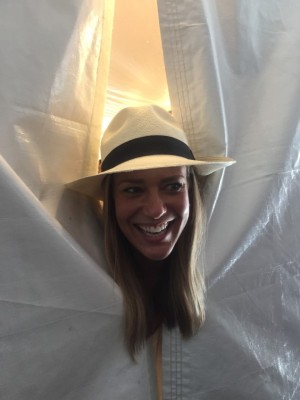 Is it Show Time?!
Adrianne and her team from Adrianne Elizabeth events made sure everything went off without a hitch and managed to keep us all dry in the process! Thank you again to Tanger Outlets and all the brands we worked with for asking us to be a part of such a fun presentation!
To book our team for your next corporate fashion event, or to learn more about our wardrobe consulting, personal shopping, outfitting, and corporate client services, visit https://www.wardrobetherapyllc.com, or email the stylists directly at Alic@wardrobetherapyllc.com, Christyw@wardrobetherapyllc.com, or Elizabeth@wardrobetherapyllc.com.
We're Social! Follow along for the latest on our team, our work, and our inspirations!