This week we're bringing our fashionistas yet another coveted trend from our  list of Fall Trends, and that is the ever-ladylike art of Feminine Dressing. This Fall we are taking cues from our Grandmother's closet with brooches, cocktail rings, fur stoles, and fabrications that ooze elegance. We took 3 basic pieces and outfitted them to show you how to take the most feminine piece and allow it to work into your wardrobe without your ensemble reading like you yourself have gone back in time!
Pleated Skirt 
Knife and car wash pleats are all the rage for Fall, and they are perfect for those shapes that need added curves to the lower half. This leather rendition gives the pleats an edgy vibe, but the soft pullover complements the ladylike details. The pearl earrings add yet another touch of elegance, while helping tie together all of the luxe neutral tones.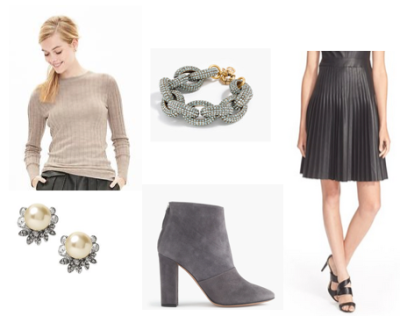 Feminine Shoe
The kitten heel is one of this season's staple pieces! These ultra-fem kicks are a perfect balance to the dark floral jumpsuit and long topper coat worn open. We added another splash of femininity with a quilted cross body. This outfit is perfect for accentuating your waistline!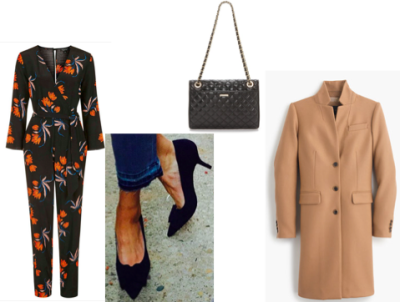 Ladylike Blouse
We love our bow blouse for Fall, and paired with this blush trouser pant we are left dreaming of the 60's era, while the menswear jacket pulls it all together and draws in the waist. Think Mad Men. Great for someone who is aware of their middle or wants to add some balance to their lower body curves.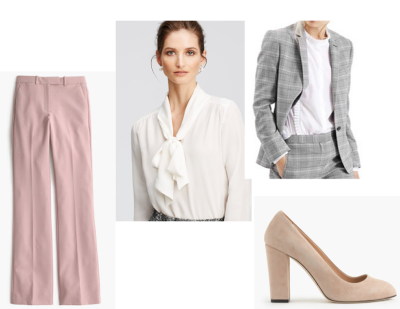 For more style tips or to learn more about our Wardrobe Consulting, Personal Shopping, and Outfitting services, visit https://www.wardrobetherapyllc.com, or email the stylists directly at Christyw@wardrobetherapyllc.com, or Elizabeth@wardrobetherapyllc.com.
Keep Making Every Day A Runway!