Wow, we can't believe we have gotten to the end of our Spring Trends Breakdown! This week we are closing this series out with last but certainly not least Polka dots and Accessories. We have enjoyed breaking down our Top 10 Spring Trends 2020 with you, but make sure you stay tuned next week as we shake things up!

1 ZARA Polka Dot Dress | 2 AQUA Polka Dot Handbead | 3 Ganna Printed Shorts
Polka dots are bright, and classic, and add a pop to everyday simplicity…and yet can really dress up an outfit, somewhat instantly. I love these "pops" of polka! Whether it be in my hair (to make a not-so good hair day, better), trying polka dots in shorts with a great knit t-shirt and slides, or with wearing a dress in this print for a dinner away (someday!). These each are speaking to me, and remember, it can just be a touch!
1 Jennifer Zeuner Wes Necklace & Shashi Warrior Double Pendant   | 2  Postal Silver Striped Beach Tote from Truluck Boutique | 3 J Crew Lace Up Sandal
My theme for this Summer is to follow right along with our Spring/Summer trends! The bigger, the better on bags (which is usually my go-to anyway). I feel like I can get everything I need in this beach tote for the pool/beach, or for a weekend picnic. This sandal is neutral, which allows for so much variety with my outfits. And this fun jewelry is going to be on repeat, because that's my style on jewelry. Layer it up, keep it simple, and wear all the time.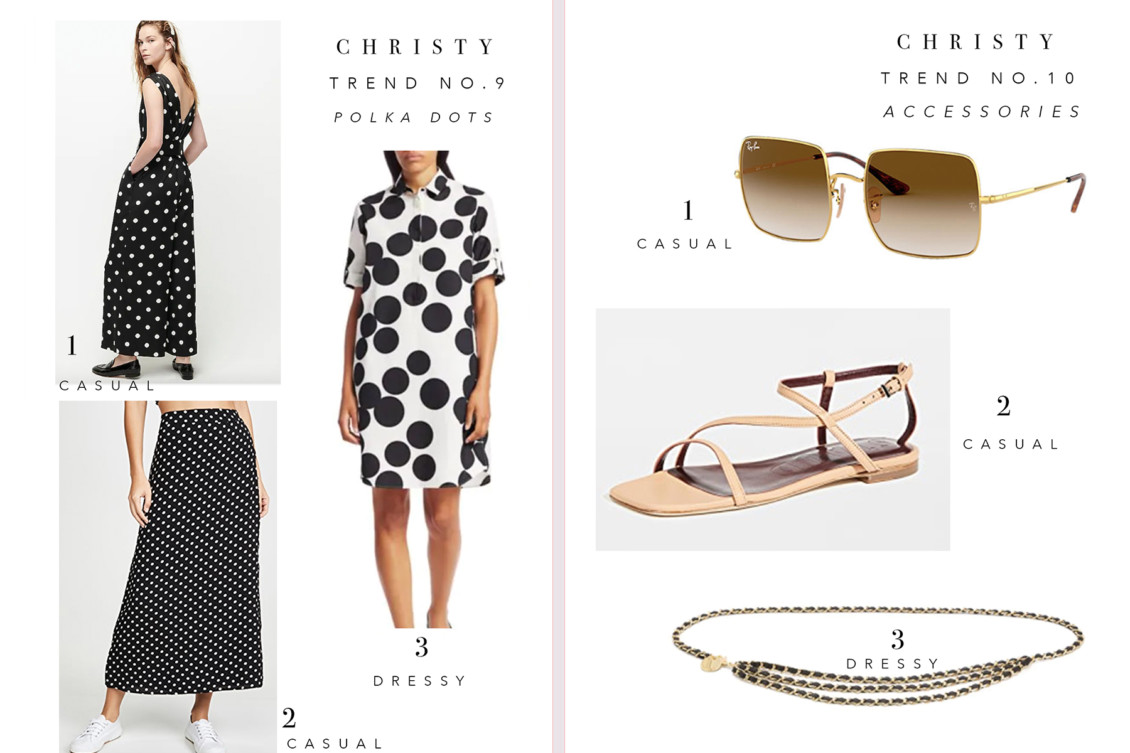 1 J. Crew  Wide Leg Jumpsuit | 2 Hadley Midi Skirt  |3 Akris Polka Dot Shift Dress
When choosing prints I always lean towards simple, timeless classics, and polka dots are just that! This jumpsuit–swoon! It's a look that can be dressed up or down. The polka dot maxi reads casual as it can be paired with a white sneaker and tee, but easily dressed up if needed! And this Akris frock is such an easy Summer dress that makes a statement with the bold dots, but with its simple shape, paired with the classic print, you'll be able to wear it year after year! We're ready for you post-quarantine Summer!
1 Ray-Ban Square 1971  | 2 Staud Gitane Sandal  | 3 B-Low Chain Belt
I'm letting the 70s trend carry into my accessories starting with these oversized square frames! So chic. I'm all about the square-toe sandal at the moment, and this nude option is a great, casual, run around option that will go with everything! The rope belt trend is one I'm responding to, but so is the chain belt! I love this option as a combo of both! What a great way to complete a simple jeans + tee outfit.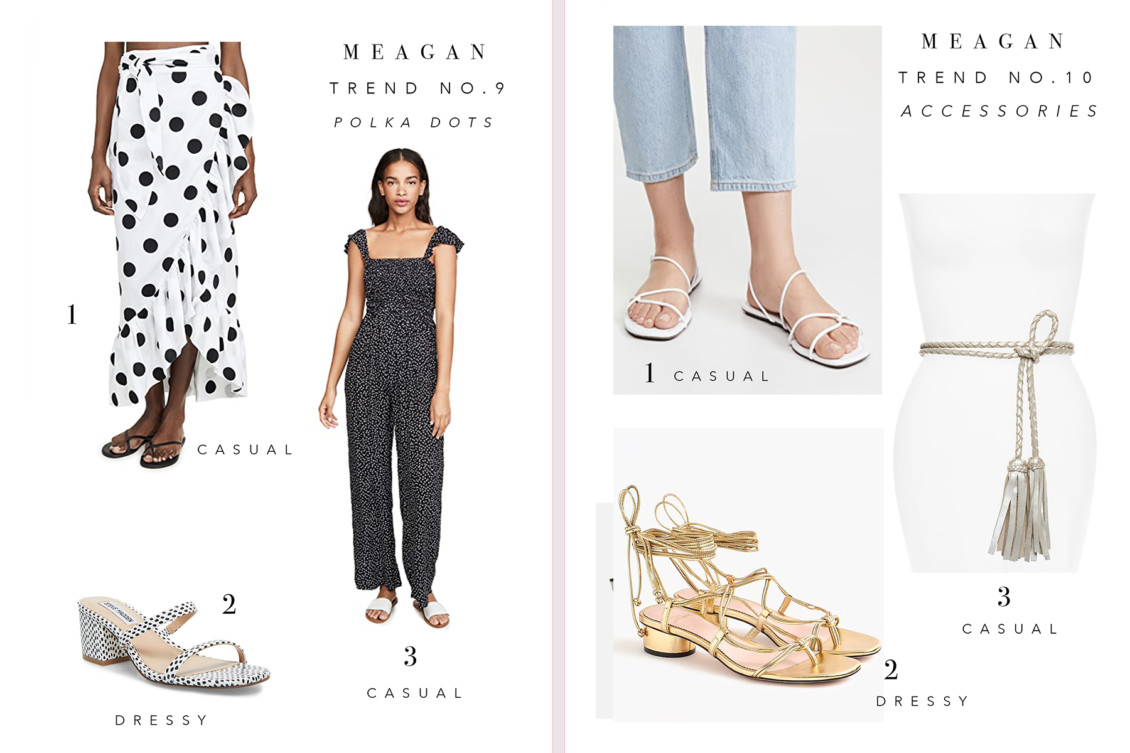 1 Mara Hoffman Coverup | 2 Steven Madden Sandal  | 3 Tiare Hawaii Jumpsuit
While polka dots are a timeless print, they are having a major moment this Spring and Summer. I'm loving the print in a classic black-white combination, especially on accessories and swimwear!
1 Nordstrom Rope Belt | 2 J. Crew Sandal | 3 Schutz Sandal
Accessories are such a fun way to interject new trends into your existing wardrobe. I'm especially excited about the rope belt trend because it adds style to an outfit without adding bulk. I'm also a sucker for shoes and this Summer I am here for the minimalistic, strappy sandals, whether it's a casual flat or a metallic ankle wrap style.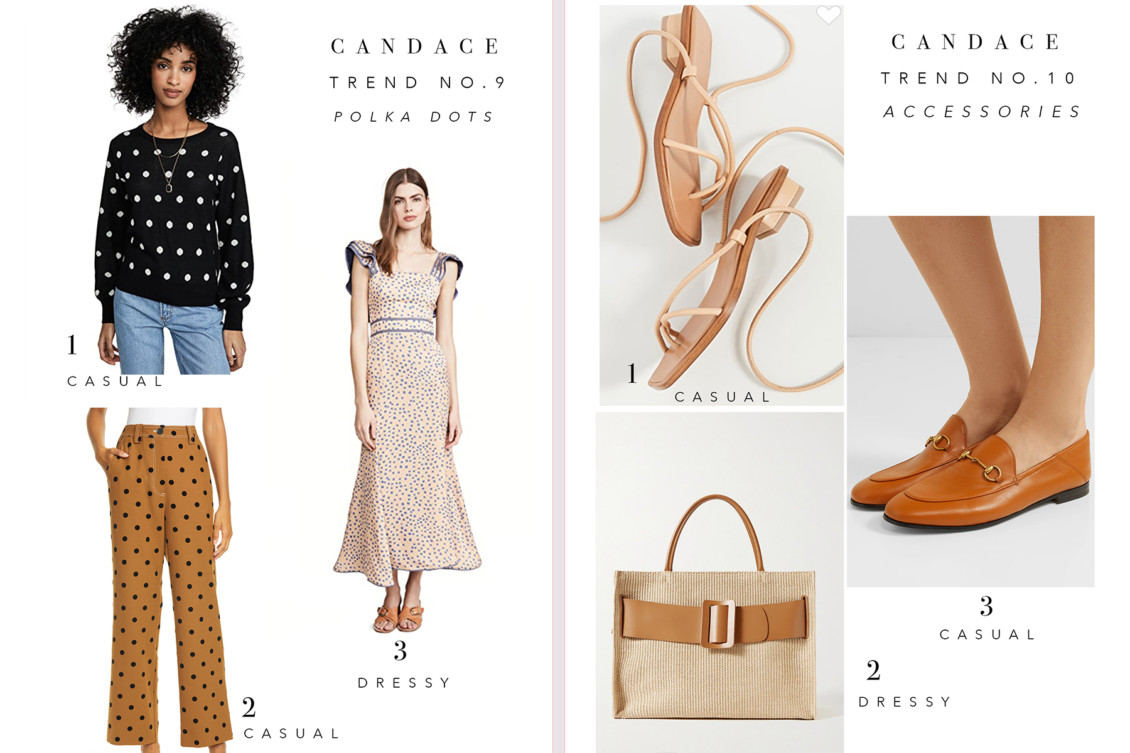 1 Bailey 44 Addie Sweater | 2 Stine Goya John Pants | 3 Azulu Kano Dress
Polka dots isn't a print that I find myself naturally gravitating towards, but this season I am all in! This Spring/Summer season presented so much freshness that I just couldn't resist. From the traditional black and white polka dot print to a wide variety of colored polka dot options. I especially love these pants that I can wear now casually, but jazz them up as things slowly return to normal. Also, I've got summer soirees on my mind and this peach/blue polka dot combo is just stunning!
1  LOQ Strappy Sandals | 2 BOYY Buckled Tote | 3 Gucci Brixton Loafer
Accessories are my love language! I just love the extra element of dimension that can be found when properly accessorized! Without question, I am really into the neutral hues as they feel timeless and evergreen! For the strappy sandal, this one by LOQ has a small heel, but can be worn daily! Love the idea of pairing it with my bermuda shorts and easy tee. Oversized totes have been my jam since I started carrying handbags at the age of 3! This one by BOYY is summer chic. The leather buckle makes this piece feel extra fancy! And lastly, the Gucci loafer. I've been dreaming of this shoe for a few seasons and now is the time to commit! A loafer that is on trend and timeless. What is most notable about this one is the convertible heel…it can be worn as a loafer, as shown, or you can wear it as a mule!
To learn more about our Personal Shopping, Wardrobe Consulting, and Outfitting services, visit us here:  https://www.wardrobetherapyllc.com
For content created on our website and social media, some links contain affiliate links which we earn a small commission from.