Then there were nine! Our team is growing and we are so excited to introduce you to our two fabulous new stylists- Brittany Emery and Christine Ciminero! Brittany and Christine are currently in their second half of training in the Wardrobe Therapy training program with our seasoned stylists! We can't wait for them to hone in on their skills and begin working with you all in your closets!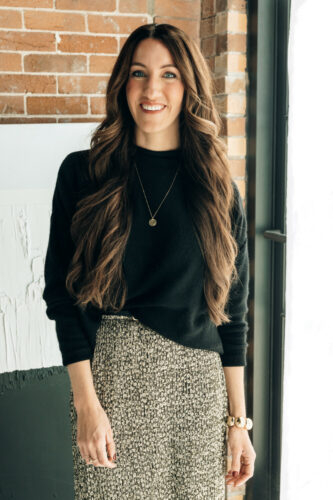 My dad is a college football coach, so I have been to more football games than the average fashion girl. Fall is my favorite season because of the fashion, but also because of the nostalgia of football season and attending games with my family. I have spent the majority of my career with Anthropologie, most recently as the Visual Merchandising Manager at the Easton location, but I was at the Short North store for four years as well. My husband and I moved to Columbus from Indianapolis in 2018, and have loved being in the Buckeye state (though only one of us claims to be a Buckeyes fan). We have a mini golden doodle, Winnie, who is notorious for floating a sassy side-eye. We call Rock City Church home and enjoy getting brunch afterward on Sundays at one of our favorite local spots (Emmett's in German Village tops the list!).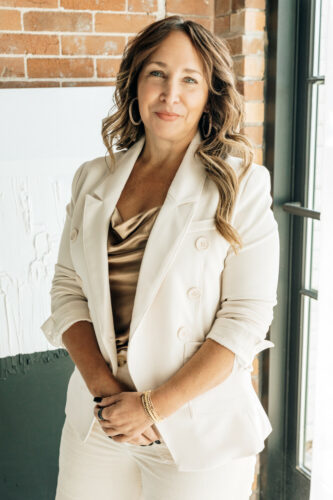 I grew up in Northeast Ohio in a small town called Niles (close to Youngstown), where my parents still live. My first job was at the Limited, and I worked there throughout high school and during college breaks. I graduated from The Ohio State University, moved to Columbus, and started a family. While my kids were younger and in school, I had the great opportunity to re-enter the fashion world, at Thread Boutique, where I worked for about five or so years. My children have since grown, my daughter, 24, recently moved to Chicago and my son, 21, attends The Ohio State University. My life has taken a few detours, and amazingly enough, has brought me full circle back into the fashion world, to Wardrobe Therapy.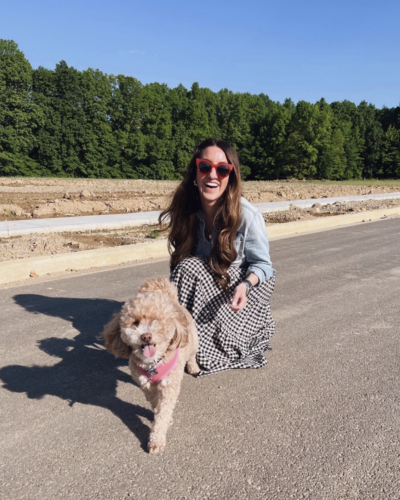 Brittany and her sassy side kick- Winnie
Q: What is your style philosophy?
BE: Fashion has always been my favorite creative medium. I love to play with color, texture, and prints to create a look that is unique to myself or the client I'm styling.
CC: Personal style should be a reflection of who you are. When you look good, you feel good- more confident. Confidence gives you a more positive attitude, you begin to treat yourself and others better.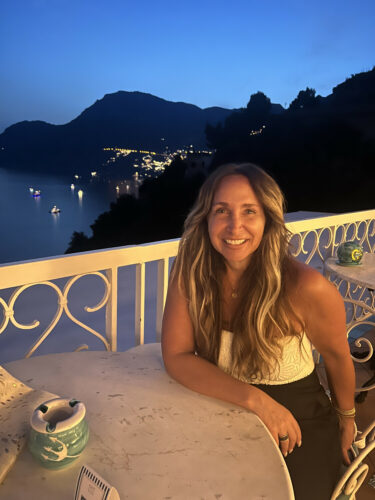 Christine at dinner in Positano, Italy this past summer
Q: Favorite label?
BE: Stephane Rolland for couture – the sculptural aspects of his designs are incredibly unique and jaw-dropping.
CC: Tom Ford and Veronica Beard!
Brittany's words to live by: "33 I will sing to the Lord all my life; I will sing praise to my God as long as I live. 34 May my meditation be pleasing to him, as I rejoice in the Lord." – Psalm 104:33-34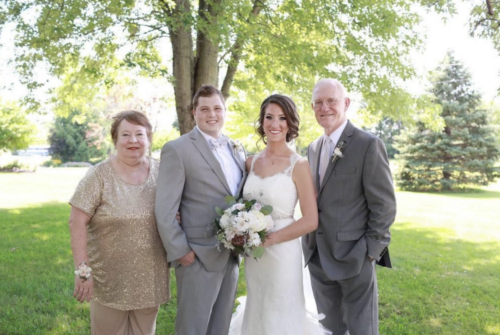 Brittany, her husband, and parents on their wedding day
Q: What is the most meaningful item in your wardrobe?
BE: My mom's sapphire birthstone ring!
CC: My mother's original engagement ring, without the diamond. I'll have it set with a ruby and give it to my daughter and my father's St. Christopher pendant which will go to my son.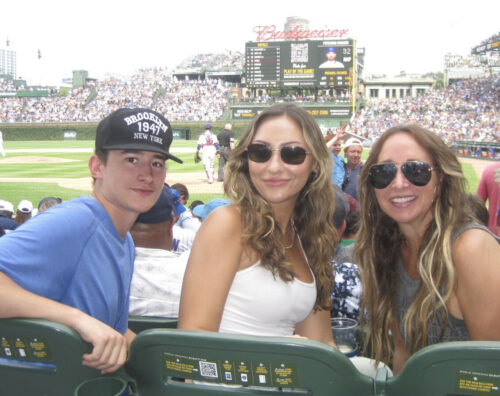 Christine with her son and daughter at Wrigley Field watching a Chicago Cubs game
Q: Favorite denim?
BE: Mother
Christine's words to live by: Be kind to everyone, you never know what someone is going through. A smile and a hello can change someone's day.
Q: Biggest splurge?
BE: Two Alice + Olivia dresses from my early days when I was a personal stylist at Nordstrom. They were my first higher-end pieces. They were from the same collection, and I loved them. At the time, they were a splurge for me, and also my greatest steals because I got them on sale with my employee discount!
CC: My Louis Vuitton sunglasses!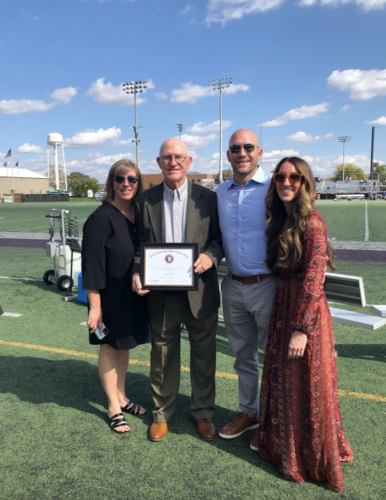 Brittany with her brother and sister celebrating her father being inducted into the Taylor University Atheltic Hall of Fame
Q: Greatest steal?
BE: The Alice + Olivia dresses from my time at Nordstrom. 
CC: My Valentino sneakers I found at Nordstrom Rack.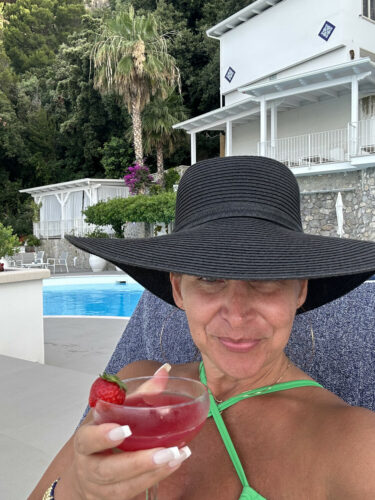 Christine enjoying her time at a beach club in Positano, Italy
Q: Favorite food to make?
BE: Takeout from Northstar Cafe. 
CC: I'm 100% Italian, so anything Italian…homemade sauce, meatballs… you name it!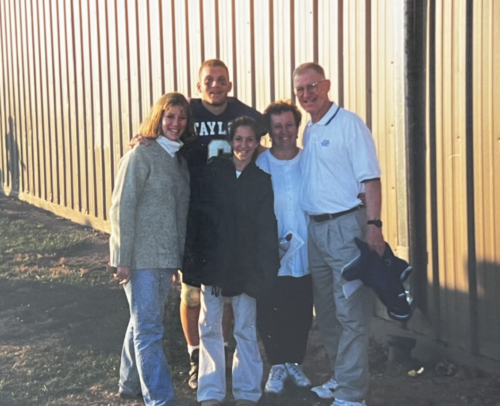 Brittany and her family after a Taylor University football game where her father coached and her brother played
Q: Your perfect Saturday?
BE: A football game with the fam!
CC: Work out, have coffee/tea on my patio, and watch college football or other sporting event. If my kids are around spend time with them. Otherwise, dinner with friends.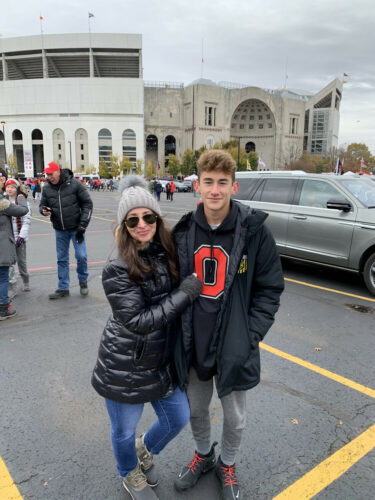 Christine and her son at an OSU football game
Q: Your life in a hashtag?
BE: #everafteremery
CC: #embracethedetour #meeep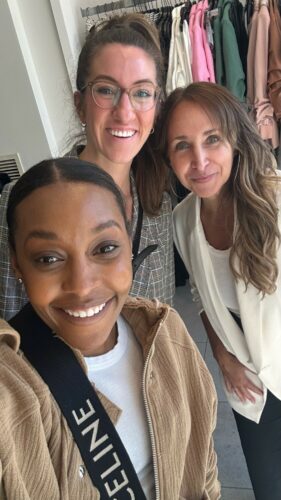 Brittany and Christine training with Candace
Q: A philanthropy close to your heart
CC: CAPS for a Cure and Thread of Hope, benefitting Sam's Fans.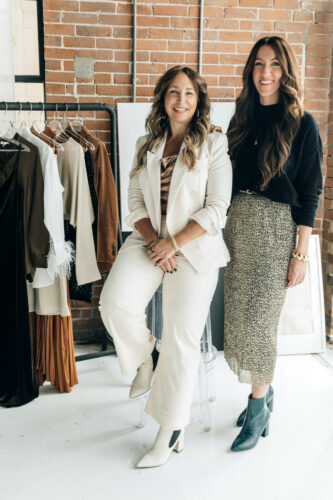 Christine and Brittany at our team holiday photoshoot
Q: When you're not thinking fashion, you're'…
BE:  Planning my next adventure!
CC:  I'm spending time with my family and friends. I love going to dinner and walking through the Short North. Maybe trying a new recipe or watching a good movie. 
Save the date! Book your hour now! Spaces are filling!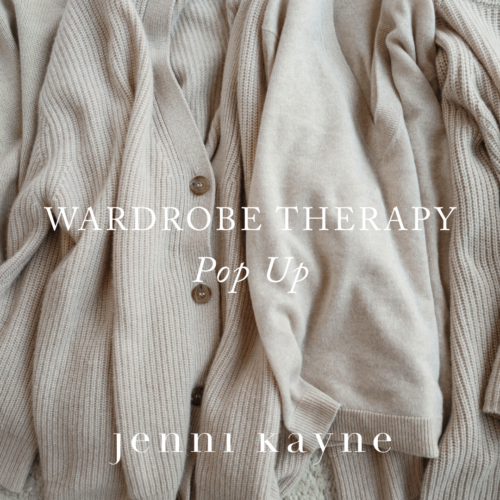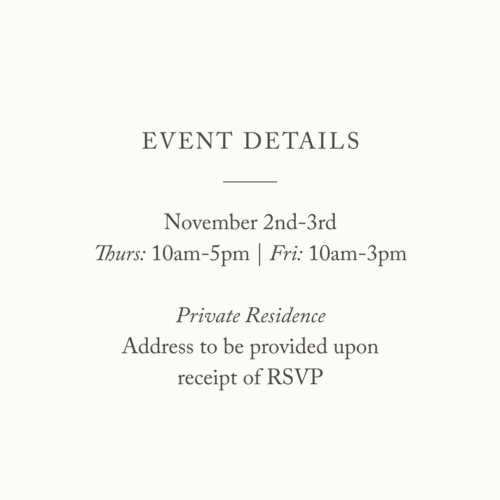 Contact your stylist or call 614.323.0889 to book an appointment!
We can't wait to shop with you!!