We think it's safe to say we've officially entered "coat season". We couldn't be happier because this Fall coats are a BIG deal. Here in Ohio we wear them for months on end, so we take our coat game seriously, but designers really made us squeal when we saw the jacket lineup on the runways earlier this year. There are so many styles to choose from, but the two standouts were quite literally polar opposites of one another–the long and lean coat with ultra structure, and the puffer quilted coat that feels more casual. The coolest thing about these options, however, is their versatility and the way we saw them styled with juxtaposed outfits OR taken literally. Again this week we've pulled some of our favorite options from each category with a few tips on how we'd wear them!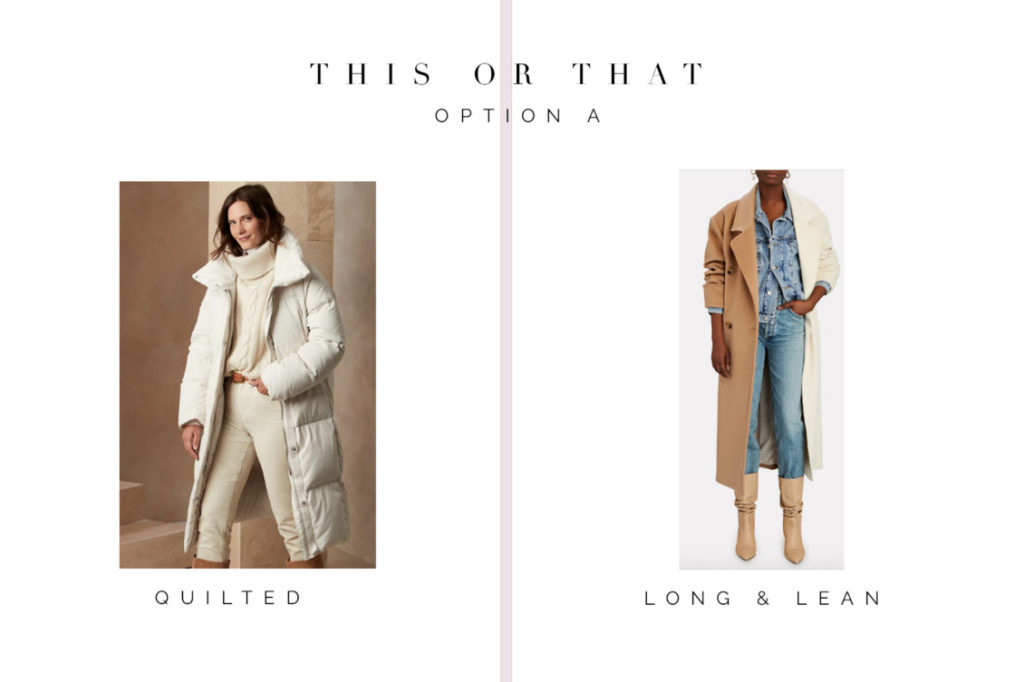 THIS: While the "bigger the better" seems good in theory, it can often be overwhelming on a variety of silhouettes. We love that this jacket is waterproof AND has all the style of a high end number, while being reasonably priced!
THAT: A long & lean coat can really add so much to your look. We love the diversity of this jacket, from day to night. Casual to dressy. Sporty to Chic.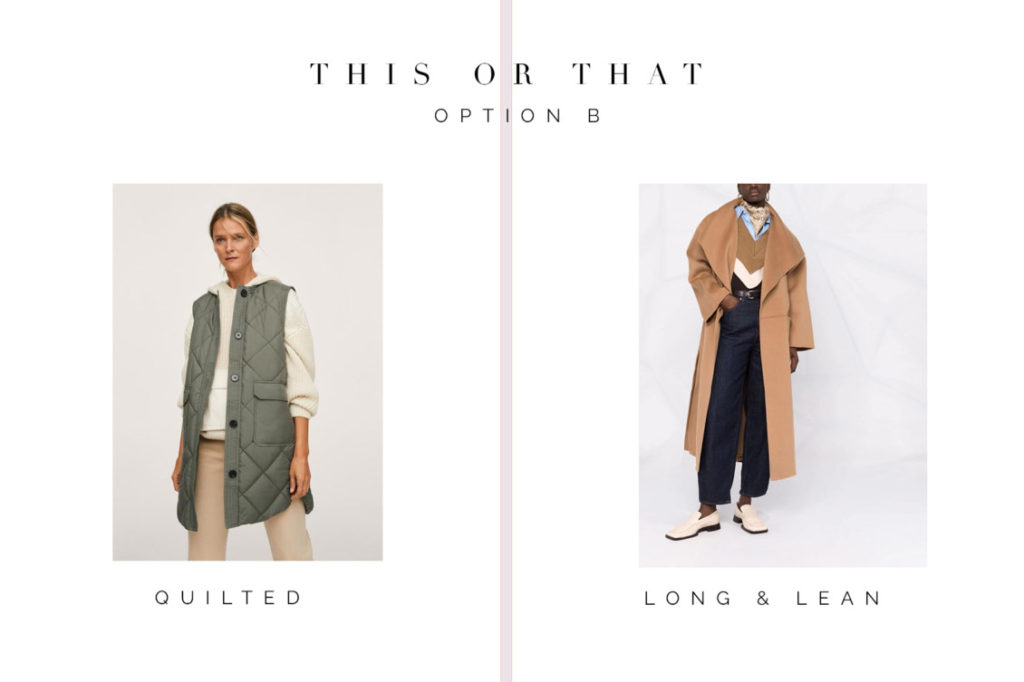 THIS: This quilted vest is a great way to add in the quilted-puffer trend without going all the way with a big oversized coat.  An easty, go-to sporty outer piece, or dress it up with your favorite denim and tall boots for a more chic look.
THAT: The dramatic lapels on this long and lean coat makes it a must-have for that added flair to your coat collection.  The camel color and cashmere-blend are added bonuses with this coat that you'll be sure to love.

THIS: If you're willing to go "big" with your puffer, perhaps invest in the best of the best. This Moncler nude quilted coat is quite a beauty. Flattering with the belted middle, offering a chic longer length which pairs with the most casual of outfits, but with a sleekness that can transform it into the perfect topper for a bit more dressed up of a look.
THAT: For a bit more structure, we love this ivory topper coat that quite literally will work with ANY outfit! That matching sweater+sweater-pants set? Check. Wear-to-work traditional pants and blouse? Check. Great denim and cool sneakers? Check there as well. Wear this winter white all winter long!
Our stylists are currently booking through the end of the year! 2021 is coming to a close! To schedule your appointment or to learn more about our Personal Shopping, Wardrobe Consulting, and Outfitting services, visit us here: 
https://www.wardrobetherapyllc.com
For content created on our website and social media, some links contain affiliate links which we earn a small commission from.