The sun is shining and we've got a little extra pep in our step! The weather is slowly evolving and we are getting all the more excited for Spring fashion. If you haven't had a chance to check out our trend report for the season, be sure to click HERE and give it a read.
There's no doubt about it, we have a lot of trends we LOVE this season. But there is one that we are particularly vibing and that is the structured jacket! From classic trench coats to long and lean blazers, we love how effortlessly this trend emphasizes the waistline. So if you've been wondering about what "IT" item you should be getting your hands on first this season, we most definitely say a structured blazer. It will be that workhorse piece that you can wear endlessly…from desk to dinner, lunch meeting to cocktails and beyond.
Ok, need some inspiration? We've got YOU! Here's a structured long and lean blazer that really speaks to us this season! From color to shape, we love everything about it!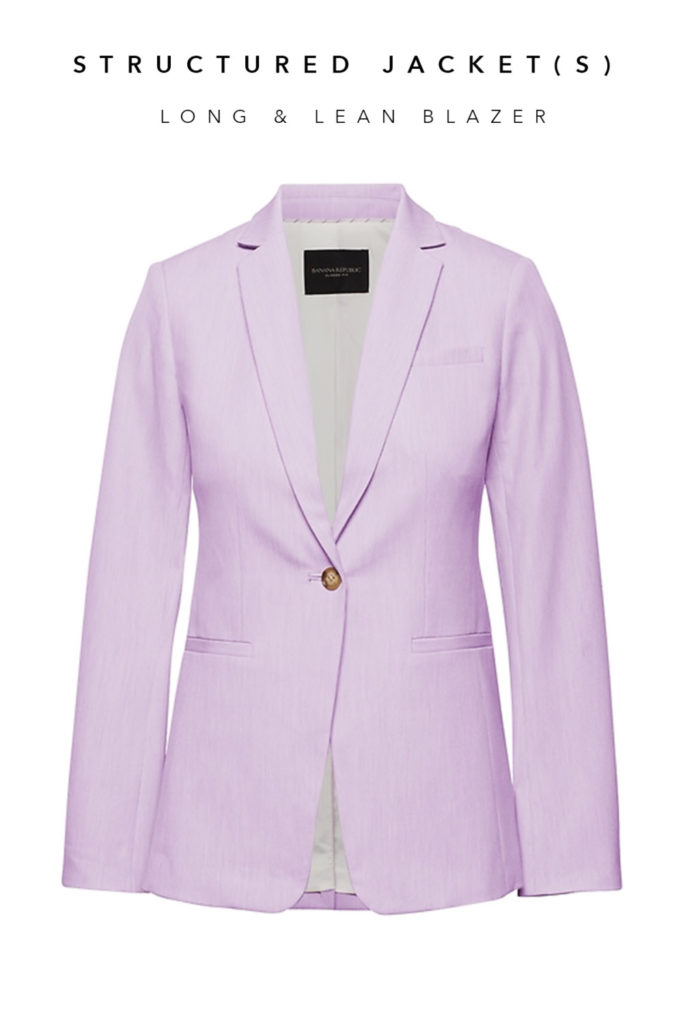 Banana Republic, Long and Lean-Fit Birdeye Blazer, $198
To take things a step further, here are some various ways we would approach styling this beauty for Spring: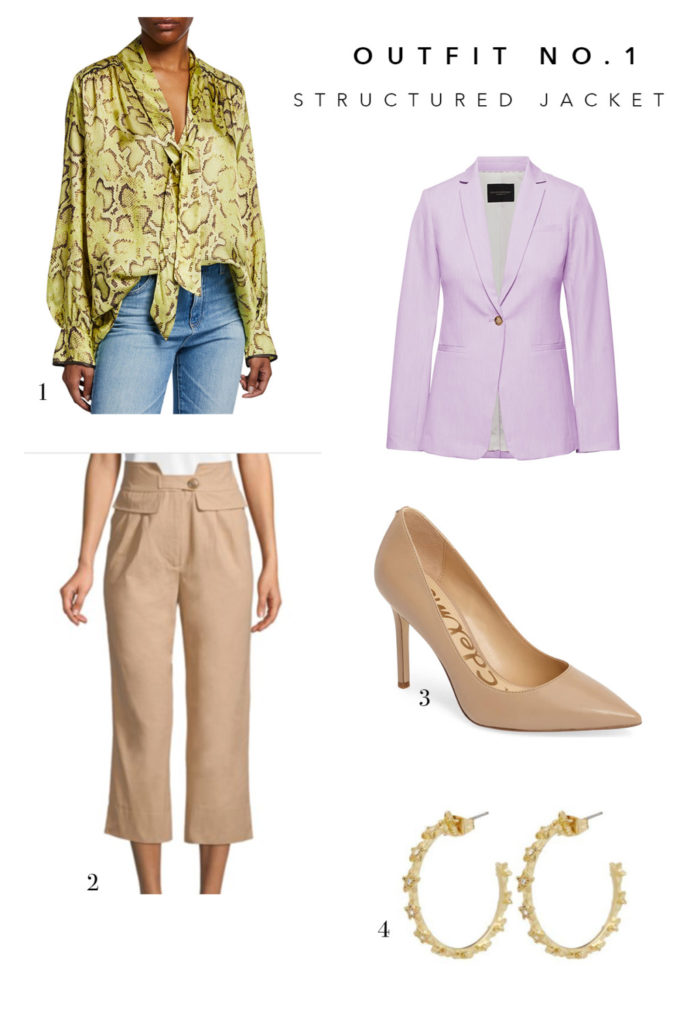 1. Pinko Snake Print Blouse | 2. Lea & Viola High Waist Pant |  3. Sam Edelman Hazel Pump | 4. Rowe Boutique Mini Pave Star Hoop Earrings
We love this look tucked into the high-waisted pant, and then adding the long and lean blazer! The pop of purple in the jacket with the snakeskin bow print blouse is so fresh and chic! And the Nude pump helps elongate the leg.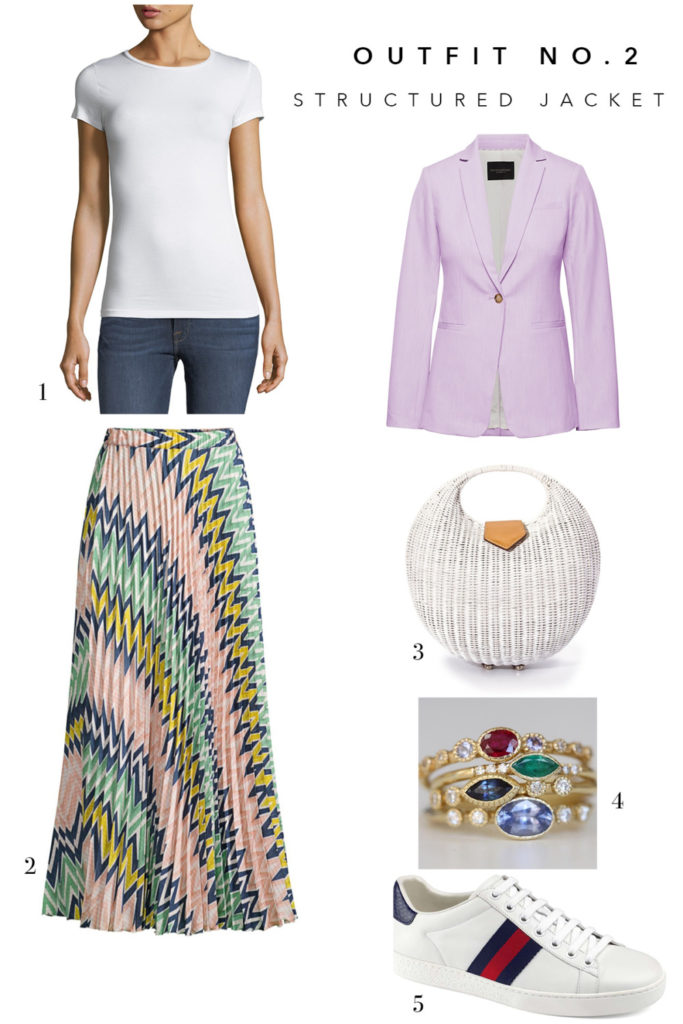 Styling this sleek blazer with a fuller skirt is most definitely acceptable! We are feeling especially inspired by silk prints since it is a top trend for Spring 2019, making this skirt by Missoni perfect! To communicate more of a laidback luxe idea, pairing this skirt with a crisp white tee (tucked in to show the waistline) along with a white sneaker feels fresh and Spring-like. As for accessories, add the white top-handle basket bag. Love this trend and this bag! And lastly, rainbow-hued stacking rings are on trend for the season and finish the look.
1. Majestic Soft Touch Tee | 2. Missoni Plisse Pleated Maxi Skirt | 3. Kayu Designs  White Top Handle Bag via Ladybird Boutique   | 4. DC Johnson LTD Rainbow-Hued Stacking Rings (inquire within) | 5. Gucci New Ace Sneaker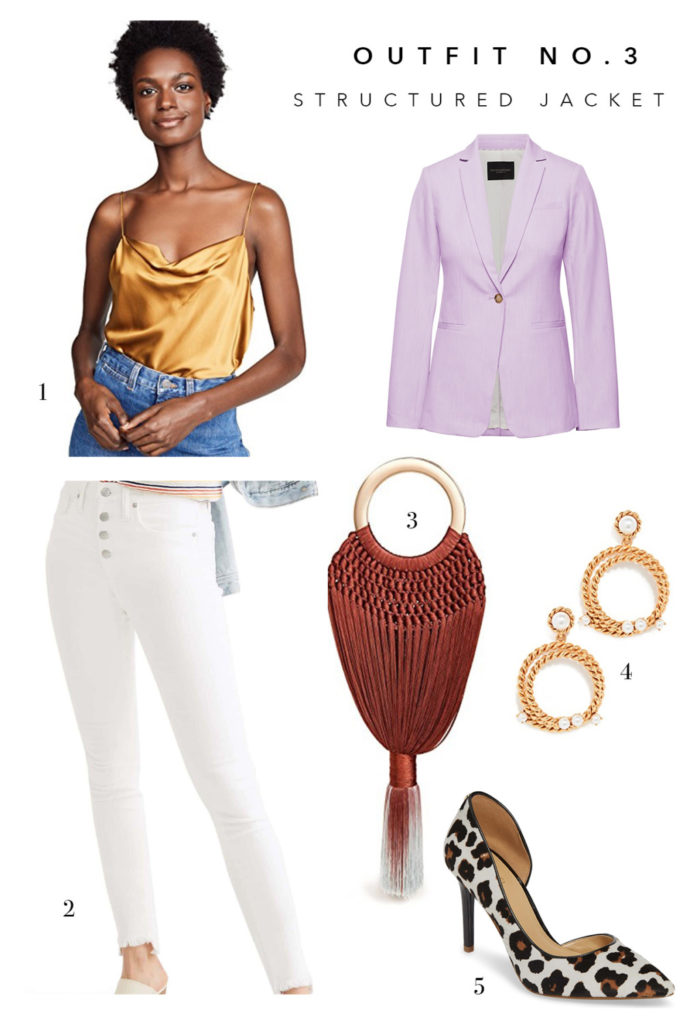 Denim paired with a structured jacket = forever classic. With the season transition in full swing, we say go ahead and reach for that white denim. Pairing a super feminine blouse under a more structured jacket is always a good idea. We love this cami from Shopbop as it represents those Sunshades colors that we are mad about! To keep your look balanced, go ahead and tuck that blouse and slightly scrunch those sleeves. As for the bag, swap out your structured handbag for something a bit different…netting! Yet another big trend for the season. To finish off this look, a touch of animal print and a twisted gold hoop will do the trick.
Feeling inspired and ready for Spring? Spring consulting, personal shopping and outfitting is here! To learn more about our Personal Shopping, Wardrobe Consulting, and Outfitting services, visit us here:  https://www.wardrobetherapyllc.com