We shared the news last week, that our latest addition to our team is style guru, Candace Read. We couldn't be more excited to share a little more about Candace and her style philosophy with you. This southern gal has a wicked fashion sense (and sensibility) and already has quite the following through her own fashion blog. WE know that you will love her too!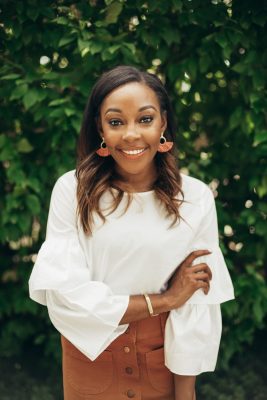 Style philosophy: Style is truly personal. It's a unique way of communicating who YOU are without ever saying a word.
Personal style: Classically edgy with random pops of loud color.
Favorite label: Chanel
Most meaningful item in my wardrobe: A vintage fur stole from my late Aunt Yolanda. She had a unique sense of style that most definitely influenced my love for fashion. Her name is embroidered on the inside of it…it's a piece I will always cherish.
Favorite jeans: Anything Madewell!
Biggest splurge: A gorgeous velvet couture Sherri Hill gown. I wore it when I competed for Miss Georgia in 2008 and 2009.
Greatest steal: I snagged the Karen Walker Super Duper Strength sunglasses on major sale and her frames are NEVER on sale. It was definitely a win that day.
Designer I'd choose to create my Oscars gown: Leanne Marshall
Favorite place:  New York City. There's just something about the energy of the Big Apple that speaks to my soul.
Perfect Saturday: Starting the day at one of my favorite coffee spots followed by a leisurely brunch al fresco with my husband completed by an afternoon of adventure around the City.
My life in a hashtag:  #ohthosereads #bedeeplyrooted
Words to live by: "The future belongs to those who believe in the beauty of their dreams." Eleanor Roosevelt
Candace graduated with a degree in Dance from Valdosta State University and a masters in Luxury and Fashion Management from Savannah College of Art and Design.
Candace's recent endeavors include working with New York City Ballet, Kandice Pelletier Swimwear and Sherri Hill Designs. In addition to styling clients, ​Candace has curated a style blog, www.candacemread.com, which has opened the door to her being recognized as a top style influencer in Ohio's capital city of Columbus.
Candace lives in Columbus with her husband Jason.
She's booking now! Find her at candace@wardrobetherapyllc.com
Fall consulting, personal shopping and outfitting is here! We are booking now through November!
Want more? Visit https://www.wardrobetherapyllc.com
We're Social! Follow along for the latest on our team, our work, and our inspirations! Instagram Facebook