As most of our clients, families, and friends will tell you, we are strong advocates of getting out of the gym clothes and into something a little more polished post-exercise. Now, we get it – we've been there, we are there. Balancing family life, work, errands, and managing to fit in a workout ALL while looking stylish seems like something only Superwoman in her lycra onesie (or yoga pants) can pull off.  Luckily, the "sports luxe" trend has yielded some incredible pieces that can transfer from gym to everyday life with a few styling additions. Here's 3 looks that will help take you from "Stop, Drop and Yoga" to "Come On, Vogue!"
Look 1: The Glamorous Track Pant
When you're crunched for time, the last thing you want to worry about how is how to pull yourself together after a sweat sesh!  Printed track pants are a great piece to pull on over a swimsuit or to change into after that cycling class.  Pair with a simple white tank and a comfy white sandal to keep the look fresh for summer.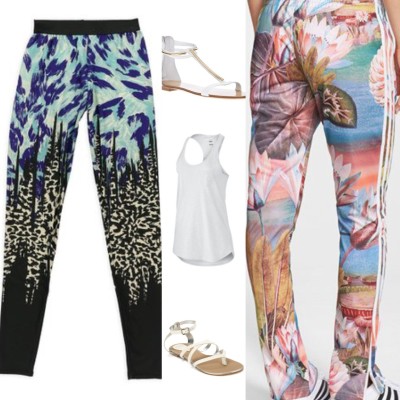 Look 2: The Tennis Court Queen
Tennis skirts have had a moment in recent years and we love how easy they can go from the court to a day with the kiddos.  By changing out a few pieces, you can easily make your look feel more fashion-forward. Add a great twill vest in a neutral color, and pick a fun printed sneaker to give your look that pop of color!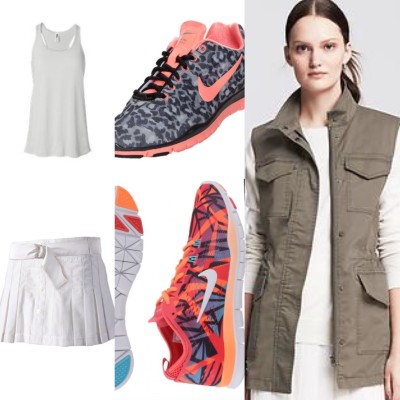 Look 3: The Fun Yogi
Our favorite choice for a workout session would have to be a printed legging.  We've added an open-weave vest over a neutral bandeau or tank and a cute black sandal to match. By pairing these fun figure-flattering pants with neutrals and a hat within the same color scheme, we're sure you'll instantly feel more chic running around in your post-workout duds.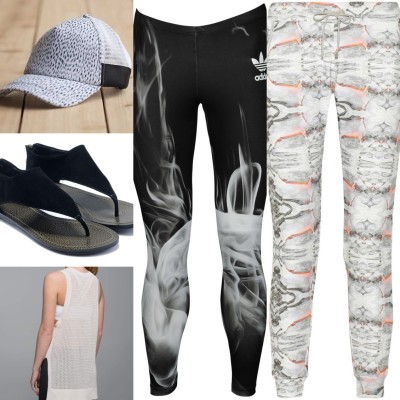 Addicted to workouts AND looking great?  We'd love to help you maximize your wardrobe! To book an appointment or to learn more about our wardrobe consulting, personal shopping, outfitting, and corporate client services, visit https://www.wardrobetherapyllc.com, or email the stylists directly at Alic@wardrobetherapyllc.com, Christyw@wardrobetherapyllc.com, or Elizabeth@wardrobetherapyllc.com.
We're Social! Follow along for the latest on our team, our work, and our inspirations!