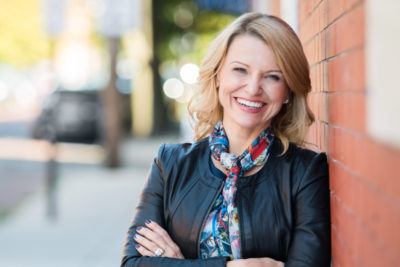 She is a small-town girl turned big-city woman leading one of the most celebrated salon concepts in the nation, but Debra Penzone remains as authentic and unpretentious as they come. Today, in our inaugural "Women We Love" feature, Kristy Eckert talks with Deb about her vegan adventure, her passion for yoga, why style matters and more. Thank you, Deb, for reminding us exactly what we should aspire to be.
Q: You were a longtime stylist before working your way up the ranks and eventually becoming president of Charles Penzone. What drew you to the industry—and what keeps you excited now?
A: I was always very creative. I took studio art and art classes and painting. I would want to make-over friends at slumber parties, family members. Initially, it was about the makeover—"Oh, they need bangs" or "Oh, they would look so cool if their hair looked like this." Then in sixth, seventh and eighth grade I went through a hard time with eczema. It really made me realize that beauty is about more than outside beauty—that it really comes from within. In the chair (as a stylist), I knew every single guest had that beauty, and I wanted to help them find that self-confidence. Today, I feel like it is such a special gift to help people find the true beauty within each one of them.
Q: You're also very passionate about wellness. Let's start with food. You've been a vegan for about five years. How has that affected your body, your mind, your being?
A: It's totally changed me and has given me the platform to really understand that food is medicine and that food empowers you. It gives you energy, it provides you that nutrition not only for your body but also for your brain. I have never felt more happy and healthy in my whole life. I just have such a passion for it now!
Q: You create all kinds of smoothies and juices. What's your favorite recipe?
A: It's mainly green—kale, greens, carrots, cucumbers, ginger, beets, a little parsley and celery.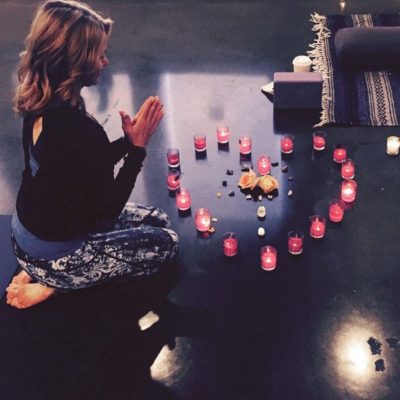 Q: You recently became a certified yoga instructor. Why do you love it so much?
A: I can't even explain. I really feel like it brought together everything I love in health and wellness, and it also opened me up to the real value of breath work and mind work or meditation. I still feel like I'm brand new and have so much to learn. But I feel like that five minutes or 10 minutes of meditation or breath work has totally changed who I am. I am going out to a retreat with Deepak Chopra next month, and I am so excited. I love the revolutions I'm seeing around mindfulness and sleep… and being in the present moment. I think that's so important nowadays. People are thinking about yesterday and they're thinking about tomorrow and they're not here in this moment, and they miss out on a lot.
Q: Does Charles practice yoga with you?
A: He'll do some of the sun salutations and the chair yoga, and he really has benefited from the breath work.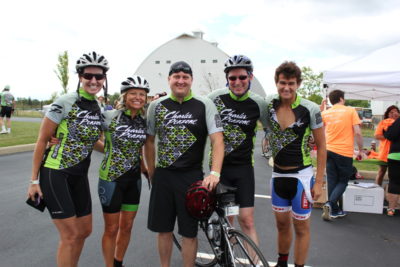 Q: Let's talk a little bit about your work in the community. You've ridden in Pelotonia since the race launched, and it's a cause that's very personal and meaningful to you. Why is it so important?
A: My dad went through colon cancer and melanoma. I was lucky enough to bring him over to The James, and I saw the amazing way they took care of him and us as well. I wanted to ride for him and support it in that way. He just loved the jerseys. One of the blankets that was with him on his final days was one of the Pelotonia blankets that I got. He was so proud of me for doing that.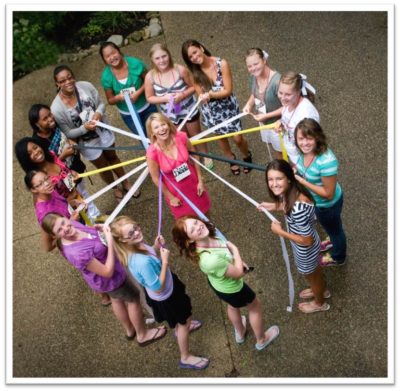 Q: Aside from supporting a number of philanthropic organizations around Columbus, you run Debbie's Club, which takes you to various schools and places like Nationwide Children's Hospital to help empower girls. What is it all about?
A: I want to be able to open up that conversation with girls so that girls can really talk to each other and empower each other and realize how hurtful words or text messages or cyber stuff can be. We need to stick up for each other. We are getting out there and helping girls realize how empowering it is to know that the power is in your uniqueness. We are teaching them to celebrate that and not let anyone take that away from you.
Q: You've been a longtime Wardrobe Therapy client—both professionally and personally. How did you meet Elizabeth, and how has she helped you?
A: I first met Elizabeth on a TV commercial. We just really got along great; I just felt like she got me right away. And she's that kind of person—you just feel so instantly comfortable with her. When she first came to my closet, she said, "You have a lot of suits!" (laughing) I was trying to fit into this corporate world profile, which really wasn't me. I told her, "I want to wear some fun dresses again. I miss wearing dresses." I think I was just searching for them in the wrong place. She said, "I will be back with some amazing things for you." And every single dress she brought back after our first get-together just made me feel like me again—young and fun and creative. I'm forever grateful!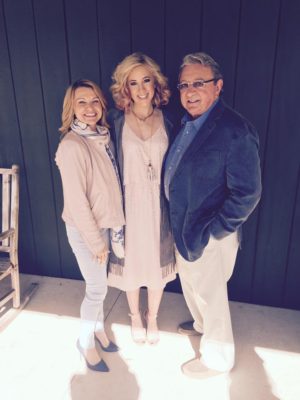 Q: Wardrobe Therapy also has long styled your Charles Penzone photo shoots. They're particularly excited about the work on your spring/summer campaign. What is that partnership like?
A: It's just such a perfect partnership. Elizabeth and her team totally understand our brand—not only the Charles Penzone brand but also the MAX brand. She and her team helped us with the clothes to go along with all the great hair and makeup we did.
Q: You and Charles have both been incredibly supportive of Elizabeth, as clients and as mentors. What do you see in her that you admire enough to have taken her under your wing?
A: I guess we've really seen she's very passionate about what she does and passionate about her team and the community. But it's also that she has that authentic, open eagerness to learn. She wants to not only grow herself but also be able to help others that she knows. I think she inspires a lot of younger business women. I love this term—wholeheartedness. She's there. And she's not afraid to be who she is.
Q: You've dedicated your professional life to style. Why does it matter?
A: To me, style is an expression of who you are and how you feel. And it's just like a flower blooming or a peacock with the feathers—it's kind of like our way of decorating ourselves and feeling beautiful and celebrating us.
Thank you Debbie! You are an inspiration to us! To view the Spring Looks we created with Charles Penzone Salons for their Spring/Summer Campaign, please visit here: Charles Penzone Blog.
To learn about our Wardrobe Consulting, Personal Shopping, and Outfitting Services, visit https://www.wardrobetherapyllc.com
We're Social! Follow along for the latest on our team, our work, and our inspirations! Instagram Facebook