This summer was a busy one! From weddings to international travel, we styled it all! We wanted to share a detailed recap of our client-filled summer!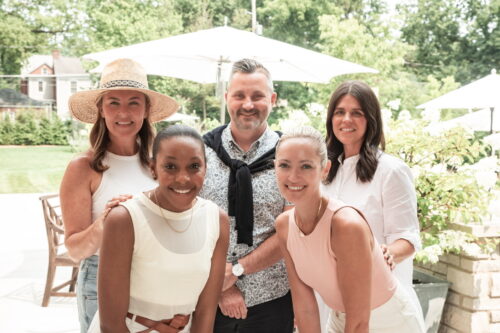 Fun facts:
The average length of an appointment ranges from 2.5-4 hours (per session).
Packing for our clients' travel is one of the most common jobs for our stylists over the summer.
Summer is the hardest season to dress for (especially in Ohio) because of heat, inconsistent weather patterns, and summer fabrics being non-forgiving.
Our stylists spent a total of 340 hours consulting in our clients' wardrobes!
We spent 180 hours shopping for our clients!
Total hours spent with clients (either doing Style Files, Deliveries, or In-Home Outfittings) is 516!
We serviced 30 new clients from June to August! Six of those clients are virtual, located around the US!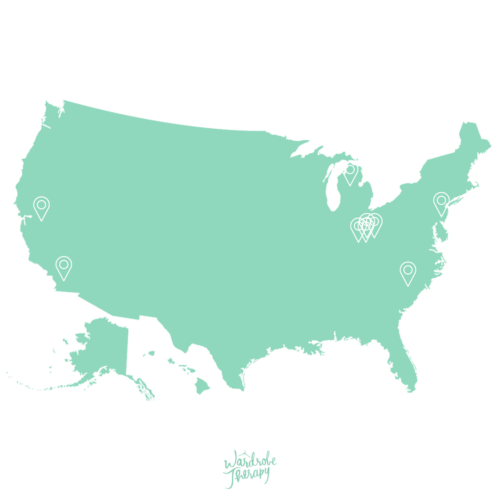 Where our virtual clients are located
June
Candace and Iris serviced three clients in Cleveland. The first client was a style file, the second client was a delivery and the third client was an outfitting!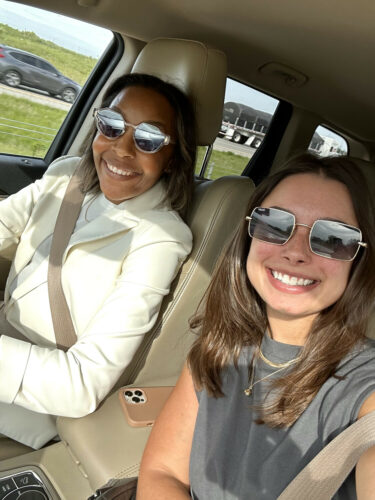 Road trip adventures with Candace and Iris
Ben serviced 10 male clients this summer!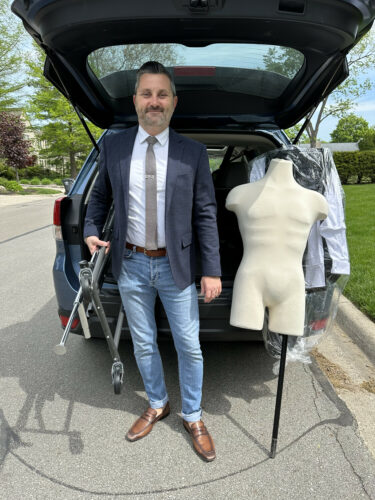 Ben uses our male bust, Benny when outfitting his male clients
Iris took a trip to New York to explore the best shopping neighborhoods.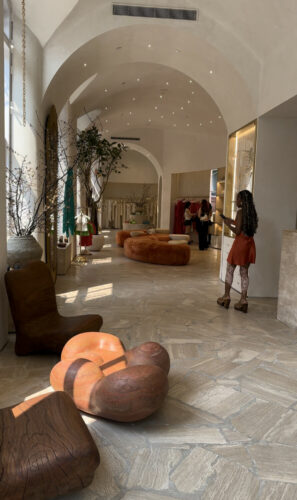 The Cult Gaia Flagship store in SoHo
Our whole team had the privilege of learning the best alteration practices from our talented friend Rosa from Rockwood.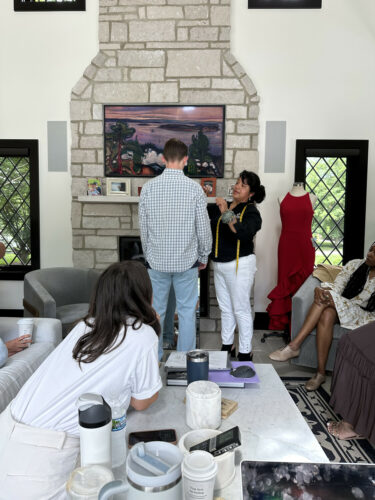 Rosa showing how to pin a button-down sleeve
Whitney did a massive closet purge for a client in Maria Stein!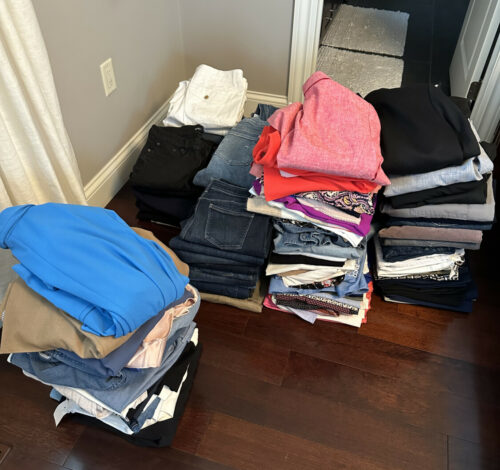 All the clothing Whitney purged during her client's Style File
We collaborated with Balani and Magnanni on a Summer Soiree event showcasing Balani and Magnanni's new product.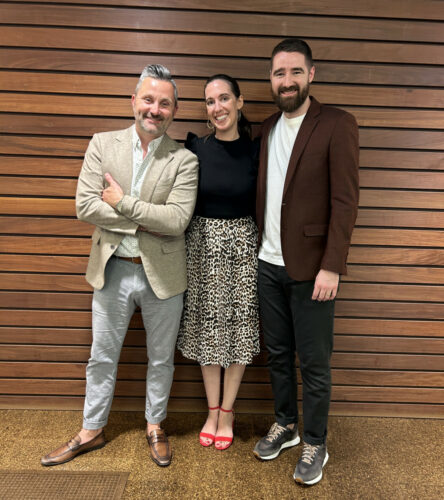 Ben with our friends Carissa and Adam from Balani and Magnanni at Magnanni's showroom in New Albany
July
Elizabeth styled several people for International vacations. She especially loved packing for client Jen Heck for her family's European vacation!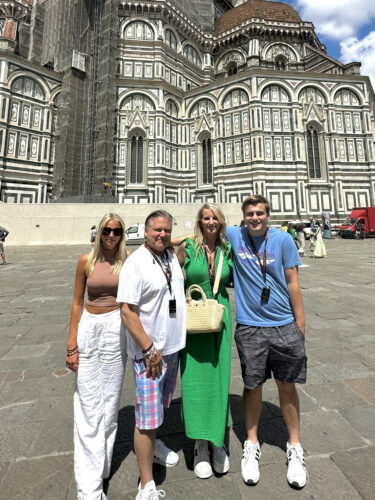 Client Jen and her family in Europe wearing an outfit styled by Elizabeth
Candace and Ben styled a photoshoot for Diamond Cellar's holiday collection.
Candace and Ben at the Diamond Cellar photoshoot
Katie, Elizabeth, Candace, and Ben attended the Grand Opening of the Junto Hotel!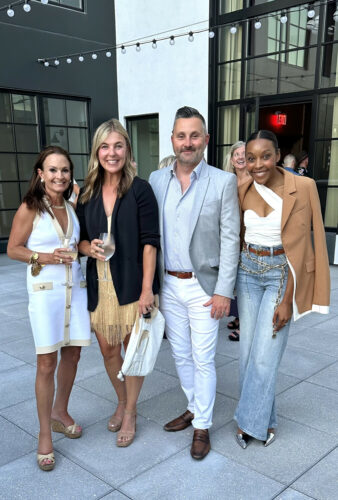 Katie, Elizabeth, Ben, and Candace at the Junto Hotel opening
Our team collaborated with Penzone, Royal Rhino Club, LIT Yoga, CAPS, The Blowout Bar, Franklin Park Conservatory, and Easton in a social media giveaway.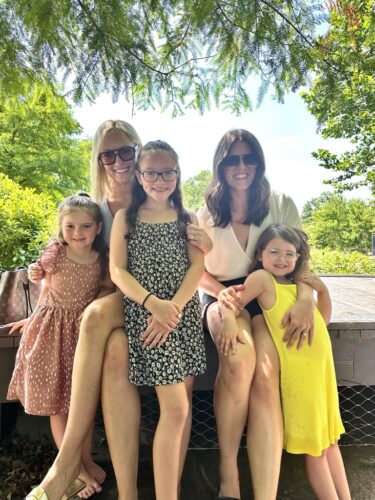 Christy and Whitney with their daughters at Franklin Park Conservatory
We hit a major milestone on Instagram- 10K followers!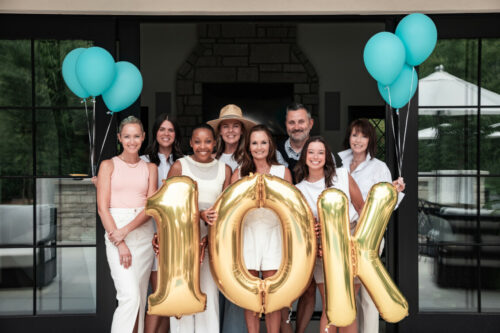 Our team celebrating 10K Instagram followers
August
Our team collaborated with Freedom A la Cart to create inspired looks for their Eat Up Columbus event!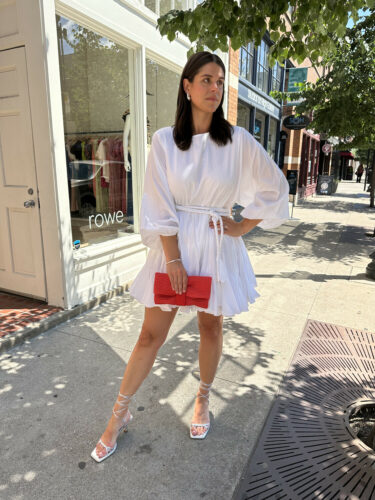 We had our bi-annual Trend Report meeting where we collected inspiration from Fall/Winter runway shows to share with all of you!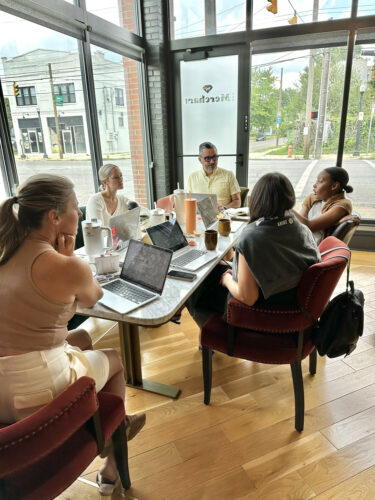 Our team discussing the latest Fall/Winter '23 trends
Iris collaborated with Saks Fifth Avenue on social media to highlight the only Maje and Sandro boutique in Ohio.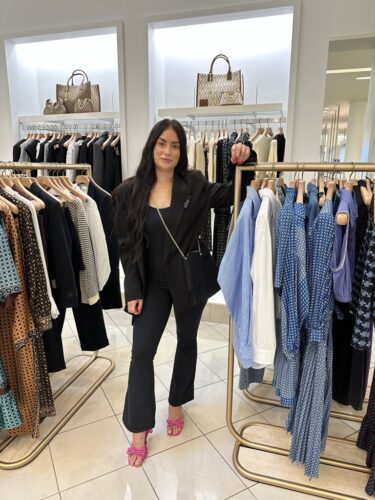 Kiana, the Brand Ambassador for Maje and Sandro at Saks in Polaris
We featured Christy in our newest series, Stylist Spotlights where we share updates on our team and their roles within Wardrobe Therapy!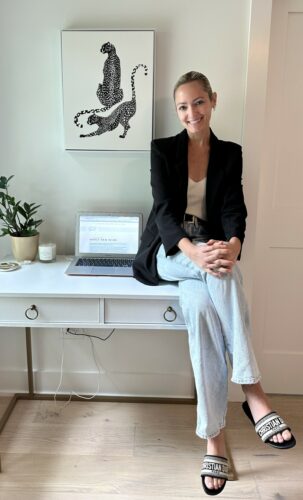 Christy at her home office where she styles her virtual clients
Elizabeth and Katie have been working with an outside set of eyes to review our business practices. We can't wait to share what's next for Wardrobe Therapy!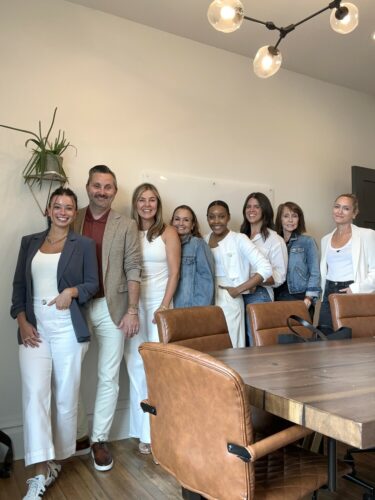 Our team meeting to discuss new opportunities for Wardrobe Therapy
We had so much fun working with all of you this Summer! We hope with any of our services all of our clients look and FEEL their very best every day! Thank you all for your endless love and support, we are so excited to share what's next for team Wardrobe Therapy!
Contact us to book with one of our seasoned stylists today!